At South Sound Furniture, shopping for home furnishings and household decor is fun, with fresh inventory and a wide selection of new, used and antique pieces that can be the perfect addition for any room of the home. Whether searching for a dining set or a family room sofa, shoppers can explore numerous selections within the store's expansive showroom. And with a series of upcoming sales on the horizon, shoppers can also score great deals!
Furniture Shopping Made Simple at South Sound Furniture in Olympia
South Sound Furniture's central location on Washington Street Northeast in Downtown Olympia makes furniture shopping easy, with an eclectic mix of furniture styles and aesthetics that are available for home delivery. As an all-in-one furniture experience, shoppers can be on the lookout for conventional furnishings, as well as one-of-a-kind homewares, and there are always new pieces to discover during each visit.
South Sound Furniture carries a range of new and used furnishings, including pieces that originate from national brands and big box stores. Inventory also includes antique and consignment pieces. The team at South Sound Furniture tries to curate pieces around in-demand design styles, like mid-century modern. And South Sound Furniture hosts regular sales to pass on additional savings to the customer.
Ryan Dickens, owner of South Sound Furniture, says he tries to source a range of furniture that reflects the store's wide customer base. Whether it's college students looking to outfit their first apartment, families in search of a bunk bed, or retirees hoping to curate their furnishings, South Sound Furniture carries pieces for many lifestyles and stages of life.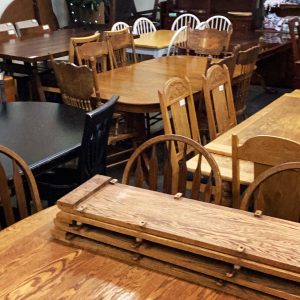 "My number one goal is to really have kind of an eclectic blend of things," says Dickens. "I try to have some fun, funky kind of stuff, but then some more traditional, conservative type stuff. And a little bit of something for everybody."
With a 7,000-square-foot showroom, South Sound Furniture houses pieces that are often one-of-a-kind. And the selections are consistently refreshed. So there is something new to discover for both first time and returning shoppers. In addition to larger furniture pieces like tables and couches, South Sound Furniture also carries home decor and decorative items that can accent a room, including lamps, art prints, clocks and decorative storage. Dickens says the South Sound Furniture team tries to emphasize the store's wide selection by showcasing a fun mix of styles within the showroom.
"We really have everything," says Dickens. "I try to have a little bit of everything. Definitely in dining, sofas. And we have a lot of house knick-knacks, decorative items, art, that type of thing."
South Sound Furniture to Offer Deep Storewide Discounts
As the spring season approaches, South Sound Furniture is looking forward to hosting a series of sales on furniture and longtime inventory. They often like to have fun with sales, creating themes that might not be found at other furniture stores like "ugly couch" or "random chair" themed sales.
The upcoming sales for the month of March are focused around spring savings. South Sound Furniture will be hosting a warehouse yard sale to help clear out longtime inventory and make room for a fresh round of furnishings. Beginning the weekend of March 11, the yard sale will include displays of home decor, baby gear, tools, and more.  Also starting on March 11, the store will begin a major storewide sale, where items will be discounted to 25%-50% off.
Beginning on March 18, the storewide discounts will increase to 40%-50% off. There will be another yard sale on March 18 as well. The storewide sale will continue through the month of March.
Dickens is ready to clear out current inventory, create more space in the showroom, rotate stock and pass additional savings on to the customer. And with deep discounts, shoppers can look for a mix of both traditional furniture selections and unique pieces that can make a room pop. Where you want a traditional couch or a crazy-colored Chesterfield sofa, they have it. Need a disco ball? They have those too!
If larger pieces of furniture catch a shopper's eye, South Sound Furniture does offer delivery throughout the Olympia and beyond. Dickens says the store has delivered as far as Seattle and Portland in the past and that furniture deliveries are placed in the desired area within the home. For deliveries within Olympia city limits, there is a flat $50 delivery fee. Beyond Olympia city limits, price is calculated on an individual basis.
To learn more about furniture selection, upcoming sales or to shop the showroom online, visit the South Sound Furniture website.
South Sound Furniture
402 Washington Street NE, Olympia
360.915.9504
Sponsored