Northwest Christian Schools of Lacey (NCS) offers preschool through high school on one 14 acre campus. It has established a reputation for being an innovative leader in Christian education and empowering students to achieve their fullest individual potential. NCS offers a Christ-centered, biblically-based education, leadership opportunities, college prep classes, music, arts, and a variety of athletics and activities.
Northwest Christian Schools of Lacey
Northwest Christian Schools of Lacey includes:
Northwest Christian High School (NCHS)
Northwest Christian Academy (NCA)
Northwest Christian Preschool (NCP)
NCS educates more than 400 students a year, with facilities that include two full size gyms, elementary and preschool playgrounds, tennis courts, an athletic field and a high school science lab.
Students come from all over Thurston County, including Lacey, Olympia, Tumwater, Centralia and Yelm. Kim DeLeon, head of school, says their long history means they now have second generation students enrolled and believes they will continue to serve the community for years to come.
Small Class Sizes, Lots of Activities and Athletics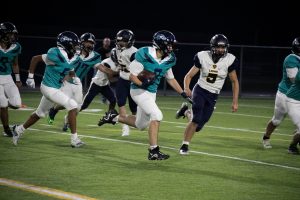 Northwest Christian Schools of Lacey's smaller size doesn't mean fewer opportunities.  They maintain an environment that kindles curiosity in students to learn, to think creatively and to make a positive impact on their community. "The teacher/student relationship makes a difference in the lives of students at NCS," says DeLeon, "NCS is a place where students know that teachers care."
Students also have the opportunity to participate in activities like Knowledge Bowl, leadership, National Honor Society, Powerlifting, AP and college-concurrent classes, and a growing theater program.  In addition, NCS is able to support students who need additional attention through their Response to Intervention program.
The NCS Wolverines also are competitive in athletics. "At NCS we pride ourselves on being able to provide our students with athletic experiences that differs from other local high schools," says Kyle Dunn, NCHS athletic director. These sports include volleyball, football, cheer, basketball, baseball, track and field, cross country and their newly launched Fastpitch program – back after a 10-year hiatus. The school has participated in state championships in baseball, track and field, cross country, golf and powerlifting.  Our high school athletic program is the only school in WIAA (Washington Interscholastic Activities Association) history to win nine cross country state championships in a row.
"Students at Northwest Christian High School have the opportunity to compete at the varsity level in multiple sports," Dunn explains. "Nowadays, with the ultra-competitiveness of high school athletics, student athletes at larger schools are often forced to specialize and focus on just one sport to make sure they are able to get playing time. At NCHS, we encourage and celebrate our multisport athletes. This holistic athletic approach allows our student athletes to be physically developed in a well-rounded way through a variety of athletic experiences."
NCS welcomes international students as a SEVP approved school and ninth through 12th grade homeschooled students can supplement their home education by enrolling part-time in one to four classes.
Open Enrollment at Northwest Christian Schools
Growing up is a journey and education plays a big part along the way. Finding a place where kids can be kids while learning, exploring and creating is vital to their lifelong success. If the Northwest Christian Schools of Lacey sounds like a good fit for your children's educational needs, consider signing up for a tour online or by calling the office at 360.493.2223. For new families, NCS suggests starting the application process in mid-January as open enrollment begins January 30 for the 2023-2024 school year. A campus-wide Open House on January 27 provides an opportunity to learn about the campus, tour our facilities and hear from administration. More information can be found on Northwest Christian Schools of Lacey website.
Sponsored