Life is about building a career you love, with people you admire, doing important work within your community. TOGETHER! Finance Director Jenifer Morgan has spent the last 26 years doing just that. Now she is ready for retirement. Her colleagues both past and present are sad to see her go but excited for whatever lies ahead.
Mary Segawa: Former Executive Director
Segawa worked with Morgan from 1996 through 2009. At the time, Segawa was a program manager and Morgan her, "Go-to person for all things related to my budget," she recalls. "During this time, I submitted my first federal grant application. This grant required a large matching percentage, and Jenifer was instrumental in helping to track donations and in-kind contributions, ensuring that we could continue to receive this federal grant as well as the renewal after 5 years, resulting in $100,000 per year for 10 years, and a total of $1 million."
Their relationship grew over the years. "While Jenifer's financial prowess is unmatched, her value as a co-worker and friend is priceless," shares Segawa. "One of the blessings of working for a small agency is the relationships developed among the staff, and Jenifer was a valued member of our team. She was always ready to pitch in wherever help was needed, whether it was hosting a staff retreat at her house, helping set up and tear down for events, or running general errands. She has always been highly respected by co-workers and colleagues from other agencies. And she is fun to be around!"
Earlyse Swift: Founding Executive Director
Swift is responsible for hiring Morgan and they worked together until Swift's own retirement in 2002. As part of the founding team, it quickly became obvious that having an in-house, full-time financial professional in the office would be tremendously helpful. "Besides being extremely competent in financial management, I valued the way Jenifer fit into the organization," Swift shares. "She was easy to work with, always pleasant, and clearly functioned as a critical part of our administrative team. With many grants awarded over the years by the federal, state, local governments and private sources, TOGETHER! always met its financial obligations to its granters, thanks to Jenifer. She has provided amazing long-term continuity to TOGETHER! and will be greatly missed."
Meghan Sullivan: Current Deputy Director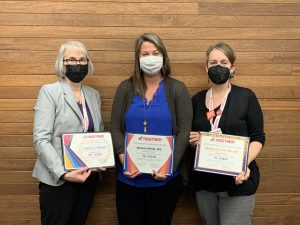 "Jenifer always rolls up her sleeves and helps when needed," praises Sullivan, the current deputy and former Executive Director in a co-leadership model. "She has been with the organization so long she anticipates many things before anyone else and simply knows the flow and cadence of our financial and program years like the back of her hand. As the longest serving TOGETHER! employee, she really assumed the role of matriarch of the organization."
Outside of work, Sullivan admires Morgan's work-life balance. "She has an incredible depth of knowledge in her brain," she shares. "I hope she gets plenty of time at her family cabin, plenty of time with family, and continues to carry the spirit of TOGETHER! and our work wherever she travels and in whatever she does! We will miss her attention to detail and keeping us on track in so many ways, and we are lucky to have an incredible team including a new Finance Director who has been working alongside Jenifer this past year, and the incredible systems Jenifer helped to build to keep us on course for so many years before and for many years to come."
Meagan Darrow: Current Executive Director
Darrow has worked for TOGETHER! for the last 11 years and calls Jenifer: "The conscience and historical record holder. If there is ever a question about rules or history, chances are, Jenifer remembers!"
Over that time, Darrow has enjoyed watching her, "Grow and change with the organization both as our programs have expanded and also in the growth of new skills and things needed to adapt to the changing footprint and nature of our work." But she'll also miss the daily reminder to eat lunch! Morgan reminds the team – in word and deed – to take time to eat and regularly refuel for the challenges and opportunities each day brings.
Jenifer Morgan: Finance Director
A lot has changed over the years. "When I started working for TOGETHER! in 1996 our total budget was about $500,000," she recalls. "Thirty-three years later TOGETHER! is still here and going strong. The agency has evolved from a focus on drug and alcohol prevention to working with schools to provide a more holistic approach to advancing the health and wellbeing of all young children through the Club House, Community Schools and Host Homes programs. The most surprising thing is we now have a budget of $2.4 million."
They've grown from an office team of 11 to one of 35, weathered the pandemic and focused their mission over the years. Morgan is confident the community and schools will continue funding the program and is grateful for her many years with the organization.
"TOGETHER! is run by a wonderful group of leaders and a great leadership team," says Morgan. "We are always struggling to get the right amount of funding for organization programs and overhead to run our wonderful programs. We operate with about 30 different revenue types, which means our finance staff deal with complex issues every day. We have hired, and I have been training, my replacement for about nine months which will create a good transition for TOGETHER!."
So, what's the next step on her journey? That's an easy one. "My husband and I plan to spend more time with our two grandsons and the rest of our large family, play golf, camp, travel and spend time at our Packwood property."
You can follow TOGETHER! on Facebook and Twitter or donate to their programming directly or via Amazon Smile and Fred Meyer Community Rewards. To date the group has helped more than 5,000 families in our area and they encourage everyone to get involved when, how and as often as they can.
Sponsored