Brandon Sparks spent one season helping out the Tumwater Pioneers, a now-defunct semi-pro indoor soccer team that played in the old PASL Premier. He thought it would be fun. He'd lend a hand during game days, doing what he could for the upstart organization. "It just kept cascading from there," Sparks said. That it did. If it were not for Sparks initial involvement with the Pioneers we might not have the Oly Town Artesians.
Olympia Soccer Moving Forwards to Success
Nearly a decade later, the Oly Town Artesians men's squad is on the cusp of its eighth season of indoor soccer. It's an organization that now has both men and women's teams, playing outdoor and indoor seasons. And it's an organization that has found a considerable amount of success in a relatively short period of time with the Oly Town FC women capturing the Northwest Premier League championship this past season and the men coming off a season where they advanced to the semifinals of the league championship tournament and recently won the Washington State Super Cup.
"It's a little surprising we've got to this point," Sparks said about the recent success, "but we've always had the goal of moving forward. We've always wanted to keep doing more and more."
Although no longer with Oly Town, Sparks will forever be associated as an Artesian. He has worn just about every hat one can where with the team – previously serving as General Manager, but also holding the positions of public relations and media relations director, among other titles. And that's just the tip of the iceberg as you don't get into the world of semi-pro sports without getting your hands dirty leading up to a game day, and Sparks definitely played that role as well with field maintenance, PA announcing, ticket taker and all responsibilities in between being part of his usual duties.
But out of everything he's done with Oly Town, his most important moniker is that of club founder. "It's crazy how it all worked out," Sparks said.
The best stories usually are that way and the Artesians' history is no different.
From Pioneers to Artesians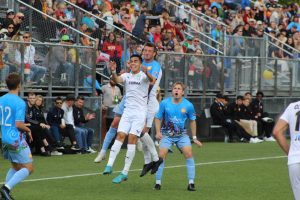 After wrapping up the inaugural season with the Pioneers, Sparks approached Tim Smith, who had taken over the Olympia indoor soccer center, asking him how much it would cost to rent the facility because the newly-formed Oly Town Artesians needed a place to play as they were looking to become a member of the newly-established Washington Indoor Soccer League.
"We were just looking to get it off the ground and then Tim got involved," said Sparks about Smith, Oly Town's original team owner. "I was asking him how much it would cost to rent [the soccer center] for game days and next thing you know Tim is putting up the money to own the team."
That was the first hurdle, but there were plenty more to come.
"It took months of work to get it ready," Sparks said about the lead-up to Oly Town's first match. "Once the National Anthem played that first game is when I really felt like of this was real."
Ownership has since changed with Ryan Perkins, Jason Smith and Matt Herrera, a trio of former Artesians themselves, taking over the team last year, but the same strong passion that was present when Sparks and Smith kicked things off remains.
"Originally, I was worried when I let go. I was hoping somebody would step up," Sparks said about leaving the organization, "but that fear was gone when Ryan and Matt came in. We've always had people who are very passionate about the soccer community here, Tim Smith, [Nate] Boatright. We've been fortunate to have so many great people involved."
It had been a labor of love just getting the product off the ground eight years ago, but now the Artesians are flourishing.
Asked what his favorite all-time Oly Town Artesians moment is and Sparks pauses. There's just too many to list.
But then he knows.
"The first match for the women's team," Sparks said. "Being out there to see that meant a lot. To finally get that off the ground was exciting. We had a big crowd. We had a lot of excitement that first game. It was loud and everyone was into it. That's a favorite moment.
Artesians Gearing Up for New Indoor Soccer Season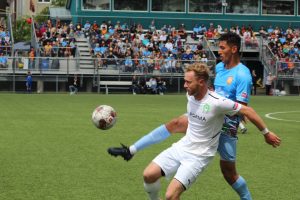 Oly Town will once again play its home games this season at the Evergreen State College Pavilion, under the management of Olympia Indoor Soccer.
Oly Town is also pre-selling season tickets for the upcoming arena league which will feature Well 80 Brewhouse and an array of game day promos. Season Tickets are $60 while single game tickets are $15. This year the Oly Soccer Foundation is covering youth tickets with kids 13 and under getting in free this year.
Oly Town Player Try-Outs
Players interested in trying out for the Artesians Arena Team can attend open tryouts on October 11 and 13, 8 p.m.-10 p.m. at the Evergreen State College Pavilion. Players are advised to arrive promptly at 8 p.m. to fill out forms and pay the $25 tryout fee, which will go towards covering a portion of the individual players cards and insurance.
Sponsored