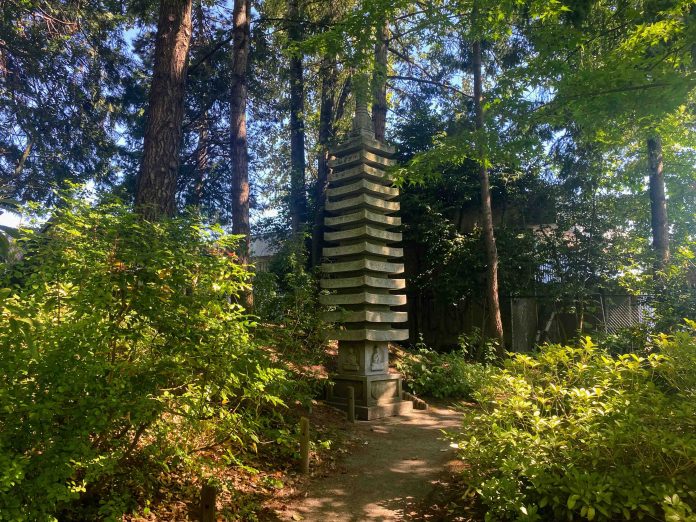 Thurston County has all kids of outdoor activities, from boating on local lakes to taking long hikes. But the beauty of our county is also great to just sit and enjoy! Charming and tranquil gardens located all across Thurston County are perfect to take a breath and relax. If you are need of a dose of beauty, check out one of these must-see gardens in Thurston County.
Yashiro Japanese Garden
1010 Plum Street SE, Olympia
The Yashiro Japanese Garden was dedicated on May 6, 1990 to symbolize the peaceful relations between the cities of Olympia and Yashiro, Japan. The garden was designed by Robert Murase, and constructed by 75 volunteers over the course of 2 years.
Despite being close to a busy intersection, the garden has a soothing atmosphere that provides a natural pocket away from the city. It contains a plethora of plant life, from skinny bamboo trees to bushels of flowers, that complement each other in a harmonious way. There are also a few notable monuments, such as a tall stone pagoda and a decorative lantern, given as a gift in celebration of the garden's completion. Other features of Yashiro Japanese Garden are a koi pond and flat grass bed. It is a great area to spend a sunny afternoon with friends or relax by yourself.
The garden has many culturally different aspects that are wonderfully syncretic, despite its small area. It is free to the public and open from dawn to dusk every day of the week.
Monarch Contemporary Art Center and Sculpture Park
8431 Waldrick Road SE, Tenino
The Monarch Contemporary Art Center and Sculpture Park, a nonprofit sculpture garden, is located alongside the Chehalis Western Trail in southern Thurston County, near Tenino. Artist Myrna Orsini and retired Federal Judge Doris A. Coonrod started the park in 1994, amassing 80 acres of land within a few years. The garden continues to expand and reform its property to deliver the best experience for locals and tourists alike.
Although it is not a traditional garden with flowers adorning every inch of its land, it has a lot more to offer. Contemporary and abstract sculptures, pieces dedicated to social commentary, and even interactive musical instruments can all be found together in the vast area. Some artists have short biographies next to their pieces, such as Spanish painter and sculptor Joan Miró and environmentalist sculptor Louise Nevelson. The whimsical garden will have you mesmerized at every piece of art you come across, and will leave your camera roll full of photos.
The park is free to enter and open from dawn to dusk. Additionally, the Monarch Mosaic Butterfly maze, located in the far north of the entrance, is open on Sundays in the summer.
Samarkand Rose Garden and Olympia Memorial Garden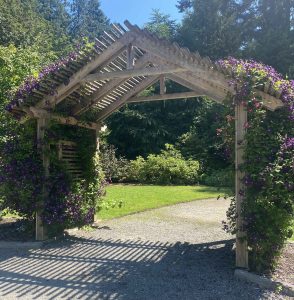 2600 East Bay Drive Northeast, Olympia
Near the entrance of Squaxin Park off East Bay Drive NE, there sits a colorful garden called the Samarkand Rose Garden. Upon first glance, flowers completely surround the circular area that contains a large gazebo, old artifacts and statues, and a spectacular arch with purple clematis flowers climbing up its sides.
However, there is more beyond the rose garden. Following the path past the arch leads to the Olympia Memorial Garden. The garden was sponsored by the Olympia Garden Club, who donated many other items to the rose garden, and is dedicated to recognizing individuals and groups in the community. A wall of names can be found here and, along the branched trails, some items can be found including a small fountain and an elaborate swinging bench.
The area is a perfect place to stop by as you walk along the Squaxin Park trails or to plan an outing with friends at the gazebo. It is open every day of the week from 8 a.m. to 6:30 p.m.
Capitol Sunken Garden
415 12th Avenue SW, Olympia
There are several visual attractions on Capitol Campus, including several war memorials or the fountain centerpiece. But just below the level plane on the west side of the grounds is the historic Sunken Garden. Designed by architectural landscape company The Olmsted Brothers, the garden has stood on the grounds for 90 years and most prominently grew roses. In 2019, the Department of Enterprise Services renovated the garden's layout and added more sustainable plants. The garden opened back up in August 2021.
The garden is fairly small but is packed with all kinds of perennial flowers. Along with the roses, there is sage, lavender, coneflowers, petunias, and dahlias that populate the garden. In its renovation, the flowers now require less maintenance, last longer through the seasons, and act as great pollinators. The tiny sunken garden is a perfect place to stop by for a few minutes and take some great pictures.
The garden is open to the public during the regular Capitol Building and Campus hours.