West Olympia has an eclectic culture made up of its local history, its community of residents and its plentiful outdoor recreation. The close proximity of shopping, restaurants and parks on the west side makes for an overlap of employment and leisure. Altogether the atmosphere is both convenient and cozy. Being able to access your wants and needs while staying close to home is just one bonus of being on the west side, one with far reaching benefits.
West Olympia Parks
Parks dot the west side. Shady picnic spots can be found in small parks, nestled into neighborhoods, often with playgrounds. Two parks have community gardens. This disbursement provides many with a sense of shared ownership and access to healthy outdoor living. "The Olympia Parks, Arts & Recreation Community Gardens are a great opportunity for Olympia residents to have access to organic gardening," says City of Olympia Recreation Program Specialist Luke Burns. "Most of our gardeners live within walking distance from Yauger and Sunrise, and both parks are on the bus line. As a west side resident myself, I have a lot of pride in helping to provide quality recreation services for families. My two boys love to come to the garden with me, as they get time on the playground while I tend to the garden."
Families also gather for sports at the Yauger Park ball fields, playground and skate park. Another draw for both visitors and locals are the tennis courts and the Woodruff Park sprayground. For snack breaks, Eagan's Westside Drive-In is right across the street.
Nature walks provide for woodsy experiences close to home. Grass Lake Nature Park is nearly 200 acres with trails and wildlife. Garfield Nature Trail descends into a shady, lush gully for a cool forest walk down to the water. The trail head opens out to West Bay Park for sailboat watching over Budd Inlet.
Golfing in West Olympia
Olympia Country and Golf Club is an all-in-one for park-like settings, recreation and food. Situated in Butler Cove since 1925, the 18-hole golf course has provided a social and multi-generational center of activity. "What I like most about it is the small community of people that I have developed a relationship with," Kyle Kanda, Olympia Greene Realty Group agent with firsthand expertise on the area, says. "I grew up golfing and spending a lot of time at the Olympia Country and Golf Club. I have gained so many friends and connections being there. For me, golf is in my DNA starting with my grandfather who was the sixth member there. So, when I say the westside is my home, it really is, and the Olympia Country and Golf Club is one of, if not the main, aspect of me staying and residing here."
Things To Do in West Olympia
Entertainment, shopping and restaurants are also a high point. Food varieties abound for breakfast, lunch, dinner and dessert, tap room or tavern, food truck or take out. The movie theater at Capital Mall is surrounded by locally-owned and national retail shops and restuarants along Harrison Avenue. A bowling alley, the Saturday market at West Central Park and groceries are under a half mile from one another.
"I loved living on the west side because of everything being within walking distance," Cassie Andreotti, general manager of Vic's Pizzeria, says. "Vic's has been here since 1999. When COVID hit, we had a lot of regulars who came in and said, 'We are going to come in and support you.' They were happy to see that we were making it work." Many stores and restaurants have longevity in West Olympia, and the community cherishes their local haunts.
West Olympia has a rich history, and much is still visible. Many locations and homes can be connected to early community leaders and those who worked in the lumber industry. Living in or strolling through historical neighborhoods means seeing a nearly unending architectural variety. The Westside Grocery building on Rogers Street still stands, appearing nearly unchanged since 1902.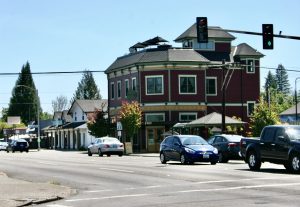 New projects are on the table for the west side. Planners and developers are focused on the characteristics of multi-use. The West Bay Yards development project, a retail and residential project named in tribute to the area timber history, is slated for the western waterfront of Budd Inlet. Five buildings, 10,000 square feet of retail space and around 11,000 square feet of restaurant space, 478 apartments and a waterfront restaurant will rest atop the parking area.
The Capital Mall Triangle Subarea Plan also has multi-use in mind. Goals include transit route and affordable housing topics. Plans hint at creating a neighborhood where people can walk or use public transportation, do basic shopping and go to work. Service, hardware and retail sources already abound, which allows for working where you live on the west side. The medical field, education and restaurants, just to name a few, are also area employers.
If you never have, take a quiet stroll along one of the west side neighborhood streets, beneath the shady trees. Pause and enjoy the view across Budd Inlet. Stop in to one of the local restaurants and note the atmosphere of casual chatter and the sincerity of everyone enjoying life on the west side. As a gateway to the Olympic Peninsula and the coast, it's a place many are glad to call home.
Ready to move? Call Greene Realty Group at 360.528.4160 or visit the Greene Realty Group website.
Sponsored