Summer has surely arrived. Garden plots are bursting with glorious produce. Find your rainbow of earthly delights in local produce at the Olympia Farmers Market. Local farmers have been working laboriously to weed, water and tend to rows of green beans, vines of tomatoes and bushes of blueberries. It's the time of year we dream about when vegetables and fruits are lush and abundant. The season lasts only so long, so load up your bags, head to the Market and prepare to feast on everything fresh.
Local Produce at Olympia Farmers Market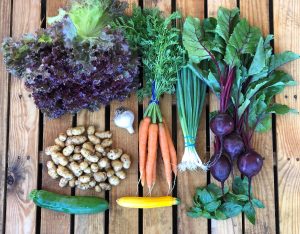 "Finally, the sought-after produce items are here," notes Nora Hantula, who works at the Olympia Farmers Market.
We are so fortunate to have farmers that take the time and energy to grow such nutritious, delicious and truly lovely looking food. The list of vendors is impressive:
Constellation Farm
Roots and Fruits Farm
Piece by Piece Farm
Mak's Garden
Skipping Stone Garden
Cedar Slope Farm
Rising River Farm
Skokomish Valley Farm
Kingfisher Farm
Black River Blues
Stoney Plains Farm
Spooner Berry Farm
Burnt Ridge Nursery
Taber Ranch
Summit Farm
Little Big Farm
Johnson Berry Farm
Rutledge Farm
MycoUprrhizal Mushrooms
Natural Family Farm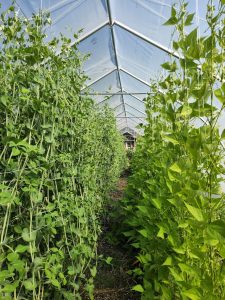 Let's start with greens. There is surprising variety in taste and texture. Soft butter lettuce and red and green leaf are classic salad greens. Add romaine for a bit of crunch or use the sturdier leaves for wrapping up tacos or Thai chicken. Did you know that romaine even works in smoothies? Microgreens are tiny in size, but they are giants for nutrient density and flavor. They may contain 40% more phytochemicals than their full-grown counterparts. Find microgreens of cauliflower, broccoli, radicchio, celery and many more. Use them as extra flavor in salads and inside sandwiches.
Denser leafed collards can be sautéed with onion, garlic and olive oil and eaten as a separate dish or cut into a soup or stew. Cooking them with a bit of salt or pork can reduce the bitterness. I've grown fond of beet greens, which have a sweet quality. Kale may take getting used to for some. It's worth the effort. Chopping the leaves finely helps and giving it a little massage makes a lot of difference – I understand, who has time to massage leaves? But give it a try!
Green beans are a popular canning or pickling vegetable. Save a few to steam for dinner. If any are leftover, they are great cold the next day on your salad. You can buy them by the box.
Tomatoes, technically fruits, are luscious gems. Once you've eaten local tomatoes, it's harder to eat the less flavorful ones that were picked when they are not yet ripe and shipped from faraway places. Cherry tomatoes are sweet and snack worthy. Obvious uses include salads and slices on a sandwich but popping one into your mouth and biting is like a burst of sunshine.
A few summers ago, I found myself with a bowl of tomatoes, both slicing and cherry varieties. I was about to leave on a trip and knew they would not survive on the counter. I quickly canned them and put them in the cabinet. I remembered them in the fall. I opened a jar, whirled the contents in a blender and took a sip before adding it into my soup. Heavenly! I didn't know it could taste so good and considered drinking it all. Now, I get a big box of red beauties and do a round of canning, so I have them for soups, stews and winter casseroles.You can simply salt your tomatoes plain or experiment with peppers. They are fun additions if you are making sauces. The Olympia Farmers Market has all sorts of peppers in varying degrees of heat.
You will find displays of stone fruits, which include peaches, apricots and plums. So called because of the pit or stone inside, they are sweet and juicy. I cut peaches into eighths and put them in the freezer.  A winter smoothie with peaches reminds me of the warmth of summer.  Jellies and jams are ways to preserve summer flavors after the weather has cooled and the days are short. Blueberries are plentiful and good for preserves, too. They freeze easily for later use.
Local corn can be so sweet that you don't even have to cook it. You might dip it in boiling water for a minute, but there's no reason to overcook it. Summer squash needs no cooking at all.
Remember the herbs. Bunches of basil and cilantro, cloves of garlic and bunches of onions are lovely additions to your kitchen. I chop basil and mix with garlic, parmesan cheese, nuts, and olive oil for pesto. I freeze it in small packages. Add to pasta dishes, soups and spread on toast.
The Olympia Farmers Market is in full swing with local summer produce. All these goodies might make you hungry in the moment. The Market features an international line-up of places to eat. And there's usually music or some sort of entertainment at center stage. See you there!
The Market is open Thursday-Sunday from 10:00 a.m. to 3:00 p.m. You can follow the Olympia Farmers Market on Instagram, Facebook and Twitter or through email newsletter sign-up.
Sponsored