Luke and Isaac Olson, the singer-songwriters in the Olson Bros Band, hadn't set out to be country music stars, but that's exactly what these Summit Lake brothers have become. They have gone from novices who won a national contest to opening for some of the biggest names in the country music world in just nine years, while also releasing half a dozen albums.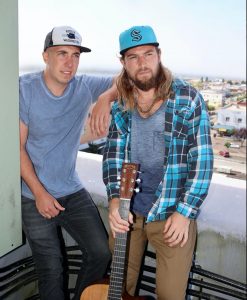 The men didn't have a huge interest in country in their younger years. Luke took piano lessons while Isaac learned the guitar. The men performed in musical theater and played in the high school band, with Luke on the alto saxophone and Isaac on the trumpet. The switch didn't begin until Isaac went to Washington State University, where he took a liking to country.
"The saxophone and trumpet and instruments like that are hard to just play on your own," Luke says with a chuckle. "We both started getting into some of the country music that was on the radio…and we picked up guitar around the same time and just started learning some of those songs and writing our own songs."
A year later, when Luke graduated from Capitol High School in Olympia and Isaac had just finished his first year at WSU, the pair were given an ultimatum. "My dad was like, 'You guys need to get a job or go play on the street outside Starbucks,'" Luke recalls. "So, we actually took a road trip down to LA and we were just stopping in random cities along the way, busking. We just did that for fun to see if we could make our money back and we made our gas money back." Busking is a term for playing music in public, usually for donations.
Luke and Isaac kept writing and playing. When Luke went to Pacific Lutheran University, the two would send each other messages and learn the same songs.
The Olson Bros Band is Born
The pivotal moment came in 2013 when the Olsons won the Texaco Country Showdown, which describes itself as the biggest country music talent search in America. The pair's song "Sunrise" won them $5,000 and a trip to Nashville to work with professional songwriters and attend the Grand Ole Opry, hallowed ground in the country music scene. Luke says that was when they realized that they had a shot at going big.
They formed the four-piece group, the Olson Bros Band, where Luke is the lead singer and guitarist while Isaac plays the acoustic guitar and mandolin. They write their music together, Luke often focusing on the melodies and instrumental parts while Isaac works on the lyrics. Their songs have been well received. The Olson Bros Band has just released a sixth album and their song "By and By" has become a line dancing hit in many countries. They have toured and opened at concerts for some of the biggest country artists, including Craig Morgan, Phil Vassar and Dwight Yoakum.
What makes this group so successful? Their willingness to play in a variety of styles. "Sometimes you can listen to an artist and you listen to their first five songs on their Spotify and you know pretty much the sound of everything that is coming up next," Luke says. "I don't think that you can do that with our style. We have some country rock, we got songs that sound like older country, we definitely have some pop country stuff, we have some folksy bluegrass stuff. I like that we have different kinds of stuff on there."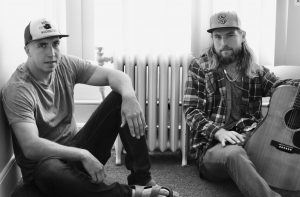 Drummer Mat Smaciarz says another factor is the Olson brothers' versatility. On the TV show "Band in Seattle" he explained: "I've been around a lot of writers that can write but they can't perform. Been around a lot of players that can play the lights out but they can't write. And to be able to put the two together, that's what sets them apart."
The brothers are also loyal to their home state of Washington. In many promotional photos, Luke and Isaac are wearing clothes with Seahawks, Kraken and WSU logos. They often play local venues, like the Summit Lake Community Center, and tour across the state, including county fairs. In addition, Isaac calls the song "I Bleed Evergreen," the title track from their newest album, one of his favorites. "It's about the area I grew up in and how much I love it, how much we love it. I think there are some real good lyrics in there that anybody that's from this area, it's going to speak to them."
The Olsons also offer a bit of advice to younger musicians, "Don't give up. Nobody is just amazing when they start," Luke says. "You got to just go for it and obviously learn as much as you can and then have fun. That's the whole point of music pretty much, to enjoy it, to bring joy to other people. As long as you're enjoying what you're doing musically then a lot of other people will enjoy it too."
To learn more about the band, including upcoming performances and music news, visit the Olson Bros Band website.