A community is made of people. Ken Balsley is people, and he is community. He has spent his life cultivating community roots. Writing for a few newspapers, creating three of the county's Rotary clubs and establishing a museum is just a short list. Numerous times, Balsley has written about the latest political competitors, interviewed local leaders on the air or joined in the groundwork for a civic project. Today, Balsley can be heard on KGY 95.3 radio in Olympia doing his weekly "Coffee with Ken" interviews.

But, before all of that, the 1960 Olympia High School graduate left to join the Unites States Army. He served as a paratrooper in the 101st Airborne. Upon return, he became a counselor at Cedar Creek Corrections Center. However, Balsley's community endeavors began during a journalism internship in 1972. While still working as a counselor, he enrolled in The Evergreen State College as a member of its first class. Evergreen students took a role in plotting out the experiences through which they learn. For Balsley, that was an internship at The Olympia News. He hit the floor running, multitasking in all that pertains to the operations of a town paper. From office work to cutting plates for negatives to quickly writing articles, he got to experience the whole nine yards.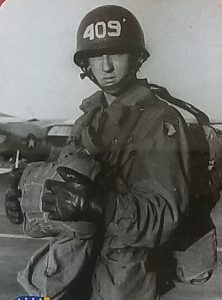 Reporting what was going on about town took hold. Balsley was interviewing people and writing about the community's events. "It was everything," shares Balsley, "It gave me the ability to influence and set a direction. Negative or positive, the readers don't ignore you." One of his early articles was a feature story about female students being in a North Thurston High School auto shop class. Though an intern, he was fully engaged in the paper business. It was during this time that he and his peers at Evergreen discussed the need for the school to have its own paper. After interning at The Olympia News, he moved on to another internship opportunity at The Lacey Leader. There, he wrote his first "Ken's Corner" column, and his career in writing and journalism took off again. In a short time, he not only became a college graduate, but he also graduated from intern to employee.
Helping Build a City, and a Community
As a Lacey resident, Balsley's fondness for its success grew. Lacey was still growing. It was a city on paper, but becoming a community required much more. "I was living in the community, and I wanted to feel good about my community," says Balsley. "I wanted other people to feel good about their community. They were getting negativity from people who didn't think Lacey had a reason to exist as a separate entity. I had the desire, the time and the platforms. I had the newspaper, the radio, my newsletter and involvement in the Rotary and Chamber. There's satisfaction in knowing you have an impact in the way your community developed. I wanted Lacey to feel good about itself. I've spent the majority of my time making Lacey a place the people could be proud of. I was sticking up for the little guy."
Balsley was aware of what Lacey needed in order to build unity for residents and create a sense of identity as a city. They needed to gather and preserve their history, and part of that meant founding the Lacey Museum. They needed to plan for future growth, and that meant working with others through community projects and partnerships. Balsley joined the Lacey Rotary club to become involved with Lacey projects and people, and he went on to establish three more Rotary clubs in the county.
Another thing the community needed was a place to learn what was happening around town and to share news of its celebrations. Balsley and the Lacey Leader provided the vehicle not only to inform but also to create a community identity among Lacey citizens and businesses.
Balsley's record of involvement is a litany of civic projects, journalistic coverage and working with the public. For example, he started the Miss Thurston County Pageant and ran the Lacey Music Arts and Dance Festival. His "Man on the Street" interviews were played on KITN radio after tape recording people's answers to a question of the day. "Coffee with Ken," interviews with local political leaders and business owners, was recorded at local coffee shops and also aired on the radio. Stemming from his original newspaper column, "Kens Corner" continued into a long running, business and politics newsletter and later a blog.
Surfacing the details in a news story and eliciting commentary during interviews, has been at the core of Balsley's journalism career. His wealth of experience landed him the Olympia High School Alumni Association award of "Distinguished Alumnus" and its Hall of Fame recognition. Balsley has woven a thread of involvement throughout the course of his career, experiences that support him in his Thurston County Historic Commission membership. There are simply too many projects, roles and affiliations to list. A visit to his blog to read newsletters or to hear the latest interview will provide some insight into his journalistic voice. Each new "Coffee with Ken" airs weekly on KGY, and additional commentary can be found in his column in Senior News.