The Pacific Northwest is known for its breathtaking greenery and abundant wildlife. For many local residents, bird-watching has become a favorite year-round hobby to connect more with nature and experience all that Thurston County has to offer. Ashlynn Strode is an avid birder and shares her favorite places and aspects of this unique hobby. You can explore everything nature has to offer in Thurston County through bird-watching.
Bird-watching has become a growing phenomenon, and for good reason. There are many different species of birds, each with their own unique profile and behaviors, so it is impossible to run out of birds to discover. Birders are "listers" and love to keep track of all of the species they have experienced first-hand in the wild. "Spring and summer bring the most bountiful checklists," Ashlynn explains. There are many resources available to birders, from lists to identification apps.
One of her favorites is an app called ebird.org, which is managed by Cornell University. "Through the app, you can list the birds you see and they go on a world-wide database," she says. "It helps research regarding birds because of the data people input, plus it helps other birders find that exact bird where you did!" She also likes to use an app called Merlin, also through Cornell University, which has photos and call ID to help people identify the birds they find out in nature.
The best part about birding is the distinct traits each species displays. "I love birds for their creative courtship rituals," Ashlynn says. "How they attract a mate is so fascinating." The Blue-footed Booby, for example, does a step strut to show off its feet to a potential mate, while others like the peacocks show off their feathers. For Ashlynn, it has been an amazing experience to see these diverse creatures display depth and character beyond what shows on the surface. "They are still discovering many bird species that actually mate for life," she shares.
Ashlynn also loves the beautiful and individual voices of the birds they hear out in the world. One of her favorites is the American Bittern, which she has seen and heard out at the Nisqually National Wildlife Refuge. "It has a deep gulping call that is so fun to hear," she explains. "It also hides in the reeds which is like a real-life game of Where's Waldo to try and find it amongst them because it is so still and blends in so well!"
There are many amazing places to go birding in Washington State because of how diverse the environments and ecosystems are. This makes it easy to see a huge variety of different species all in one central region. "Some birds don't ever leave the ground, some only hang out on the tops of trees, some like cliffs, some like water edges… they are each unique," shares Ashlynn. In Thurston County, there are many exceptional spots to experience the world of birding for yourself.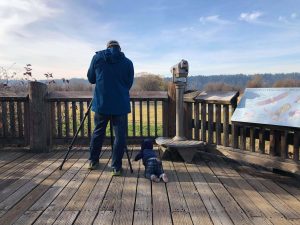 For Ashlynn, her favorite place to go is the Nisqually National Wildlife Refuge. "By far, the best birding you are going to get in Thurston County is at the Nisqually Refuge," she says. "You get to watch the birds migrate through this refuge year-round, which is really exciting." Ashlynn and her family like to go out to the refuge every month of the year to see different birds. They even have a birding walk where you can walk with experts who help to ID the different birds. They meet every Wednesday at 8 a.m. at the Visitors Center.
Nature preserves are always a good place to discover birds because of how dense the ecosystems are. "Woodard Bay and McLane Creek Nature Trail are great choices," she says. They also enjoy going to Capitol Lake to see all of the diverse migratory ducks, such as wigeons, shovelers, cinnamon teals, buffleheads, and pintails. "There are also great marsh-liking birds there too!" Ashlynn shares.
To see saltwater birds, Ashlynn and her family go to KGY Point or Luhr Beach, which are both in Thurston County. "You can see cormorants, gulls, grebes, terns, loons, and surf scoters there," she shares. "There are even Purple Martin nesting sites right there at the observatory." Ashlynn has even seen a snowy owl out at Luhr Beach, which was a rare treat amongst all of the pelicans. The beauty of birding is that you can see a wide range of species even where you least expect it.
While these spots are great places to start discovering birds, the reality about birding is that you don't need to really go anywhere specific or travel far to participate. "It can be done in your backyard, on a walk, or when you are basically doing anything," she says. "It is largely a world unseen, and you can find birds everywhere if you take the time to look for them." If you are looking for a fun and easy way to connect more with nature and experience something new, give birding a try. You'll find a community of wonderful people, and a whole world of birds just waiting to be discovered!