Higher education is an essential and effective way to learn new skills and break into a new career. It takes a dedicated team at every college and university to help make this happen. South Puget Sound Community College (SPSCC) President and CEO Timothy Stokes has truly enjoyed supporting the academic and career goals of the students. He seeks to continue to combine workforce development and education in his role as president and as a Thurston Economic Development Council (EDC) board member.
Tim himself has found great opportunity and advancement through higher education in his own life. He originally started his academic journey by earning an undergraduate degree in English and philosophy from Lyon College near Memphis, Tennessee. He later attended University of Arkansas and earned both his master's in political science and public administration and a doctorate in higher education. Throughout his studies, Tim saw the amazing potential that can open up by pursuing and completing higher education, and he found a calling in that.
Tim spent some years working for the Clinton administration before returning to his hometown in Arkansas to support his family's hardware store after a family member fell ill. "I had fallen in love with the community development work I did in D.C.," Tim shares.
When Tim was 23, the dean position at his local community college came open. Tim knew it was his next best option. "I was able to make the connection between community development and higher education," Tim says. It perfectly combined his skills and passions, and he never looked back.
In 2001, Tim's dissertation won Dissertation of the Year from the Association of Community Colleges. "I went to Seattle to receive the award at a conference, and I met the president of Tacoma Community College," he recalls. "He said I should come here to work." After an interview, Tim was able to see the kind of impactful and life-changing work that was going on in the Pacific Northwest with trade and commerce. He decided to pack his bags and move to Tacoma to help be a part of their efforts in Pierce County.
Tim stayed in this role for 10 years before the role of president and CEO opened up at SPSCC. "It seemed to really fit my background being in the capital," says Tim. "Plus it is one of the most beautiful campuses in the nation." Tim was hired on by the board in 2013 and has served in this role for the last 8 years. One of his favorite parts of the job has been working on community development projects. "In the past 18 months we were able to serve the community as a drive-thru vaccination clinic," he says. "We got 32,0000 people vaccinated through that clinic."
The best part of the job has been helping people find jobs and create better lives for themselves. "I have loved the community partnerships we have that help the community," he says. "Together we help provide opportunities for underrepresented and low socioeconomic status members find a pathway into middle class with a living wage job." Leading the executive team at SPSCC has given Tim a way to employ his community development skills and strategic and operational planning abilities to support workforce development in our local community.
When Tim interviewed for his position as president, one of the community members on the board was the Thurston EDC Executive Director Michael Cade. Michael immediately realized that Tim's experience and expertise would be useful for their goals and work at the Thurston EDC. "We had a nice conversation about my background, and a few months later he invited me to join the board," Tim recalls. He joined the Thurston EDC Board of Directors in 2013 and has been helping to support the exceptional efforts of the Thurston EDC any way he can.
One of Tim's favorite community partnerships has been the Thurston EDC. When Tim first started working for the college, the Thurston EDC was housed in a small space at Columbia Bank in Lacey. "As we built our Lacey campus, Michael, myself, and a team of people worked to include the EDC in our footprint," Tim shares. Together, they were able to create and build the Center for Business & Innovation, which has become an integral part of SPSCC's work as well. "We created an entrepreneurship certificate as part of our business program," Tim shares. "Michael and his team help our students with business plans."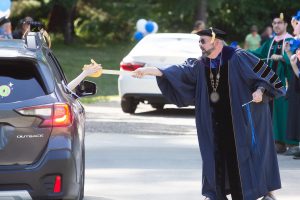 They work closely with Michael to connect with local businesses that are in need of workforce development training, which has been helpful for business and industry in the local area. "We do about $9.5 million in training for corporate and continuing education at our Lacey campus," says Tim. The partnership between the Thurston EDC and Lacey SPSCC campus has opened up a multitude of opportunities for local businessowners and new entrepreneurs to achieve success in business and in our local economy. "Anything you can think of where someone needs to make a workforce better or support a business, we offer it," Tim shares.
Tim's involvement with the Thurston EDC has been invaluable, and he is honored to continue to serve as a member of their board. With his exceptional team at SPSCC, he has been able to develop and support numerous efforts to bring our community closer together and promote opportunities for greater workforce development. It is through these committed efforts that we can see people truly grow and prosper.