Art can take on many forms and at Stone Creek Wood Fired Pizza in Olympia, the art of handcrafted pizza is baked into its foundation. Each employee trains their eye and hand for the restaurant's signature wood fired ovens, contributing their creative talents to their wood fired craft. Whether displaying artwork on restaurant walls, or the incorporation of live music, Stone Creek owners Randy and Suzanne Murray are committed to showcasing the creativity of their employees and other local artists.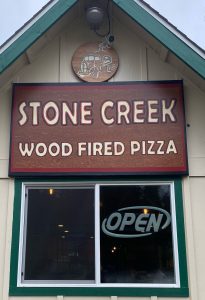 "We have always appreciated art in its many forms and tried to incorporate it wherever we can," explains Suzanne. "With Randy's history in decorative concrete, you can see it in the wood fired ovens, and some of the floors and walls in the restaurant, with plans for more. We would love to be able to support art, in all its forms, in our community."
Morgan Singer
At Stone Creek, this employee support extends beyond working hours. For over five years, Morgan Singer has been a central part of the Stone Creek family. Originally an employee of the Stone Creek food truck, Morgan has continued her wood fired craft at the restaurant's permanent location. As a longtime friend of the Murray family, both Randy and Suzanne are supportive of Singer's artistic endeavors both on and off the clock.
Utilizing her knack for painting, Morgan was recruited to create the Stone Creek Wood Fired Pizza sign that is displayed near the restaurant's entrance.
As a mixed-media artist, she also creates drawings in computer programs like Photoshop. From this digital medium, Morgan has further developed a passion for screen printing. With the help of Randy, she has been able to translate her artistic skills into a screen-printing business, creating custom t-shirts for local businesses in the community.
"Randy went and bought me a screen-printing press," explains Morgan. "He said, 'I'm giving you this so that you can make t shirts for us, but also so you can make things with your own art for yourself.' And ever since then, he has been a huge cheerleader for me. When drawing anything, it really started as, 'Hey Morgan, what are you working on? Can I see it? That will look really cool on a t-shirt.' So, when he bought me this screen-printing press, that was when the monster was born."
In addition to producing t-shirts for small businesses like Stone Creek, Morgan has also been able to use her screen-printing skills to raise thousands of dollars for charitable causes, including medical expenses for a friend who experienced a serious medical emergency.
Arden Gonta
For shift leader Arden Gonta, inspiration for a new song can strike from anywhere, including while on shift at Stone Creek. Raised by artistic parents, Arden can recall early memories of her father singing to her, accompanied by his Fender dreadnaught acoustic guitar.
"When I was done practicing my elementary school orchestra pieces, we'd play Irish fiddle songs together," explains Arden. "They were always a joy to debut at recitals. In seventh grade, I pulled the Fender dreadnaught out from under the bed and taught myself 'Nowhere Man' by The Beatles. With those seven chords, I wrote my own song. And that was that."
Currently, Arden is both a solo musician and the violinist for The New Constellation, a rock band. As a singer, songwriter and violinist, a conversation with a customer, or a new variety of pizza can provide Arden with the basis for a new set of lyrics.
"Recently, my coworker misheard a customer's name by one letter and wrote 'Deth' on her order ticket. Deth asked my coworker if we have a cheeseburger pizza on the menu (we do not). So, I'm writing my coworker a song called 'Deth Wants a Cheeseburger Pizza.'"
Listeners can find Arden's band on Bandcamp, and her solo music on Bandcamp as well as all major streaming platforms.
Nick Gross
As a longtime employee, Nick Gross wears many hats at Stone Creek Wood Fired Pizza, both through working in the kitchen and managing social media pages for the business. As a photographer and photo editor, Nick has also been able to lend his artistic talents to Stone Creek for a range of advertising and marketing projects.
"My work is photography and photo editing based," explains Nick. "Which is where the social media aspect comes into play. Stone Creek has always allowed me to be very creative in this arena, which is amazing as an artist. I cannot say enough positive things about Stone Creek on this topic. They are an artist's dream to work with, as they just let you go wild with your ideas and never interfere with the creative process."
In the near future, Nick hopes to extend his photography services to neighboring restaurants and other small businesses in the community.
To support bands and other artists in our community as the world moves back into some sense of normalcy, we would like to utilize our amazing outdoor space and have some live music and other kinds of shows. Interested people can message us through the Stone Creek Wood Fired Pizza website.