We all know a well-made product when we see it. The attention to detail catches our eye. We are wowed by the intricacies and accuracies. Olympia teen and entrepreneur Hadley Nord is the local talent behind The Arctic Doodle, a brand of handmade pet bandanas and stuffed animals.

Hadley started sewing when she was very young, learning from her grandmother and her mother. At first, she made gifts and pet bandanas. Hadley and her family were fans of pet bandanas, a popular pet accessary. Upon examination of the construction of bandanas already on the market, she decided that she could make an even better version. Other people sell these pet products, so she thought, "Why not herself?" Using her own cat as a model, she got to work.
The Arctic Doodle started as a Facebook page where sharing info and images garnered attention and orders from family and friends. After beginning with bandanas, the next challenge was sewing stuffed animals. Hadley's first creation was a stuffed narwhal, a plush version of the arctic whale with its signature horn (that's actually a tooth!) adorning its head. She went on to fulfill someone's request to make a stuffed unicorn.
"The unicorn was the second stuffed animal I tried," says Hadley, "and it was really hard to figure out because I had never sewn anything like it before! It has a lot of steps and pattern pieces to put together. After a lot of trial and error, I finally got it figured out and it ended up becoming my best-selling item. Now the unicorns are pretty easy for me. The stuffed cat was also difficult because the method is different than any other stuffed animals I had made up until that one."
While marveling at Hadley's work, one will notice the small product tag, perhaps flagged at its ankle if it is small dog or cat. On the tag there is an image of a fluffy brown dog, a representation of Hadley's golden doodle Mildred, or Millie for short. A military family, the Nords have moved several times, including to Alaska, where Hadley first sold her work. Millie and the artic are the inspirations behind The Arctic Doodle name.
"I was nervous about doing a market, but excited!" says Hadley about her first selling experience in Alaska. "I couldn't wait to show the public all my items. Up until then I had only sold things on Facebook and Etsy, so it was cool to be able to set my animals up for people to look at. It was a lot of work getting ready for the show, but my mom and I sewed every day to make enough items. I was super happy when I sold my first item at that market!"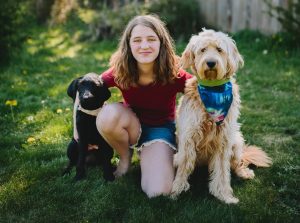 Hadley's work was also sold at the monthly McLane Grange Delphi Craft and Swap Meet where local artisans, crafters and performers share their goods in a booth, street market fashion.  In her sales booth, stacks of colorful bandanas were on display, a basket of narwhals ready for new homes, and plaid patterned dogs and cats stood waiting for their new owners. Hadley's mother, Jannicka Nord, was nearby, ready for assistance, but Hadley took charge, greeting customers happily and assertively, packaging up purchases and making sure to drop her business card in the bag.
Hadley's mother is a major support in the venture. They shop for materials together, and she manages social media and Etsy shop details.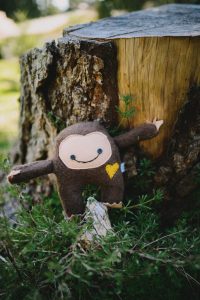 "I'm really proud of Hadley and excited that she wanted to jump into being an entrepreneur so young!" says Jannicka. "She totally came up with this business idea all by herself, I just helped her figure it out and set everything up. I think being homeschooled is an advantage for her business because she can get done with school quickly and then work on sewing. Homeschooling is all about flexibility and encouraging the child to pursue his or her interests! I hope she learns the value of hard work, how to manage her time and money wisely, how to keep thinking of new ideas and being creative, and how to be a successful small business owner. I support her and am happy to help her with markets or running things behind the scenes for as long as she wants to do this as a business!"
Hadley is learning about the business side of selling her sewing and has a vision for its future. "I would like to add more variety of stuffed animals that are different than the ones I make now," explains Hadley. "I want to continue doing markets so I can get my products seen by more people. I would also love to open my own storefront someday! I have plans to make a cute stuffed llama, a mermaid doll and a hedgehog. I think they'll be fun! For pets, maybe someday I would like to try and make leashes and collars."
Hadley is unsure if this will be her career in life. She is possibly interested in the veterinary profession, but her immediate plans are connected to further product development. You can learn more about Hadley's work on her Etsy or Facebook page.