Believe it or not, according to the International Classification of Headache Disorders, there are more than 150 different types of headaches. They fall into broad categories such as primary, where the main problem is the headache itself, and secondary, in which it's a symptom of some other condition. Identifying their root causes can be tricky. Clinicians at Olympia's Heart of Wellness have seen headaches caused by everything from drinking a liter of Diet Coke per day to post-cesarean section scars restricting a patient's breathing, leading to tension in their head and neck. The clinic's integrated, collaborative approach gives patients many tools for addressing this common complaint.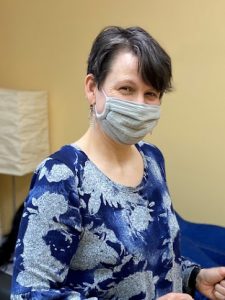 Health coach and Registered Dietician Laura Woodworth looks at headaches through a nutritional lens, attempting to rule out potential causes like dehydration, electrolyte imbalance, food sensitivities or excess dietary sugar or salt. "I look at them as part of a larger story," she says. "If someone doesn't eat between noon and six except for two bags of M&Ms that they eat all at once, it's pretty easy to see why they have a headache at 5 p.m. Other times, it's related to sleep. We start by looking at lowering general inflammation in the diet, taking out sugar and super-processed foods and adding in hydration."
Dr. Jeffrey Foucrier is a physical therapist specializing in orthopedics and the newest member of the Heart of Wellness team. He views headaches from a physical therapy perspective, as well as an integrative perspective. "Because headaches are so complex, oftentimes one treatment may address one factor," he explains. "We'll do physical therapy management which focuses on the neck, the jaw or the ear, but we need to couple that with appropriate nutritional guidance, acupuncture, or massage therapy to make sure we're creating sustainable change."
As part of the diagnostic process, acupuncturist and herbal medicine practitioner Morgan Tougas looks at any ergonomic issues that might be contributing factors and coaches patients on techniques like making sure the top of their computer monitor matches the top of their head. Tougas is a fan of the rolled towel neck stretch, which can be performed for 15 minutes per day before bed. "This is my absolute favorite for headaches, especially if anything is showing up with the neck," he says. "By using a rolled towel underneath the head, you're able to get some gentle traction which can, over time, restore a healthy, curved spine. It's a simple technique that people can do at home."
If a treatment plan isn't achieving results or the clinician believes a patient could benefit from additional services, they'll consult with another member of the clinical team, sometimes directly after the initial patient evaluation.  "One of the things a successful interprofessional team will do is understand the benefits and strengths of each provider," says Foucrier. "The sooner you can get skilled treatment, the better the immediate and long-term outcomes. You want to get other team members involved as early as possible and keep them engaged in the plan of care."
While treating hundreds of patients, all three practitioners have come across surprising and unusual causes for headaches. Tougas recalls one patient who had been misdiagnosed with tension headaches and migraines. He discovered that the real culprit was undiagnosed occipital neuralgia, a condition in which the occipital nerves that run through the scalp are injured or inflamed. It causes severe piercing, throbbing or shock-like pain in the upper neck, back of the head and behind the ears. "It's a condition that acupuncture treats really well," he notes. "You can really make someone's day when they don't have this stabbing pain in the side of their head."
Woodworth remembers a woman who was struggling with Irritable Bowel Syndrome (IBS) and decided to try the Low-FODMAP Diet, which restricts foods high in specific types of carbohydrates. "A lot of her gut issues went away and her headaches also stopped," Woodworth shares. "She initially avoided about 20 foods, but as her inflammation decreased and the triggers were clearer, we were able to shorten that list to a few key foods."
In his former Arizona-based practice, Foucrier treated a woman who had been suffering from migraines for more than 30 years, managing the pain with pharmaceuticals. After evaluating her neck and head he began asking about her cardiovascular health. In clinical trials and research, a clear connection has been established between aerobic exercise and the prevention of migraines. "In this case, by introducing aerobic exercise over a span of six to eight weeks, for the first time in more than 30 years she saw consistent changes in the duration and intensity of her headaches," he says. "She was going through a very stressful relationship change so this sort of victory was pretty outstanding."
After years of working in outpatient clinics and hospitals, Foucrier finds the Heart of Wellness model of care refreshing. "It's unique," he says. "This clinical collaborative approach to managing our patients is a very rare occurrence."
For more information visit the Heart of Wellness website or call 360.570.0401.
Sponsored