Sponsored
Whether a student is entering their first quarter of college, or working toward a second career path, the South Puget Sound Community College (SPSCC) Foundation has been working to alleviate the most common barriers to education. And at a time when many students are in need of additional support, SPSCC faculty and staff have joined forces with the Foundation in support of the Campus Cares fundraising campaign.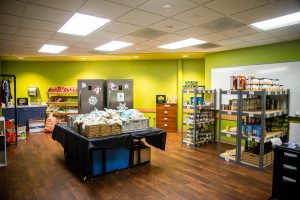 With the motto, "Make a Big Impact," the Campus Cares fundraising campaign invites SPSCC employees to contribute to Foundation programs that ensure student success. Each year, Campus Cares raises almost $60,000 toward student needs, including funding for tuition and emergency assistance.
"Campus Cares is an annual campaign to engage all SPSCC employees in donating to students to support scholarships, college programs, and emergency assistance," explains Evan Skytte, development director for the SPSCC Foundation. "Any SPSCC staff or faculty member can participate at any time and there is no gift too small."
In addition to their roles as instructors, counselors, tutors or other support staff, SPSCC Campus Cares has also become an annual tradition for many SPSCC employees. Whether this was an employee's first time participating, or year 37, over 40% of SPSCC faculty and staff participated in this year's Campus Cares fundraising campaign.
A vital element to Campus Cares is the Street Team, a group of volunteers comprised of SPSCC employees. Although Street Team members originate from opposite sides of the SPSCC campus, Skytte says the Street Team bands together to help raise awareness and encourage participation for Campus Cares. 
"This year the campaign was organized virtually," explains Skytte. "The Street Team recognized 2020 was a difficult year for everyone so the focus was to show gratitude for past and continued participation in employee giving. A digital gratitude wall was created to thank employees, gift cards to local businesses were raffled off to past and continuing donors, and Street Team members participated in a digital promotion campaign including sharing videos of why they give, sharing e-mails, and joining in Zoom meetings to discuss Campus Cares."
Aaron Managhan, SPSCC's program coordinator for Student Life, has been a member of the Street Team for several years. As a former student, and now as an employee of the college, Managhan says that he knows firsthand, the important role of SPSCC Foundation programs.
"I know lots of people around campus and they all know me, so becoming a member of the Street Team definitely seemed like a good fit in terms of being able to help promote the program and spread the word," explains Managhan. "When I was a student, I really benefited from programs that the Foundation provides in terms of scholarship money and other essential needs. It's always been a goal of mine to be involved in programs to help give back to that, as well."
During the Campus Cares, Managhan and his fellow Street Team volunteers typically invite college employees to participate in the fundraiser through special events like a waffle bar breakfast. Due to the COVID-19 pandemic, though, many Street Team activities were conducted in a virtual format. Managhan says that due to social distancing guidelines, the Street Team put together a new approach that emphasized gratitude and an appreciation for SPSCC faculty, staff and the vital Foundation programs that all work together to better serve students.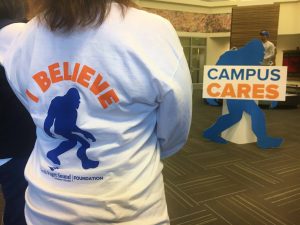 "We really tried to focus more on this being a gratitude campaign this year," explains Managhan. "Our goals are making an active effort to appreciate that ongoing gift and then promoting why it's such a great and valuable program, especially in this time. The number one thing people think of is all the scholarships that the Foundation is able to distribute to students, which are obviously of huge importance. But the one that people don't always think about, but it's just as important for example is the Foundation has an emergency grant program for students. There are other funding avenues that help beyond the walls of the classroom that are just as important and vital in a student's success journey."
With over 6,000 students attending SPSCC, each attendee is working toward their own unique educational pursuit. And through the Campus Cares, faculty and staff can choose to contribute to different avenues for student success, including emergency student grants, the Diversity, Equity, and Inclusion Center (DEIC), Veterans & Military Services, and SPSCC Athletics. Whether interested in culinary arts, computer aided design, nursing or other educational pathway, the Campus Cares can help to further support students while they are completing their education.
"Campus Cares really is a collaborative effort of people from different areas on campus," explains Managhan. "But the common thread is that it's all centered around helping our students. The reason most of us work here in this field is to be able to promote that student success firsthand. To be able to do something that even goes a little further and helps them financially as well, I'm really grateful to be a part of a program like that."
To learn more about the Campus Cares fundraising campaign, visit the South Puget Sound Community College Foundation website.
Sponsored