Somehow the chickens had gotten loose from their crate during a performance of the play "Married in Haste." The audience watched in mirth as the chickens wandered loose around the stage before settling on a fence prop. One bird even tried flying into a tree painted on the drop curtain. By May 1903 the Olympia Theater, scene of the "fowl" incident, had become one of Olympia's top entertainment landmarks. Founded by John Miller Murphy in 1890, the theater was also often called the Olympia Opera House, but was most commonly known as the Olympia Theater.
The theater was the pride and joy of John Miller Murphy (1839-1916). Orphaned at seven, he came west with his aunt's family, moving to Olympia in 1851. He founded the Washington Standard newspaper in 1860, which he edited for over 50 years. An outspoken man, he was also active in local politics and society. But he had another dream: to open a theater of his own.
Murphy picked a site on the edge of the Swantown Slough. In recent years the site (509 Fourth Ave East) has been the home of Orca Books (which this year is moving to 315 5th Ave SE).
Construction was delayed several weeks due to difficulty getting long lengths of lumber and changes to the building's design. Building finally began in May 1890. By early July the second story was going up. On October 17, 1890, Murphy's newspaper noted: "The house will be lighted by electricity and gas. A large chandelier will hang from the center of the lofty ceiling. The decorations will be tasty and with beautiful furnishings, the interior of the house will be very attractive."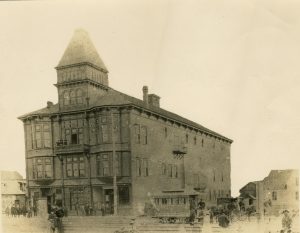 The first floor also had a gentlemen's parlor and bathroom and a ladies' parlor and bathroom. Murphy was proud that the building, with its numerous exits, could be evacuated in two minutes.
The Olympia Theater sat 900 people, but the location, built on pilings at the edge of Swantown Slough, left a little bit to be desired. However, Murphy was proud of the building's innovative lightning rod and telegraph station that could alert the fire station of fires. The slough was filled in around 1910.
On December 26, 1890 the theater opened with a performance of the play "Little Lord Fauntleroy." Though he initially hired a manager, Murphy both owned and managed the theater himself for 12 years. He also rented space to businesses on the first floor.
Murphy's theater was an active one. Olympia High School held its graduation ceremony there, which it would do through most of the theater's history. The theater hosted popular plays of the period and various events. Mark Twain lectured at the theater in 1895 and famed band conductor John Philip Sousa led a concert there in 1901.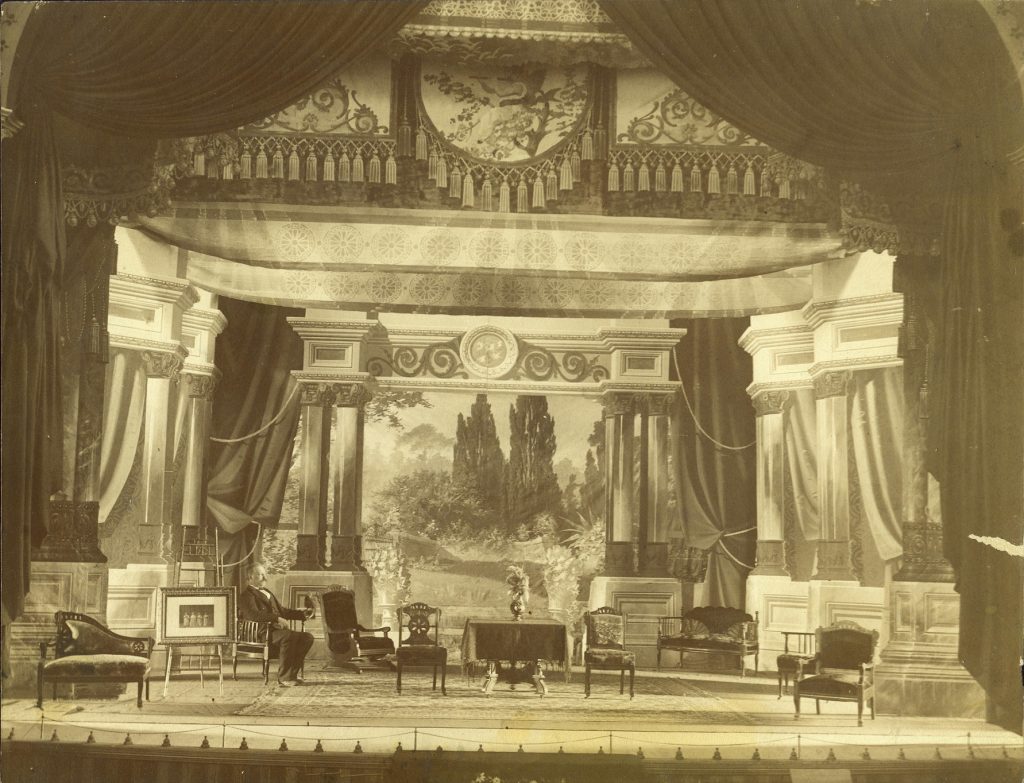 But Murphy's theater was in economic trouble.  It was community property with his wife Eliza McGuire Murphy. When she died in 1895, control of her estate went to another administrator. The theater had cost Murphy $30,000 and he was deeply in debt. A. H. Christopher bought the mortgage from him in 1902. He kept Murphy as manager for a short time, but eventually took full control of the theater. Murphy sued him in court, claiming that the theater furnishings belonged to him, but lost his court case in 1903.
The theater's new owners were less active in the business, leasing it to a string of mangers on yearly contracts. One manager was J. C. Chaffer, a composer historians call "Olympia's Music Man."
H. Christopher sold the theater to Millard Lemon in September 1913 for $12,000 who in turn sold it to Charles R. Cox of Portland for $18,000 in April 1914. Cox moved to Olympia to manage the business himself but later sold it back to Lemon.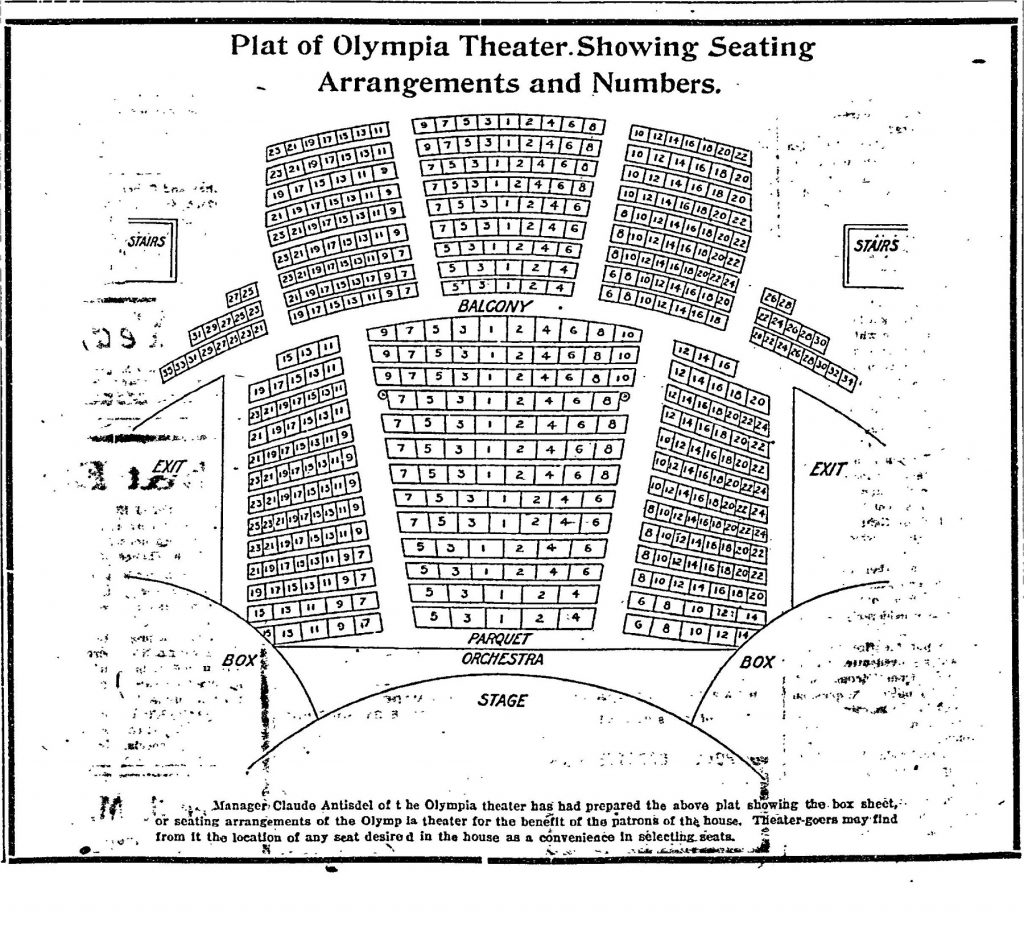 Plays and performances were contracted through regional theater circuits. Notable national entertainers also came by. Dancer Ruth St. Denis and her dancing troupe performed at the theater in February 1915.  The theater also held lectures and magic shows (including magicians LeRoy and Talma with the disappearing dog Bosco in January 1915). And, of course, there were occasional operas. Public groups also used the theater for events, including school plays, political rallies, fraternal club meetings and union church services.
The theater also showed a handful of films in its later years. In October 1913, for example, they featured "Picturesque Hawaii."
But the Olympia Theater was having trouble. An October 1916 children's program of popular cartoon figures Buster Brown and his dog Tige proved to be among its last performances. Still local shipbuilders held several benefit boxing matches in the theater in 1918 and businesses continued to rent space in the building.
However, the aging structure was in an increasingly dilapidated state and was torn down in 1925. For decades the Olympia Theater served as a center for entertainment. Since then, other theaters have taken its place in the community because public interest in culture and entertainment remains strong.