The Lacey City Council is looking for people with diverse voices, perspectives, and backgrounds to form the Community-Based Committee on Homelessness. The purpose of the committee is to generate practical, community-based solutions for homelessness through input from Lacey residents, leaders, and service workers. Intended as a year-long process, the 30-member committee will research, converse, listen, and consult with the community before submitting final recommendations to the Lacey City Council.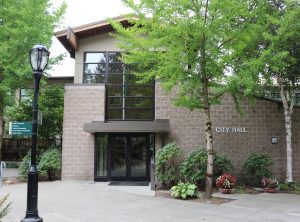 The creation of Lacey's new Community-Based Committee on Homelessness stems from a multi-year conversation between Lacey residents and leadership about the management of local homelessness issues. While establishing certain ordnances, mitigation sites, and permitted RV parking areas, the City of Lacey encountered varied responses from local residents, ranging from concern, to preferred alternative solutions. The feedback from local residents inspired the Lacey City Council to create a public forum where diverse perspectives could be shared.
"The Lacey City Council took a step back and decided we really need to have a robust community engagement process," explains Rick Walk, City of Lacey director of community & economic development. "This will allow us to have a conversation with the community and really get a sense of the issues and  assess what strategies the community can support, as we address the impacts of homelessness."
Carolyn Cox, a Lacey City Council member, says the City has been long overdue to create a safe space for community members to offer ideas and share suggestions about local homelessness issues. For Cox, this committee is not only an opportunity to address current impacts of homelessness, but also a way to support future efforts for locals who may be financially affected by the COVID-19 pandemic.
"I've been strongly encouraging the council to do something like this for quite some time," says Cox. "And I'm really excited to see that we're launching this soon. I think it's so, so important that all spectrums of the community be represented here and all voices heard on this."
The Lacey City Council will select the committee members. As committee members bring their unique background, knowledge, and perspectives to each meeting, the city intends for the committee to be an ongoing conversation addressing the impacts of local homelessness.
Lenny Greenstein, Lacey City councilmember, says homelessness is often the first topic brought up by constituents and its impacts are a multi-faceted issue from both a community and financial perspective. As the committee takes shape, Greenstein hopes each member can provide unique perspectives and share potential solutions that work for the local community.
"People are very interested and have a lot of strong opinions on how this situation should be dealt with," says Greenstein. "I think if community members want to have their voices heard, joining the committee is a really good way to do it. The goal is for them to discuss the issues surrounding homelessness and advise us on what they think the community would accept and what the community wants."
The committee will meet regularly throughout the year, initially via video conferencing. In addition to appointed committee members, the City of Lacey will hire a facilitator to lead each meeting and help continue the conversation. Walk says the committee will engage in a multi-stage process that includes research, brainstorming, and community involvement before presenting possible solutions to the Lacey City Council.
In the committee's first phase, members will help identify current issues relating to homelessness in the City of Lacey. The committee will research and identify resources that are already available and the constraints of each resource. Once members have collected and shared their research, the committee will then engage in conversations with additional community members to help to fill in any information gaps.
Once committee members have identified the impacts of homelessness in the City, they can begin discussing potential remedies. These may include conversations around permanent housing, temporary shelters, and supportive mental health services. Once the committee has agreed on an action plan, they will seek community input before submitting final recommendations to the Lacey City Council.
Applications to become a committee member are currently open to the public. The Lacey City Council is recruiting representatives from all areas of the community, including those who are business owners, residents, currently experiencing homelessness, or involved in organizations like the Lacey South Sound Chamber of Commerce, North Thurston Public Schools, or faith-based communities.
"What we're really looking for in committee members are people that care about their community," explains Walk. "They have a perspective, but they're also willing to listen and learn and come up with solutions that work for the community."
Applications for the Community-Based Committee on Homelessness are now open. City of Lacey and Lacey Urban Growth Area residents are encouraged to apply. The application deadline is 5:00 p.m. on Monday, June 22. To learn more about the Community-Based Committee on Homelessness, or to access the online application, visit the City of Lacey website.