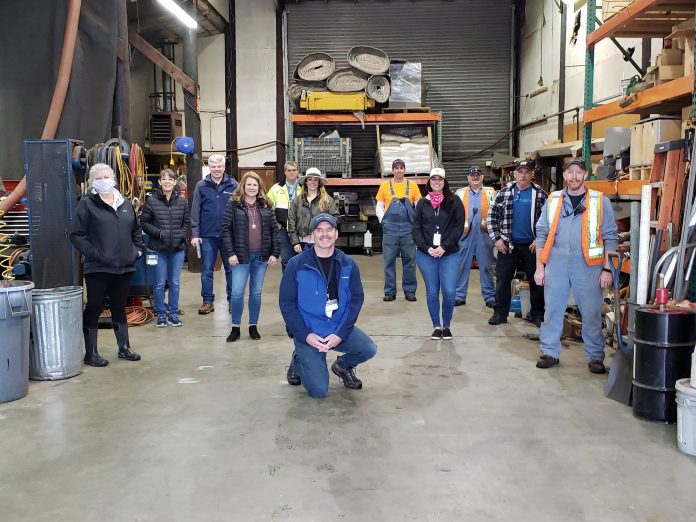 In the winter of 1979, a new home cost $71,000, gas was $0.86 a gallon, and a young Oly Bear named Mike Crawford started working odd jobs for the Port of Olympia. In late May of 2020, he will retire after celebrating more than 40 years on the water and is eagerly looking forward to the next chapter.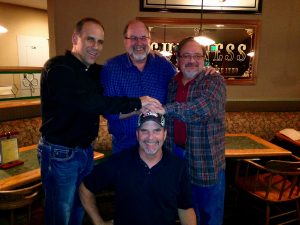 An Olympia High School grad from the class of '76, Crawford started with the Port as a summer job after commencement. Their self-proclaimed "grunt person," he floated between tasks and learned a little of everything from the ground up. After serving as a longshoreman for a few years, he returned to the Port full-time in December of 1979 to work in equipment maintenance. Over the next four decades he'd experience merging departments, title changes, and a wealth of new duties. From journeyman mechanic to foreman, he ended his career as Marine Terminal Foreman and Facilities Security Officer, the Port's longest serving employee, and resident Santa.
"While some may find Mike to be just another guy who works on the waterfront, those who know him would tell you he isn't just another person working on the waterfront, he IS the working waterfront," says Communications, Marketing and Outreach Manager Jennie Foglia-Jones. "He lives and breathes the working waterfront and he is who most people think of when the Port of Olympia's marine terminal is mentioned."
Like many of us, Crawford's life was jolted by the events of 9/11. The fledgling Department of Homeland Security placed new security requirements on what they saw as vulnerable—and vital—working waterfronts. Crawford was tapped to create and oversee a Port of Olympia-specific security plan that would ensure the safety of this valuable resource. "Not only did Mike take the lead on implementing the required changes, he built relationships with various military branches and even became the Honorary Commander for Joint Base Lewis McCord's 627th Logistics Readiness Squadron," says Foglia-Jones.
Port Commissioner Bill McGregor was Crawford's direct boss for many years. He started at the Port in 1989 and the two enjoyed a long history together. "Mike has been one of the most loyal, and dedicated employees that I have ever ran across in my 40 plus years in this industry," says McGregor. "He could be counted on to take on almost any—and I do mean ANY—task that was asked of him. As he grew in years, his responsibilities and reliability grew with him. He had a 'Port first' and 'I can do it' attitude that was beyond belief! His reputation for being level-headed, a square shooter, hard worker, and ready to speak his mind in a respectful manner are all part of the make-up of the legend known as Mike Crawford."
"While my time at the Port has been very short in comparison to Mike's," says Executive Director Sam Gibboney, "I have seen the large impact he has made on this Port as a whole. Mike has been a respected leader amongst his peers, and I have appreciated his candor and his 'Port-First' attitude. Mike leads by example, and his impact on operations, financial savings, and innovation will be evident within the Port of Olympia for years to come.  Mike will leave us with a legacy of commitment to both excellence and community."
In April, Crawford was presented with an honorary coin from Interim Police Chief Aaron Jelcick of the Olympia Police Department. "This honor is difficult to receive and is rarely given outside the police department," explains Foglia-Jones.
During the coin presentation Jelcick said, "You've instilled a lot of values with everyone here. You'll leave a legacy. When you leave here, you'll leave the Port better than when you came."
After wrapping up his duties at the Port, Crawford and his wife will move south to scenic Bend, Oregon. After enjoying leisurely road-trips there every summer, in March 2020 they made the plunge and bought a home. "We fell in love with the town and farmer's market. We're outdoorsy and love hiking and mountain biking so it's ideal."
What kept Mike working for the same organization for over 40 years? "The People," he shares. "It's that simple. They are my family and they are what have made my time at the Port enjoyable." What he will miss most about the Port when he retires? "The People," he shares again.
"Continuity and history helps an organization grow," Crawford admits. "I'm proud to serve in that role. I like the Port's family-type atmosphere and I still and always am proud of the Port's support of troops and the military; proud we try to keep troops safe."
He also loves how they've expanded their footprint within the region. "The Port has become much more involved in the community and really invested in the community," he continues. "I'm really blessed with having the opportunity to work with the Port for 40 years. It's been an honor and a pleasure, they're such a great organization and great people."
Abraham Lincoln once said that "Character is like a tree and reputation like a shadow. The shadow is what we think of it; the tree is the real thing." For tireless, devoted souls like Mike Crawford, the character and reputation of his life and time at the Port of Olympia are a lasting legacy. If you're lucky enough to cross paths before he heads south, wish him well on the next big adventure.
Follow updates, activities, and ship arrivals at the Port of Olympia website or their Facebook, Instagram and Twitter feeds.
Sponsored