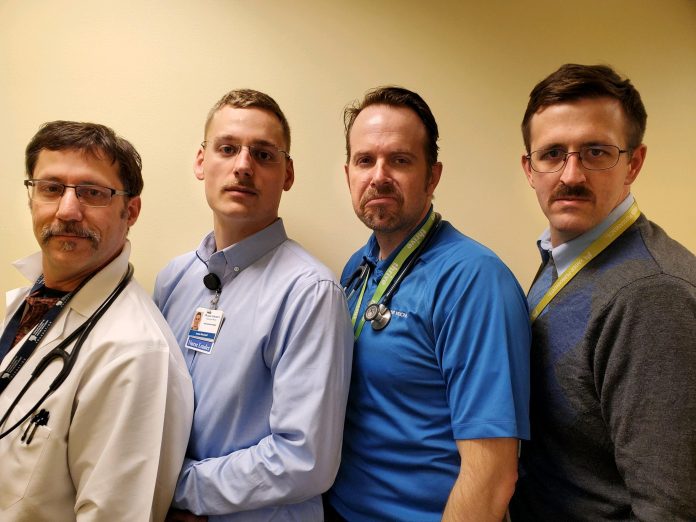 Submitted by Dr. Geoffrey Ankeney, Kaiser Permanente Olympia Medical Center
Since 2003, a peculiar activity takes place over the course of the month of November. Slowly emerging on the faces of men around the world, you can see the likes of: The Wisp, The Business Man, Perhaps The Regent, The Undercover Brother, and, just maybe, The Abrakadabra.
This is because November is the month of the year that many men, including a crew here at Kaiser Permanente, devote themselves to the Movember Movement. To highlight their cause, men start the month clean-shaven. But from there grow any of a multitude of mustache styles over the next 30 days.
As most men appreciate, the 'Mo Movement has a few simple rules: 1. Start the month with a clean-shaven face, 2. A moustache must be grown and groomed through the entire month of November, 3. No faking. No beards, no goatees, 4. Use the "power of the moustache" to generate conversation around men's health, and most importantly, 5. All 'Mo Men will conduct themselves like true gentlemen.
The Movember movement began in 2003 by Travis Garone and Luke Slattery while they were hanging out drinking beer at the Gypsy Bar in Fitzroy, Australia. At some point, their conversation turned to mournful topic: the fact that the moustache, once a symbol of all that is fine and respectable about men, had virtually disappeared from fashion trends all over the world.
Motivated, they managed to gather 28 other "bros" that year who all agreed to grow a 'stache over the course of November. Since they figured their "MOvement" would likely attract massive attention, they decided to make their campaign about raising awareness for men's health.
They raised exactly zero dollars.
Undeterred, they tried again the following year. They picked up a few more participants – 450, actually – and that group raised 54,000 Australian dollars. The entire proceeds were donated to the Prostate Cancer Foundation of Australia. Then next year, nearly 10,000 "Mo Bros" raised 1.2 million AUD.
Today the Movember movement has official campaigns in 21 countries. They've raised AUD 730 million and have contributed funding to over 1000 men's health programs. Their focus is on key men's health issues: prostate cancer, testicular cancer, poor mental health and suicide.
The goal in addressing both prostate and testicular cancer is to "ensure men… live happier, healthier and longer lives." To that end, there are numerous videos on their website of men who have lived through these diagnoses. The stories provide something many men in the world aren't very adept at generating for themselves: community.
In grand Movember Spirit, a few points:
Prostate Cancer: It's the second most common cancer in men in the U.S. There are at least 3 million living with and beyond the disease, and unfortunately, treatment can cause serious side effects. Men should start checking for prostate cancer at 50 years old oOr at 45 years old if African-American or with a family history. The tricky thing is that prostate cancer doesn't always have many signs. Sometimes frequent urination, or difficulty urinating, are signs of prostate dysfunction but more commonly these symptoms indicate a benign enlargement of the prostate, not cancer.
There is a great website called TruNth, also started by the Movember crew, where men can discuss their experiences with prostate cancer, track their PSA's, etc.
Testicular cancer is the most commonly diagnosed cancer in young men. It has spectacular cure rates when caught early, but as you can imagine, not so much when caught late. This kind of cancer might be the easiest to catch, because you can do it yourself. We recommend approx. once a month. It takes about 15 seconds.
Suicide is reaching epidemic proportions among men. Currently around the world, a man dies every minute by suicide. Men die by suicide 3.5x more than women. Ironically, most men say they would absolutely be available to a friend if he needed help, but most men report that they feel uncomfortable asking friends for help.
Depression of course increases the risk of suicide. Many men don't recognize the hallmarks of depression as they develop, including decreased interest in pleasurable activities, changes in sleep patterns, lack of concentration and prevailing feelings of worthlessness. The best way to protect from suicide is to involve others. Start with friends, but it's valuable to involve family and counselors early also.
You can donate to the Movember campaign, and there are opportunities to get involved with it too. And if nothing else, if you have the ability to grow a 'stache, consider joining the movement every November. The discussion it generates will inevitably lead into topics central to men's health, increasing awareness and maybe saving a life. Who knew a fashion symbol of The Dude could be so powerful?