The sights and sounds of the holiday season are always a merry occasion, but for many, it's the taste of the holidays that bring great joy. For the better part of the past century, Bayview Thriftway, a family-owned, independent supermarket, has been offering up food and housewares to our community – and that in itself – is something to celebrate. This December 14, Bayview Thriftway adds a little extra flavor in celebration of that hallmark to their very popular, Taste the Holiday Spirit event, where attendees tour the store on a culinary holiday excursion. This year's event is set to be quite a taste-sensation and includes an anniversary cake, vintage memorabilia, and a visit from Ken and Lynn Storman.
Bayview's Store Director, Carol Lundblad, shares that attendees come from miles around for Bayview's Taste the Holiday Spirit event. This beloved, annual event takes place the second Saturday in December from 11:00 a.m. to 3:00 p.m. For over a decade, the event has featured local and regional vendors sampling their wares, along with culinary demonstrations from the Bayview School of Cooking. The harmonies of the Olympia High School Chamber Choir caroling through the store compliment the tastes of the season with the sounds of it.
"They are amazing!" Lundblad says of the choir. "They will come up to the top floor and sing over the balcony before a cooking demonstration takes place." The view from the balcony above shows a packed sales floor below:  A sea of attendees cheerfully enjoying the opportunity to "try before you buy" with samples of well over 50 products carried in the store.
Lundblad says the culinary tour begins the moment one enters the building, in the produce, deli, and bakery departments. Bayview's department managers are highly-skilled in curating the best items for their department, and invitations to vendors for the tasting event are no exception.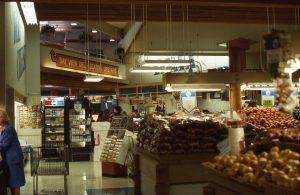 Those who present at the event are hand-selected by the department managers and offer up some of our region's best and most flavorful food and beverages. "It's not possible to push a shopping cart through these front areas," Lundblad warns, because the departments are filled to the brim with goods.
Attendees wind their way through to the meat department, sampling prime rib, and finish in the wine and housewares departments. Last year, vendors offered up tastings of various wines and ciders to adult attendees with proper identification, and Lundblad says the event is likely to have the same again this year.
During the event hours only, all wines will be 20 percent off. It's a great opportunity to stock up, stuff a stocking, or try a new varietal. Give yourself the gift of savings this season.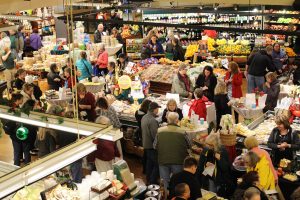 And although "this is not a price-driven event," Lundblad informs, "it's more about taste," there will be extra savings in the form of a rebate in the housewares department. During event hours only, rewards members (sign up instantly at the checkstand, if you're not already one), will get an additional 20 percent of their houseware purchases added to their ThrifteWallet. Think of it as a rainy – or perhaps snowy – day fund.
Holiday Culinary Inspiration (and Cake!)
Taste the Holiday Spirit offers a treat for your taste buds, but the event is unique in that it also serves up a feast of inspiration. The Bayview School of Cooking will present five different mini culinary seminars throughout the event on easy-to-make holiday foods that will not only satiate but also scintillate holiday palates. Enter to win a cooking prize pack and take home recipes that will inspire throughout the season.
Every year the Taste the Holiday Spirit event has a dash of magic baked in, but this year's event also commemorates 75 years of Stormans grocers and that's the icing on the cake. Literally.
In 1944 Ralph Stormans opened his first Food Center in downtown Olympia, and his grocery company has adapted right alongside the grocery industry. Bayview and Ralph's Thriftways are the only two locally-owned, independent supermarkets in Thurston County and the businesses are in their third generation of family leadership.
To commemorate this momentous occasion, an anniversary cake will be cut with second-generation owners, Ken and Lynn Storman. They will be greeting guests from 1:00 p.m. – 2:00 p.m. in a cake cutting (and eating) ceremony.
75th Anniversary Holiday Bag will be available to purchase for only $19.75 and it will feature goods from many local favorites such as Johnson's Smokehouse, Chehalis Mints, and Batdorf & Bronson Coffee Roasters. The bags are uniquely curated and boast items above the retail value, and some priceless items as well. Johnson's, while still recovering from their devastating fire, provided some of their smoked meats and cheeses from their now precious backstock, and Chehalis Mints produced a commemorative gold "75 Years" coin, and Batdorf & Bronson will grind their holiday blend fresh that day to include in the bags.
And speaking of gold, one of the fifty bags available for purchase will feature a Golden Ticket within, and the lucky recipient receives a Thriftway gift card in the amount of $75. (The lucky bag containing the Golden Ticket must be purchased the day of the event).
There's a lot to celebrate, as 75 years is a long time, and patrons will delight in the vintage memorabilia that will be on display during the event. Take a look at Ralph's old hand-crank cash register, and peruse the many historic photos of the stores and the Stormans family over the years.
To learn more about the event, visit the Thriftway website or call 360-352-4897. Connect with them on Facebook and Instagram too, to stay up-to-date on what's new.
Bayview Thriftway
516 4th Avenue West, Olympia
Monday-Sunday: 6:00 a.m. to 11:00 p.m.
Sponsored