Boss Auto Repair in Olympia is a full-service mechanic shop committed to putting the client, and their car, at the forefront. Located on Pacific Avenue is a one stop shop for car repair and maintenance needs, from an oil change to a full engine replacement. At the helm is Gary Morrison, who owns the business with his wife, Maria.
They opened up July of this year, and together bring a unique skillset to the shop. Maria works on the business side of operations, accounting, submitting licenses, creating websites, marketing and social media. She has joined Thurston County Chamber Ambassadors so that she can connect with the community.
Gary has over 22 years of auto mechanic experience and over 6 years of experience in running an auto shop. During his time as an auto mechanic and manager, Gary has become well versed in the complexities of operating a repair shop. His prior experience has helped shape the values on which he and his wife Maria, operate their own business.
"We wanted to build something where we could support the community," says Maria. "Make sure everything was fair. Make sure it was full disclosure. If it says it's on your invoice, that's exactly what we've done for you and just make sure that people had a place to go to that they could trust without prices changing and increasing every time they come in. Things like that that just aren't fair."
Boss Auto Repair lists an extensive menu of services, including being able to work on foreign and domestic vehicles. Gary says Boss Auto can do pretty much anything needed for car repair and maintenance, including four-wheel drive lifts, suspension lowering, struts and shock replacement and front-end alignment, a service that Gary says isn't available at every shop. Boss Auto can also add aftermarket upgrades to cars, like lighting accessories and seat heaters.
Vehicle warranties are also able to be maintained at Boss Auto Repair. Instead of going to a dealership for vehicle upkeep, Boss Auto can perform certain warranty maintenance services from a 20,000-mile service to an oil change. Every maintenance service is uploaded to Carfax, which Gary says is the documentation needed to maintain a warranty.
After being in business for just over four months, Gary says he's been proactive in becoming acquainted with surrounding businesses and the greater Olympia/Lacey community. Upon first opening the shop, Gary traveled around and personally introduced himself to 250 local businesses in addition to establishing an online and social media presence. As more clients and vehicles have visited the Boss Auto garage, Gary says it's been cool to see not only repeat customers, but friends of clients being referred to the shop when their car is in need of repair.
"I can't complain for being in business four months," says Gary. "We've gotten a lot of repeat business already and also people referring us. The other day, literally, the day after a client's car got fixed, their friend had their car towed into us. That's happened several times."
Boss Auto's principle of fairness not only extends to full disclosures and invoice pricing, but also to adjusting the cost of a service if it takes less time to complete, something Gary was not allowed to do in past managerial positions.
"The other day, there was a job that said it was supposed to take five hours and as I looked at it, I said, no I can do it in two," explains Gary. "So, I charged them two hours for it as opposed to five. And parts marking down, all that stuff. I was not allowed to do that at my last job. It was like, this is what it is and this is what it's going to be. Even if we got it done super early, that's what they're charged. They got quoted that, that's it. You could charge them more, but you could not charge them less."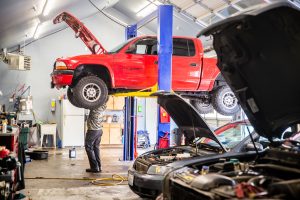 With Boss Auto Repair, Gary and Maria hope to diverge from practices that were standard at previous employers. Both Gary and Maria want Boss Auto to be the last shop that car owners have to visit. They want it to be a shop the community can rely on, that provides honest and high-quality auto repair work at a reasonable price for all.
"Get a chance to see what a fair price looks like," says Maria. "And most of the time, we're probably going to beat a lot of people around just because systems are going to tell you what you should be selling items for. It's up to the business owner if they think they really need to mark it up that much or not. And that's something that Gary does a really good job of. If something says it's only five dollars for us, well we're not going to charge them 10 times that for the same thing. So, he's really good at making sure cost balances out for us and for the client that's coming in."
As their manager Seven Linford says, "Everyone can work on cars, they're just the best at it."
To learn more about Boss Auto and the services they offer, visit the Boss Auto Repair website.
Sponsored