With the holidays approaching, this time of year becomes extra busy for many families. To combat that stress, it's wonderful to take the time to slow down and be together. For a holiday season to remember this year, enjoy family-friendly activities at home.

Holidays are centered around food so there are many wonderful opportunities to create fond memories in the kitchen. Making family meals together provides time to share old family recipes with younger generations. Baking delicious goodies offers tasks for all ages. There's something about everyone working together to make something good to enjoy as a family that really feels festive.
Even the simple act of making hot cider or cocoa as a family creates a cozy memory. Grab a warm beverage and wander the neighborhood to check out holiday lights and decorations.
A fancy meal adds to the layer of tradition in sharing meals together. Use the nice china and pretty dishes to set the table for holiday meals. Dinner by candlelight is undeniably magical and really allows everyone to relax while encouraging conversation. For safety, use candles in glass lanterns or battery-operated candles.
Have a toast! Say cheers and express thanks in a tradition that welcomes memories of the past year. Sometimes, it's the little memories that make the largest impression. Have everyone go around and express their gratitude before breaking bread together.
For a tradition that creates a keepsake, pass around a thankful journal. Let the whole family share on paper their favorite memories of the past year and hopes for the future. For kids too young to write, have an adult transcribe. Bring the book out each year to read and add more entries for a cherished memento of the holidays.
Spend an afternoon crafting homemade ornaments and festive decorations to display around the house. Depending on ages, adjust the project from simple projects like paper snowflakes and popcorn garlands to more complex ornaments and adornments.
Go green this holiday season. Thurston County Solid Waste shares great tips for less waste around this time of year. With green gift giving and decorating ideas, there is plenty of fun for the whole family to get involved.
Gather up leaves and greens to make natural wreaths and garlands. Use pinecones and nature's other treasures for an added Northwest touch. This is fun for a group for a less formal holiday gathering.
Reconnect with loved ones far way. Call or use video chat to visit with people out of the area. Grandparents would love to connect with the kids. The reminder to young people that the holidays are about family bonds is sure to make a lasting memory.
Either on the phone or in person, taking some time to ask older family members about memories they have of their childhood holidays creates inter-generational memories. If possible, record the conversation for preservation to remember for years to come.
Look at old photos together to provide a great opportunity to spark conversation and memories. Go a little further and find pictures from all generations celebrating the holidays and create a scrapbook together.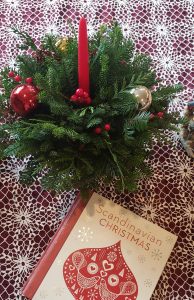 Enjoy the music of the season. Set aside time to simply sit with friends and family to listen to holiday music. Get in the spirit more and sing along. Gather instruments to have a fun jam session and start a new musical tradition.
Easy family time is made festive with holiday movies. As something all generations will enjoy, movie night is a simple way to unwind from the hustle and bustle of the season and make memories at the same time. If books are preferred, find a longer seasonal story that can be read over several weeks as a family.
There are so many unique and fun ways to count down to a favorite holiday. From a simple paper chain, to a candy advent calendar, help keep track of the date and create a fun memory each day.
Create a multicultural celebration. Learn about different holidays celebrated by other cultures to incorporate in this year's festivities. Enjoy new holiday traditions, try different recipes and listen to seasonal music from around the world.
Take full advantage of having the house decorated or the Christmas tree up and spend a night camping out in the living room. For a great night not soon forgotten, have quality time together with games and snacks while basking in the festive decor.
With all holidays, this time of year is blessed with love and happiness when family and friends are near. Making any kind of memories with a joyful heart and loved ones fills any home full of glad tidings.
Thrifty Thurston highlights inexpensive family fun in Thurston County. The weekly series focuses on family-friendly activities throughout our community. If you have a suggestion for a post, send us a note at submit@thurstontalk.com. For more events and to learn what's happening in Olympia, Lacey, Tumwater and the surrounding area, visit our complete events calendar.