Shea McKnight and a handful of her teammates were members of the player interview panel three years ago during Saint Martin's University's search to find a new women's head soccer coach.

Rob Walker, the long-time men's soccer coach at the school, had been serving double duty for several years up to that point, overseeing both soccer programs at SMU. It was an unenviable gig to say the least as the two teams played at the same time, making for a hectic schedule.
It was finally time for the Saints to find a coach who could dedicate 100 percent of their time to the women's squad, and McKnight and her teammates were tasked with sifting through the candidates.
They had already conducted three interviews. The fourth and final one was Heather Cato.
The interview ran over by a good 30 minutes and when it was over, everyone in the room had the same response.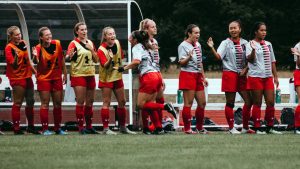 "We just looked at each other and said, 'Okay, that's our coach,'" McKnight recalled. "We connected with her from the get-go."
McKnight and her teammates had no doubt Cato was the perfect fit for the Saints – a statement that continues to hold true nearly three years later.
"I feel like our program was overlooked for a while and Cato came in and she stressed that women's soccer needs to be more important than how it was being treated," said senior defender Rose Robbins. "She just cares with her whole heart."
Prior to Cato's arrival, the team struggled for years to find its footing in the extremely competitive Great Northwest Athletic Conference. Three years in and the wins are starting to come, but more importantly, Cato and her staff are gradually changing the culture and team philosophy, laying a strong foundation for future success.
"From the beginning, after talking with the returning players, we wanted to focus on the culture of the program," Cato said. "Obviously, we want to win games, who doesn't? But we wanted to build a culture that can sustain success versus just having one great season then a few mediocre ones. With that said, the last three years have been about re-examining who we are, who we want to be, and how we want to be remembered."
During her first two seasons, Cato coached record-setting goalkeeper Ali Koehler, who set the school benchmark for saves in a single season in 2017, a pair of GNAC All-Conference selections in Robbins and Kiersten Madsen and seven Academic All-Conference players, including Kylee Sarchett, who was voted to the 2018 CoSIDA Google Cloud Academic All-District team in 2018.
"From my previous experiences, I knew that it was going to be at least a five-year process to begin to turn the program around, and we would lose more than we win for the first few seasons," Cato said. "However, it would only truly have a chance to improve if we have the buy in from returning players. From day one, we focused on the buy in. Like all coaching changes, we had our share of ups and downs, but we stayed the course, and focused on the improvements we were making on a daily basis, not focusing as much on the overall record."
On the field, however, Cato led the Saints to the most non-conference wins in a season in program history last year.
"We have and will continue to go through some growing pains. We will have accomplishments, and then we will have setbacks," Cato said. "We will have our fair share of successes, and our moments of failures, but the future of SMU women's soccer looks very promising. We are playing faster, more deliberate soccer. It is a fun style to watch, and fun for our players to play. We are excited about the youth in our team this year and the incoming class for next year. In addition, we have great leadership in the ranks with a junior class that has gone through the process with us and are bought into where we can go."
Cato doesn't have to look very far to point out two positive examples of players who completely bought in to the program's newfound culture. She only has to turn to departing seniors McKnight and Shea.
"Not only do these two impress me as players, more importantly, they impress me as people, which is why they were named captains for the fall 2019 season," Cato said. "They are driven, ambitious, confident and amazing women. They are the types of people and players that you get into coaching to coach. I'm so blessed to have had the three seasons I did with these two players and their teammates."
The Saints will close out their regular season on November 9 at home against Montana State Billings in what will be the last match for nine seniors.
"I feel like it's kind of sad it's our last year," McKnight said. "Because you can see how hard Heather and (assistant coach) Paige (Pontarolo) work and you can see where the program is headed."