Community, authenticity and quality. Those are the closely held values at Pizzeria La Gitana. With locations in both Yelm and Olympia, the owners of Pizzeria La Gitana, Catalin Stanciu and Marian Licxandru, believe in their craft of providing the finest ingredients available and creating an atmosphere as close to an Italian pizza house as possible without having to board a plane. Pizzeria La Gitana's Yelm location has become a hub over the years, with many diners stopping for a leisurely break along the way to the movie theater, Mount Rainier, or while biking the Yelm-Tenino trail.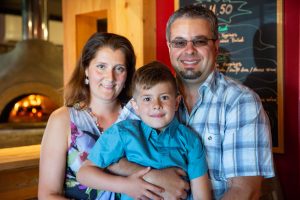 Longtime friends and business partners, Stanciu and Licxandru co-own each pizzeria. Licxandru manages the Olympia location, while Stanciu manages Yelm. The entire operation is family run, with each member contributing their skillset. Stanciu's and Licxandru's wives are both involved in the behind the scenes operations of the restaurants, including administration and creating a menu of desserts.
Originally from Romania, Stanciu had some initial reservations about opening up shop in a small community. Stanciu's apprehensions were soon cleared after meeting the people who live in and around Yelm.
"This is something we like doing, because we are people persons," says Stanciu. "It's kind of giving back to the community, because when I came here, I was having the Hollywood movies in my head. I wasn't sure how the people will react. Will they welcome me, my family integrating into the community? I think that this community is awesome."
Stanciu says the support he has garnered from the community inspires him to give back through high quality ingredients, good service, and a steady stream of support for various teams and organizations in the area. Pizzeria La Gitana often sponsors school football and soccer teams and participates in other school-related fundraisers. The pizzeria also makes a point to hire local high school and college-age employees, as a means to help them cover tuition. Pizzeria La Gitana offers non-profit fundraisers, setting up days where a minimum 20 percent of proceeds will fund a specific cause.
"We believe in the power of the community," says Licxandru. "We've seen the power of it. That's one of the beauties of being in Yelm and the community responds to what we sell, what we're doing. We have live jazz on the patios in the summer, because people say they walk in here and it's like Italy. And then, they have a taste of the pizza and it reminds them of Italy. And they linger. And that's the best compliment, someone who stays three hours in our restaurant."
In addition to community involvement, Pizzeria La Gitana shows great care not just for the quality of their ingredients, but also creating menu options for a variety of diets. A new selection at both locations is a cauliflower crust, which contains only 19 grams of carbs. There are also other options for gluten free crusts and pasta so that diners can still enjoy Italian selections, despite certain dietary restrictions.
"I think there is an awareness about using healthy options," says Licxandru. "There is a movement, there is an awareness about health-conscious eating and how long-term that affects our health."
Licxandru says that when sourcing ingredients, he likes to think about what he would want his children to eat.  "'So, what do I want them to eat?'" asks Licxandru. "And then, 'what do I want everyone's kids to eat?' We like to go and sleep well at night knowing that we've done right. It's the little things that we believe make a huge difference." That affects his decision to source meats and cheeses without added hormones or antibiotics. The pasta is organic and freshly made. Sauce is created fresh upon order. There is no cellulose in the shredded mozzarella. The bleu cheese is imported from France.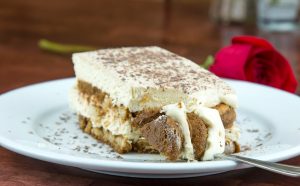 In creating an atmosphere and menu authentic to an Italian pizza restaurant, Pizzeria La Gitana imports their flour from Italy, while cooking each pizza in a wood-fired oven. To emphasize the restaurant's Italian authenticity, the pizzeria is working on an experiment to send local Olympia and Yelm couples to Italy, to have an Italian experience including trying Italian pizza, pasta and experience the ambiance there, to compare to Pizzeria La Gitana for authenticity.
"We'll pay for the bed and breakfast and for your airfare and you'll just have to go and enjoy Italian dining," explains Licxandru. "Come back and let's drink over a glass of wine and then tell us how was it? Do you feel like our place matches the service with them? Maybe even better? It's something that we're working on right now. I think that will show us we are really the authenticity and the quality that we emphasize we are."
Along the path of bike trails and a stop along the way to Mount Rainier, Stanciu says that Pizzeria La Gitana's Yelm location has become a meeting spot for a number of visitors passing through town. "We have a lot of traffic, tourists coming here a lot," says Stanciu. "And they're like, 'I want this in my town.' People are saying it's a gem in the middle of nowhere. A big part of our customers during the summertime are tourists. And they're coming back every year, or every two years."
Running through town is the Yelm-Tenino bike trail, which connects the cities of Yelm, Rainier and Tenino via a 14.5-mile-long trek. Connected to the Yelm-Tenino trail is the Chehalis-Western trail, which sources back to Olympia. Pizzeria La Gitana has become a popular lunch destination for families taking a weekend bike through Thurston County.
Licxandru says that the pizzeria has also become a local meeting spot for families going to see a movie at Yelm Cinemas or for diners who just visited the nearby Yelm Spray Park. "Yelm is kind of like a hub in this regard," says Licxandru. "You might not believe that there are people from Lacey coming to Yelm, but they do because there are things going on."
Stanciu and Licxandru have a special appreciation for the personal connections and support they have developed over the years, because of the steps it took them to get here.
"I think we can appreciate the community a little bit more because we come from a culture where this doesn't quite exist," says Licxandru. "So, then, because we can see it, we can appreciate it. We see the power of the community, we give back to it and we are grateful for their support, because we know without people eating here, we would not have a business here."
To learn more about pizzeria selections or locations, visit the Pizzeria La Gitana website.
Sponsored