The leaves are turning and the sweaters are back in use, but the Olympia Farmers Market is still open for its regular hours from Thursday through Sunday through the end of October, before the Holiday schedule starts in November. Summer produce may be waning but autumn has its own bounty with vegetables like beans, squash and plenty of root vegetables. There are also nutrient dense greens. All these are excellent for a warming pot of soup or stew.
We tend to consider our Market all about food (which it is), but you'll be missing a lot if you don't pay attention to the other vendors who have clothing, art, home decoration and body products like soap and deodorant. For example, Amy Weisbrot, artist and owner of Amy's Way Cool Earrings and Pins, creates incredibly detailed pieces with original art, paint, paper, glass and other materials. Amy began making pins in Chicago 40 years ago. There are magnifying glasses at her booth so you can fully appreciate the intricacies of her art.
There's more wearable art with Pieces to Peaces and be sure to admire Shari Trnka's elf slippers for kids and adults. You might be surprised at the number of craft vendors at the market.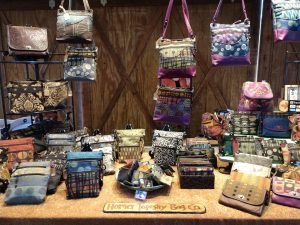 The Market is also a place to meet your friends and have fun at the Halloween and Harvest Celebration which takes place on Saturday, October 26. The following day will mark the end of the high season, thereafter the market will be open on weekends only through the end of the calendar year.
You can get more information about the market by going to the Olympia Farmers Market website or by calling the office at 360.352.9096.
Olympia Farmers Market
700 Capitol Way N, Olympia
Sponsored