It was a difficult 10th hole at the Class 3A state high school boys golf tournament for Christian Taylor. The Timberline High School junior had just shot a disappointing 8 on the par 5 hole at Indian Summer golf course.

Taylor's season had already been filled with highlights. He was a four-time medalist during league matches, earning first-team all-3A South Sound Conference honors in the process, and shot the second-best score (73) at the West Central District III.
But this was state and even though he was playing on the Blazers' home course, it was still new to him. He missed making the state tournament as a sophomore by one stroke. The year before as a freshman he was tied for the final state slot as he headed into the 18th hole at districts. A missed putt ended his season.
While he didn't gain the experience of playing at state the first two years of his high school career, Taylor's mental approach to the game benefited greatly from those two setbacks
"The off season," Taylor said, "I worked on letting old shots go and moving on to the next hole."
Said next hole this time around at state was a 220-yard par 3. It would have been easy for Taylor to simply go through the motions and close out the first day of the tournament without making the cut. He would have hardly been the first player at state to take that route.
Besides, there's always next year.
Taylor, however, did exactly what he spent so much time focusing on. Short memories can be a golfer's dream.
Not rattled by the previous hole's high stroke count, Taylor pulled out his 2-iron and teed off.
Parring the hole would have been an incredible achievement. Shooting 1-under would have been spectacular. Neither happen for him.
Instead, surrounded by his family and coaches, Taylor nailed a hole in one.
"I knew the 11th hole was going to be playing pretty long since it is the state tournament," Taylor said, "but walking up to the tee box, I would have never guessed what would happen. I checked to see how far the pin was and sure enough it was playing at 220 yards. I sat there and debated whether to hit a 2 iron or a 3 iron, but I could feel a little wind coming off the left which then made me choose a 2 iron."
A wise decision. Taylor recalls his swing feeling "pretty good" before watching the ball head straight for the hole.
"There wasn't really a thought in my mind that it was going to actually go into the hole, but then I watched it land a little short of the hole and disappear," Taylor said. "When it disappeared, I really did not comprehend the fact that it actually went into the hole."
If the wild cheers coming from the spectators didn't confirm it, the immediate high fives from the other members in the group he was playing with did.
"Walking up to the green," Taylor said, "it still did not seem real until I (looked) in the hole to see if it was really there, then it hit me."
Taylor shot an 82 at the first round of the state tournament. He followed that performance up by carding a 77 on round two, giving him one of the best scores during day No. 2 of the tourney. He finished with a score of 159, placing him 20th in the state, the tops among all local 3A golfers.
"The biggest area of growth I've witnessed is in his confidence," Timberline coach Matt Stevens said. "Christian believes he can hit any shot and more often than not he executes. When he was younger, Christian would doubt himself or feel as if he, 'didn't have it' if he started a round poorly. Now, he knows he can make-up for a bad hole and keeps his confidence up when he doesn't strike the ball well early on in a round."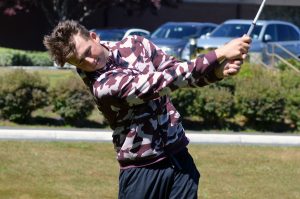 Never was that truer than at state.
"I feel that I met my expectations, and I am pleased where my game was throughout the whole season," Taylor said. "My game has improved a significant amount since my sophomore season. It has matured in the sense of keeping my cool on the course and staying patient, breaking down the course and using the correct club has helped improve my game."
The improvement should continue over the summer as Taylor plans to participate in several tournaments, including the Washington Junior Golf Association, Rocky Mountain Junior Golf Tour and USGA Junior, along with other junior amateur tournaments.
"I think my biggest goal for next season is getting our whole team to state," Taylor said. "We have some really solid players who are dedicated to the game and are willing to get better every day. A high place finish as a team would be great. Individually, I would like to finish in the top 5 next year and another hole in one would be nice."