Wendell Berry says, "People are fed by the food industry, which pays no attention to health, and are treated by the health industry, which pays no attention to food." This conundrum is something that Maxine Johnson is very familiar with, and tackles daily in her work as a nutritional therapist and fitness coach in her private practice, TempleFit.
It has been said that our bodies are temples, and should be treated as such. But sometimes – even with the very best intentions – life has other plans. Eating the right food, in the right amounts, for our individual body types and circumstances can be mystifying, and that is where a nutritional therapist like Maxine can help.
Maxine is no stranger to health and fitness, as she's been involved in the industry for over 30 years. In her mid-fifties, she was the reigning champion of the Masters Over 35 Class for three years in the National Physique Committee's (NPC) annual contest. The NPC is the nation's foremost organization of amateur bodybuilders, and in her time competing, Maxine quickly dispelled the myth that people over 50 can't build muscle mass.
Maxine then went on to achieve certification as a CCWFN, Certified Clinician in Whole Food Nutrition, or in short, nutritional therapist. Nutritional therapy is a holistic approach to balancing the body's synergy through proper nutrition to achieve the most optimal and healthful outcomes. In her training, Maxine has studied methods developed through the research of many great pioneer thinkers of the last century, including the works of Dr. Royal Lee, who is hailed as the greatest nutritionist of the 20th century, Dr. Weston A. Price, and Dr. Francis Pottenger Jr.
She's also an instructor of the "Get at the Roots" weight-loss program developed by fellow Nutritional Therapist, Nancy Rose. Maxine's practice, located in Olympia, can guide participants in-person or via teleconference, through this 12-week, life-changing program.
Get at the Roots is not a quick-fix, fad-diet or trend. It's a lifestyle change and an individual examination of a person's bio-individuality using the principles of nutritional therapy. "Each of the weeks we work through a different module," Maxine says. "The first week we determine a person's Lean Body Mass, and by the second week we start getting into the meat of the problem."
The Get at the Roots system expertly guides participants through the modules using a workbook, nutrient cards, and support from Maxine. The system is designed to give the body what it needs nutritionally to boost metabolism and burn body fat. The nutrient cards are especially helpful because they act like a flash card for the participant. They help to quickly determine what foods and in what amounts a person should be eating based on their Lean Body Mass (LBM). "This is really an important key," Maxine says. "It's the core. The starting point. If a person doesn't know their LBM, then they have no idea what their macronutrients should be."
She also details that another helpful feature that the Get at the Roots materials provide is information on "carefully and accurately adding in more food each day based on a person's activity." Since core amounts have been established, the system easily helps you calculate when to add in more proteins and carbohydrates to your daily intake. Increased activity calls for increased nutrition, and these efforts help to achieve a body's biochemical balance – and ultimately weight loss – through balancing brain chemistry, hormones, and blood-sugar. All of these are main components of long-term success and optimal health. Maxine says her clients on the Get at the Roots system "are doing fabulously" and losing substantial weight.
Exercise is a component of the system, but it's not the main focus. Though Maxine has deep roots in fitness, she's also practical and realistic. "Sometimes we just get so busy," she says, "I totally understand that we all don't have lives that will allow two hours of exercise per day. I do encourage people to look at their schedules and see where they can carve out 30 minutes for a brisk walk, or set a timer and every hour get up from your desk and stretch or walk down the hall."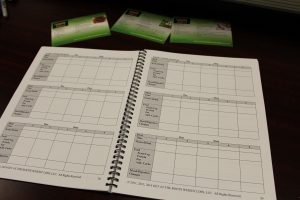 Maxine's years as a personal trainer set her apart in the nutritional therapy world. Not only does she have an in depth understanding of how to feed an individual's body in the most healthful way, she can also offer guidance and tailored exercise plans to her clients to help them incorporate more activity into their life, or take a current program to the next level.
It's important to note that the Get at the Roots system does not restrict foods. It does help to target food sensitivities however, and Maxine is able to guide participants through non-invasive tests that help to determine if there are any food sensitivities.
She also points out that if a person wants to lose weight "common sense tells you you're not going to be eating cookies and cupcakes and high-sugar white flour foods." She explains that these bring no nutrition to the body and actually cost the body nutritionally in trying to process them.
"But this is not a starvation diet at all," she details, and continues by saying "once you're on the right road and your body is responding well – it's the 80/20 Rule. If 80 percent of the time you're spot on, doing well, and watching what you eat – then the other 20 percent of the time you can enjoy life. We've got holidays, birthdays, barbeques. You can enjoy yourself and it won't completely derail your progress," she says.
Get at the Roots is a practical, easily adaptable, lifestyle change that examines the body as whole. It helps you achieve your weight loss goals while teaching you about optimal nutrition. With Maxine's support and fount of knowledge to draw from, this 12-week-program could be the best and most important time you've ever spent on yourself realigning your life.
If you're ready to make a change, call Maxine at 206-276-3534 (voice/text) or 360-338-0481 (office) or you can email her at maxine@templefit.com. You can visit her Templefit website to learn more about the Get at the Roots system and other nutritional therapies Maxine can provide.
TempleFit
605 11th Ave SE Suite 202, Olympia
206-276-3534 voice/text
360-338-0481 office
maxine@templefit.com
Sponsored