You may not believe all the exciting and enriching activities happening at our local Senior Services for South Sound. When I think of a senior center, knitting comes to mind, playing cards, and maybe some bingo. Would you be as surprised as I was to learn that Senior
Services for South Sound has a robust academic learning course calendar? There are plenty of recreational classes at Senior Services such as tai chi, yoga, and Zumba classes, but that is just the leisure learning side of what is offered.
In the fall of 2012, Senior Services held a community cafe and asked local residents what they would like to see offered at their senior center. One resident Barbara Coburn had attended an Osher Program in Eastern Washington. The Osher Institute of Lifelong Learning provides university-level classes for those over 50. Developed so that seniors could continue to engage and learn, there are no tests or grades. Barbara wondered if these academic courses could be offered here.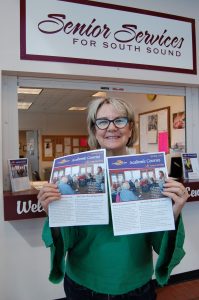 Sara Thiessen, Education Coordinator at Senior Services who had worked as an advisor at The Evergreen State College, didn't waste any time using her connections to reach out to local professors. The academic program began in January 2013 and now includes courses taught by professors from Evergreen, Saint Martin's University, as well as retired high school teachers. Three quarters are offered each year in the fall, winter, and spring and Senior Center members can sign up for diverse classes such as creative writing, political science, or US history. The six-week classes are very popular with the seniors and open to both members and non-members of Senior Services for a reasonable tuition.
"The teachers say they love the program and teaching a senior population that is hungry for purpose and connection," says Thiessen. "Seniors bring their lifelong experience and wisdom to add a new dimension to the class." The program has grown each year and Sara now has an advisory board, which helps to recruit professors and add new courses each year.
Senior Services for South Sound is especially proud to offer a course taught by Fulbright Scholar, Dr. Igor Krasnov. A professor at Petrozavodsk University in the Republic of Karelia, Dr. Krasnov is currently being hosted by Saint Martin's University. Dr. Krasnov has spent the last nine months in Lacey and Olympia teaching and living in the South Sound. "Coming from the Northwest of Russia which is abundant in lakes, rivers, and forests, I am most impressed by the ocean and the mountains." In his free time, he has explored Seattle, Portland, Mount Rainer, and many of the beautiful parks in the area.
The course entitled Russian Culture Before and After the Iron Curtain offers Dr. Krasnov's unique perspective as a native Russian who has lived and taught during an extraordinary time. Dr. Krasnov has enjoyed teaching the seniors because they relate to the material. "Seniors know and remember the Cold War. For the younger students, it is ancient history and it takes a lot of explanation at the beginning before the university students can make a connection," shares Krasnov. He enjoys both groups of students as they bring different life experience to each class.
"We were thrilled to welcome this class on Russia to our catalog," shares Thiessen. "It is so special to have a Fulbright Scholar in our midst and he is returning to Russia in May so we are lucky to have him." Dr. Krasnov has been so well received that the Senior Center has decided to make him available to the entire community.
On May 23, 2019, Dr. Krasnov will bring his discussion of Russia Before and After the Iron Curtain to the Olympia Country and Golf Club. Dr. Krasnov will discuss the topic of rock and roll during and after the Soviet Union. Attendees will learn about a generation of Russians who were motivated to learn the English language so they could understand the lyrics of the Beatles. Young would-be rebels including Dr. Krasnov himself wanted to know what John Lennon and Paul McCartney were singing about. The professor of English and Intercultural Communication will also discuss current-day relations between Russia and the West.
The event will begin with a no-host bar in the Rainier Room at OC&GC at 5:30 p.m. with the lecture beginning at 6:00 p.m. The presentation is free and parking is easily available at the venue located at 3636 Country Club Drive in Olympia. For more information on this event and all the services available at Senior Services of South Sound visit them online.
Senior Services for South Sound
222 Columbia Street NW
Olympia, WA 98501
360-586-6181