First Responders in our community are essential to keeping us safe and are always ready to help those in need. Police and Fire personnel are exposed to many of the most devastating events that ordinary citizens only hear about in the news. Pulling children from fires or witnessing a school shooting can be life-altering events that First Responders live with every day. It has only been in recent years that we have begun to recognize and diagnose the effects of these experiences, which can result in Post-Traumatic Stress Syndrome (PTSD). In the past, PTSD was more commonly associated with shell shock or battle fatigue, something only seen in our veterans. We now know that PTSD occurs right here at home as a result of a single traumatic event, like a deadly fire, or the repeated trauma of being exposed to danger on a daily basis.
Brandi Morgan, a paralegal at Putnam Lieb Potvin Dailey experienced PTSD in her own family before it had a name. Her father who served in the military suffered before the disease was truly quantified in the early 1990s. Morgan has many friends and family in law enforcement, making her advocacy a personal one. She is passionate about getting help for the "helpers" in our community.
Now, her job is easier thanks to newly enacted legislation that guarantees that PTSD as a result of experiences on the job is an occupational disease and benefits must be provided by Labor & Industries. "I am so passionate about making certain that workers know about the benefits that they are entitled to and are aware of the pitfalls when applying for benefits," says Morgan.
Creating Awareness
To create awareness around the issue and the changes in the law, Putnam Lieb Potvin Dailey are proud sponsors of the 1st Responders Conference, which was started by Ms. Shawn Thomas, a King County Deputy Sheriff and her husband Jeff, who is also a Deputy for King County. The 1st Responders Conference is committed to the emotional, physical and spiritual well-being of the public safety work force. The conference promotes awareness of the difficulties of the profession and aims to minimize the stigma of asking for help. "The conference invites speakers who have experienced trauma to share their journey with attendees and provides solutions for these men and women in our community who give so much to get the help they need when they find themselves in personal crisis," says Morgan. One of the most inspirational speakers was the school resource officer who was present during a school shooting at Marysville Pilchuck High School where five students lost their lives.
Dustin Dailey spoke at the conference and the firm provided a "Best of Olympia" basket that was raffled off to attendees. Dailey and his partners are quick to point out that not all workers need an attorney, but all workers can benefit from understanding the application process and the potential pitfalls. "It is much easier to receive benefits with the initial application than it is to appeal a denial for benefits after the fact," says Morgan. They hosted a booth at the conference to let First Responders know that they are happy to provide a free consultation to anyone planning to file for L& I benefits.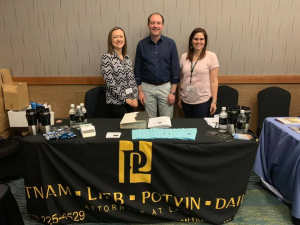 Chris Porter, a Centralia firefighter was one of the first beneficiaries of the new law. With the help of Dustin Dailey and his firm, Porter was able to receive the support that he and is family needed after he responded to a fire in his own neighborhood that ultimately claimed the lives of three young children. "I don't know where I would be without Dustin," shares Porter. "He helped me through a difficult process when I had no energy or will to go on." There have only been nine recipients of L&I benefits under the new presumption statute so there is much work to be done to make sure that all First Responders and their families know that these benefits are available to them.
PTSD affects not only the work life of those suffering but directly impacts their personal lives. PTSD can cause depression, anxiety, fear, guilt and rage. Most recently, researchers have found that there may be actual physical changes within the brain after a traumatic event. First Responders may believe that leaving their jobs will alleviate the symptoms. Unfortunately, this is not the case and many retired police and fire personnel lose their community and support by isolating themselves from their peers and suffering alone.
If you or someone you love is suffering from PTSD what can you do? "Call Code 4 Northwest at 425-243-5092, a crisis line that is staffed by First Responders," shares Morgan. This nonprofit organization was founded by a First Responder and is run entirely by volunteers. Your call is answered by someone who understands the work you do and it is 100 percent confidential. A PTSD diagnosis can also be made by your medical doctor. Consult with an attorney right away to learn about your rights and what you are entitled to under the new law.
Putnam, Lieb, Potvin and Dailey have worked hard to locate a network of treatment providers that they are happy to share with First Responders and their families. For more information on your workers' rights visit the Putnam Lieb Potvin Dailey website.
Putnam Lieb Potvin Dailey
907 Legion Way SE Olympia
360-754-7707
Sponsored