Summer is so close, you can smell it in the air on nice spring days when the sun is shining. That fresh grass smell is the precursor to school ending and the start of summer vacation. What will your child be doing this summer? Help ensure they are not glued to their screens for three months by enrolling in a Thurston County summer camp. There are many to choose from, with something for every interest – from outdoor school to STEM projects and music to horseback riding. The only hard part may be choosing which one your child goes to this year. And don't delay signing up, these camps fill fast!
90TEN Training Academy
For kids who like sports, the 90TEN Training Academy is having two summer camps for boys and girls ages kindergarten through second grade and third through eighth grade. More information coming soon. Check the 90TEN Training Academy website for details and registration.
Bayview School of Cooking
This year, Bayview School of Cooking is doing something really unique with their baking classes – kids will get to "explore" the National Parks through culinary arts! They will be focusing on themed foods for Mt. Rainer National Park and Olympic National Park (ages 5- to 8-years-old) and Grand Canyon, Glacier Park, Yellowstone and Yosemite (ages 9- to 13-years-old). Camps cost $95 and $190, respectively. To register, visit the Bayview School of Cooking website or call 360-754-1448.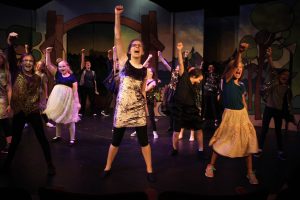 BK Musical Productions
If your child is into musicals, than the BK Musical Productions camp is for you! This summer they are doing "Disney Aladdin Jr." At the end of the camp, performances are held at River Ridge High School. Ages 8- to 18-years-old are able to attend. Cost is $250 with financial aid available. They are also doing a three-day Aladdin Workshop in June, where kids will perform at the Strawberry Festival. Cost is $25 or free with summer tuition. To register for either, visit the BK Musical Productions website.
Capital Metro Fire Girls 
Inspired and sponsored by Camp Blaze, who's vision is to empower, inspire, and support strong female leaders, Capital Metro Fire Girls camp is a 2-day girls camp for ages 14- to 18-years-old that encourages young women to take on new roles, learn new skills, and bond with each other, all while providing mentorship from local female leaders and community leaders.  Our goal is not to recruit female firefighters. Our goal is to create an environment that allows young women to realize that nothing is out of reach and anything is possible with hard work and grit. Capital Metro Fire Girls Camp is at no cost to campers.All those involved are volunteering their time to invest in their community. To register, visit the Capital Metro Fire Girls website.
City of Olympia Parks, Art & Recreation
City of Olympia Parks, Arts & Recreation offers a variety of Summer Day Camps for ages 4-yeras-old and up. They offer half day, full day, and overnight camps such as sports camps, mini camps, adventure camps, sailing camps, STEM camps, art camps, media camps, leadership camps, yoga camps, Bricks 4 Kidz (LEGO) camps, and more! These affordable, high quality day camps often fill up quickly, but don't fret, the City keeps an active waiting list and many campers end up getting their first choice by the time each session rolls around. Visit the Olympia Parks, Arts & Recreation website to view the catalog and register or call 360-753-8380.
Empowerment 4 Girls
Empowerment 4 Girls educates, inspires and empowers girls,  9- to 16-years-old, to deepen their unique character, cultivate self-confidence, develop core life skills and implement daily self-care through an innovative journey toward self-discovery and inner peace. They offer week long Empowerment Camps and Conscious Minds Conscious Bodies Camps. Cost is $375 for a week long camp, with a $100/day option for the Empowerment Camp. Scholarships are available for both camps. To register, visit the Empowerment 4 Girls website.
Girl Scouts of Western Washington
The Girl Scouts of Western Washington summer camp is jam-packed with all the fun of summer any kid could ask for. Campers will get to participate in archery, horseback riding, swimming, singing songs at the campfire, backpacking, and learn about things like marine biology. Financial assistance is available. To register, visit the Girl Scouts of Western Washington website.
Hands On Children's Museum
The Hands On Children's Museum has half- and full-day camps (full day camps for first through fourth grade only) for kids as young as 3-years-old. Camps will teach kids in fun and engaging ways about STEAM topics and will be held in the museum and it's Outdoor Discovery Center. To register, visit the Hands On Children's Museum website.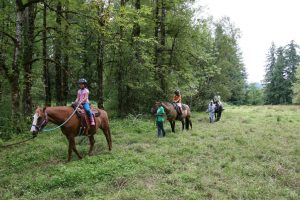 Keev Farm
Who doesn't want to spend the summer at pony camp? Keev Farm's camp is four days of fun while learning about horsemanship, riding, playing games and making friends. Open to ages 5- to 11-years-old. To register, visit the Keev Farm website.
Nature Nurtures Farm
Nature Nurtures Farm offers a fun farm day camp experience for children ages 7- to 12-years-old. Weekly day camps are available from June-August. Outdoor exploration paired with unique farm and animal activities enrich the summer program. Many activities are based around the lessons animals, plants, or the natural world have to teach. Cost is $275. Extended care available for an additional fee. For more information and to register, visit the Nature Nurtures Farm website.
Nisqually Reach Nature Center
Nisqually Reach Nature Center has hosted popular summer day camps at Luhr Beach since 2000. These camps are led by the Education Director and many volunteer counselors. The camps are designed to connect students 7- to 15-years-old with nature through a hands-on, inquiry-based science program. There are three-day camps, followed by a 7-day advanced science camp (Citizen Science Academy) for older students in July.
This year's Citizen Science Academy (ages 12-15) features a three-day, two-night camping trip to Mt. Rainier National Park where participants learn about glaciers, volcanoes, native flora and fauna, and much more from experts in the field. An overnight kayaking/camping adventure on the Nisqually Delta is an exciting new addition to our 2019 program thanks to a partnership with Kayak Nisqually. It will feature an evening bioluminescent plankton paddle and discussion with whale biologists from Cascadia Research Collective. For more information, including dates and pricing, visit the Nisqually Reach Nature Center website.
Northwest Mind Body Soul
Northwest Mind Body Soul Youth Programs offers a unique day camp called Beats and Boards that incorporates mindfulness, community building and emotional intelligence into skateboarding and electronic music education. It's mission is to get kids active and engaged in fun activities that don't involve screens, and that foster real social connections. Sessions run from June 15-19 and July 29-August 2nd at Lincoln Options Elementary School. To register, go to the Northwest Mind Body Soul website or call 360-763-3424
Olympia Area Rowing
Olympia Area Rowing offers week-long summer camps for middle school-aged participants to try sculling (rowing with two oars) in small boats.  Olympia Area Rowing offers week-long summer camps for middle school-aged participants to try sculling (rowing with two oars) in small boats. For high schoolers (entering grades 9-12), they offer 3- and 5- week summer camps for those who are interested in learning to row. If possible, we encourage participating in the longer 5 week session as it allows more time for learning a new skill and for developing a bond with teammates.  The high school camps include a fun home race at the end of the 3 week session and a super fun away race (Seattle) at the end of the 5 week session. To register, visit the Olympia Area Rowing website.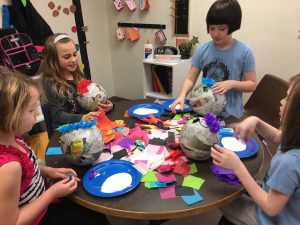 Olympia Community School
Children 4- to 10-years-old can attend the Olympia Community School's summer camp. Each week will have its own exciting focus including: LEGO, electricity, Play Doh/slime, magnets, planes, patterns/shapes, drama, food creations and magic. Kids will have the opportunity to play, make crafts and engage in STEM/STEAM activities related to each week's focus.  They have customizable enrollment options available, including daily, weekly and monthly rates with 3-day and full-time options. There is no minimum enrollment required. To register, visit the Olympia Community School website.
Olympia Kids Fiddle and Art Camp
Olympia Kids Fiddle and Art Camp combines art and music in a fun, creative week! Children ages 7- to 13-years-old can enjoy small group instruction in fiddle/violin for very beginning to advanced levels.  Orchestra students are welcome! Children will also gain other musical experiences including percussion and singing, as well as instruction in a variety of art projects. We will host an evening performance for the families on Friday! For more information, visit the Olympia Kids Fiddle and Art Camp website.
Olympia Family Theater
The summer theater program at Olympia Family Theater has some for kids as young as 5-years-old to enjoy. The focus of their programs is to, "provide opportunities for personal development for young people, teaching creativity and responsibility, encouraging teamwork and personal integrity, and fostering self-esteem and appreciation for the performing arts." Summer programs include half- and full- day camps as well as workshops. They are also doing a summer production of the The Phantom Tollbooth for any child 10-years-old and up. They offer a multi-student discount. Prices vary per camp. To learn more about their classes and to register, visit the Olympia Family Theater website. Note: for the stage production, there is no online registration, but an audition is required.
Olympia Mountaineers
The Olympia Mountaineers offers two weeks of exciting outdoor summer camps for your youth. The first camp is a one week camp for youth 8- to 13-years-old. The week is packed with skill building and kayaking in the early days, and then includes two nights, three days of overnight camping at 3-volcanoes cabin near Randle, where we will be learning while hiking on Mount Rainier, Mount Adams, and Mount St. Helens. The evenings will be spent back at the cabin with a warm campfire while enjoying songs, games, and hearty meals. The second week is a day camp for kids 6- to 10-years old. The week includes outdoor games and activities as well as outdoor skills development. Some of these include rock climbing, kayaking, hiking, map and compass training, camp cooking, wilderness first aid, fire and shelter building, and so much more. To register, visit the Mountaineer wesbsite.
Roots and Wings Summer Camps
Roots and Wings Summer Camps offer a fun, nurturing environment for children ages 4- to 11-years-old. With a focus on nature and science, imaginative play and artistic expression, we have a variety of camp themes such as dinosaurs, music, puppetry and mazes! Contact Hilary Morris at rootsandwingsoly@gmail.com to register or for more information.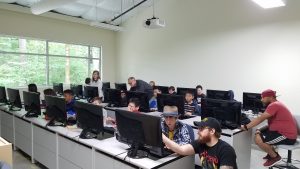 Saint Martin's University
Saint Martin's University has a wide selection for camps for the sport-loving kid, including basketball, baseball, volleyball, track & field. And, not to be missed, are their game development camps, where kids learn create their own computer games. If you know you can't pry your kid away from a screen for the summer, why not make sure the screen they are staring at is educational? Cost of camps vary. To register for the athletic camps, visit the Saint Martin's University website or call 360-438-4328. To register for the game development camps, email Dr. Mario Guimaraes at mailto:mguimaraes@stmartin.edu.
Sequoia's Treehouse
Children 5- to 12-years-old can spend the summer learning, exploring, and growing outdoors with Sequoia's Treehouse. From field trips to the flight museum and the zoo, to learning how to make a fire, kids will get a broad range of experiences. They will forage for edible berries and then learn to make jam. They will care for the resident goats at Sequoia's Treehouse and engage in learning activities that include building social and emotional skills as well as problem solving and critical thinking. There are 10 weeks of fun activities – sign up for 1 week or all 10. Pre- and after-care also available. For more information and to register, visit the Sequoia's Treehouse website or call 360-742-3651.
South Sound YMCA
The South Sound YMCA has a full summer program for kids of all ages. They have summer day camps happening at seven locations that are designed to, "help promote self-confidence through age-appropriate skill building, with an emphasis on spirit, mind, and body." For the sports kids, they also have summer sports, including soccer, football, ultimate Frisbee, lacrosse, and t-ball. Cost for the program is $180 (facility membership is $170), financial aid is available. To register for their summer camps, visit the South Sound YMCA website.
YWCA Olympia
The YWCA Olympia is holding a three, week-long Girls Without Limits! Camp. Each camp will include hands-on activities, art projects, speakers, field trips, swimming and so much more. Camps are for girls and gender non-conforming youth in sixth through eight grade. Cost is $200, full and partial need-based scholarships are available. To register, visit the YWCA Olympia website.