David Copperfield said, "The real secret of magic lies in the performance." Long-time Olympia magician Jeff Evans performs over 250 of his entertaining and interactive shows for parties, civic and corporate events at places like Little Creek Casino. His blend of clean comedy and interactive magic brings excitement to any event, big or small.
Jeff's start in magic began when he was young. At age 12, while visiting his grandparents, he found a magic book on their bookshelf that was his dad's. The book – which he still has – is Modern Coin Manipulation by T. Nelson Downs. The cover intrigued Jeff with a series of illustrations showing a hand empty, front and back, then plucking a coin out of thin air.
"To a kid, this demands an explanation," Jeff exclaims. He read the book and tried some of the tricks, but it was not a very good book for beginners. Back home, he headed to the Lacey Timberland Library and looked up the magic section. "The magic bug had bitten me," he says.
Over the next few months, Jeff checked out every magic book at the library, making props out of plastic cups and magnets and searching out the cheapest packs of cards he could find. He started performing at home for guests and family. At his first show, where he charged admission of 50 cents, he and his best friend Jason transformed a garage into a theater by hanging bed sheets from the rafters.
Then Jeff's parents hired Olympia magician John Amidon to perform for his birthday party. "It was a total surprise," shares Jeff. "I'm pretty sure I was on cloud nine having a professional magician right in my own house." After the show, John spent extra time with Jeff and became his first mentor in magic, giving him a Paul Diamond Magic Catalog.
John also took Jeff and Jason to meetings of the Tacoma Magic Club. "Seeing a bunch of magicians performing and sharing secrets was eye-opening," says Jeff. "That was the gateway to even more learning as well as attending magic lectures and conventions."
Fast forward to Jeff's college years when he joined forces with magician Rick Anderson to start Amazement Productions LLC. "If it wasn't for John Amidon and Rick Anderson, it's questionable if I'd be performing magic today, so I owe them both a lot," Jeff says.
Although the pair are in business together, their styles are quite different. "My material is always squeaky clean," says Jeff. "He's more willing to use edgy material in the right situation. Rick is one of the few magicians who is not only super knowledgeable about nearly any routine or type of prop, but can also perform it really, really well."
Winning first-place awards for his magical performances at conventions has helped Jeff with his performances. "Preparing an act that you'll do in front of your peers makes you put a lot of thought and time into honing it to perfection," he says. "I appreciate that aspect and know it made me more original. The trophy or plaque means nothing, but receiving praise and recognition from your peers in the magic world is truly special."
Performing for major corporations, Jeff has had the pleasure of meeting a lot of interesting people from politicians, to radio, TV, and sports personalities. Once, Jeff was doing magic for a fundraising event at an elegant home in Bellevue. After several people had cracked Costco jokes, Jeff finally asked, "What's up with Costco?" It turned out he was in the home of Jim Sinegal, co-founder of Costco, and the attendees were all directors with the company. "Fortunately, they liked me and had me return for another event the next year," Jeff laughs.
Because he has spent his whole career living and working in the same area, Jeff frequently runs into clients and people who have seen him perform over the years.  One of his annual gigs is the Santa Breakfast at the Olympia Country and Golf Club. "I'm tickled when kids, now in high school or college, come and tell me that they've been seeing my show since they were like five years old," says Jeff.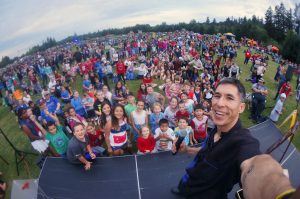 Although his tricks are numerous, one that is particularly unusual is his "underwater trick."  Jeff built a special transparent acrylic tank so his head could be inside and then the container filled with buckets of water. Wearing a mask and snorkel, he performs the trick "underwater." One time there was a technical issue where the snorkel filled with water and he had to dump five gallons of water onto the floor to prevent from drowning.
Jeff feels thankful for the local community that supported him over the years. "I'm super fortunate that I discovered what I love at an early age and have been able to earn a living doing it," he says. "I owe a huge thank you to my clients who gave a kid in high school and college a chance. And my parents, who never pressured me to "get a real job" and to this day come to a bunch of my public shows, both in the area and beyond."
For those interested in learning magic, Jeff encourages them to head to the place that made a huge difference for him – the local library. He also created a video course in magic aimed at kids.
"I love watching the faces of people as they experience magic," says Jeff. "I see looks of bewilderment, amazement, and wonder. Some people laugh, others get mad, others turn to their friends to see if they just saw what they did. Different reactions are fascinating and make my job really fun."
Jeff Evans Magic
360-412-5064
jeff@amazementproductions.com