Businesses are like layer cakes. Beyond the product itself, you'll meet their sales team, support staff, installers, managers and owner. Each interaction reflects on the company's overall health and success. If employees are happy, respected, and represent quality materials, the whole experience is a delight from start to finish.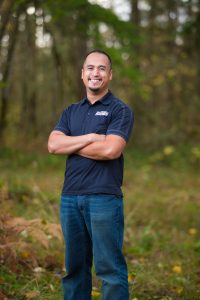 This is especially true when working with Budget Blinds of Lacey. They provide all manner of blinds, shutters, shades, rugs and more for your home and office. But they do it via free in-home consultations and estimates, saving you a trip to a cold, cavernous warehouse.
To simplify this process, owner Amber Snaza focuses on hiring the best. Whether sales team members like Randy Utting or installer Reynaldo Pinlac, they are the face—and steady hands—of the company.
Pinlac has been with Budget Blinds for just over three years as a custom window coverings installer. "I was a few months away after getting honorably discharged from the military," explains Pinlac. "I was working on completing my final class for my bachelors in Health Sciences when my employer, Mrs. Amber Snaza, offered a part-time position for a window coverings installer. I don't have any experience installing custom window coverings, but Budget Blinds of Lacey took me in and allowed me to give the job a try anyway."
The rest, as they say, is history. "Rey is the perfect addition our team," says Snaza. "He is wonderful with customers. Always has a smile on his face and can really put people at ease. We can always count on him to do a great job."
Training in a new field is never easy and requires skilled, hands-on instruction. At Budget Blinds, Pinlac learned from the best. "The whole team is very supportive and is just a really nice group of professional individuals. Amber provided me with the training and tools that I needed for the job and Randy assisted me with all my installs, from applying window films to mounting wood shutters, until I became comfortable doing custom window coverings installation and repairs on my own. The teams' confidence in my skill boosted my confidence to work independently."
"It's nice to have that person at the end of the day that takes his time to do things right the first time," agrees Snaza. "Rey's always ready to work and goes out of his way if needed. As a team we all have our specialties and together we are the best out there! He is so very much appreciated. He is quite funny too. We love having him around!"
Staffing experts stress that "People who feel motivated and engaged in the workplace do an excellent job in their assigned roles, resulting in better products, greater customer satisfaction and increased sales. Employees are a company's most valuable asset. The success of your business depends on their work…The advantages of good employee relations cannot be overstated."
Rey is a valuable asset indeed and loves working with the people he meets. "The best part of the job is seeing how excited and happy the customers are with the products they chose, and even more so when their custom window coverings are finally installed in their beautiful homes," he says. "And the real bonus is that our customers appreciate how organized and efficient we are when we're doing our job."
Employee turnover is disruptive and expensive. New staff have to be found, hired, trained and supervised, all at additional cost to the company. And for small businesses, it's like losing—or trying to replace—a part of the family. This is why retention is crucial. Thankfully, Pinlac hopes to spend many more happy years at Budget Blinds. "I'm really looking forward to staying with the team because they are such great people to work with," he says. "And the customers whom I have the pleasure working for are all very welcoming and very understanding with our concerns to doing our job safely."
If your home or office need to be freshened up, cooled off, or re-done altogether, contact Snaza and her team by calling 360-894-8130. When installation time rolls around, you may find yourself visited by a truly professional Rey of sunshine.
Sponsored