When Sam and Melissa Rasmussen opened the Cooper Point Public House on Olympia's west side they felt lucky to be working with Michael Steadman of Steadman Properties. "Michael is a great guy to have on your side," explains Sam Rasmussen. "In the world of business, and especially the restaurant business, it can be difficult to be a family owned operation in a sea of corporations." Sam and Melissa felt supported and encouraged in their dream to open their own restaurant. Five years later and they still sing the praises of their landlord. "Steadman Properties is a cheerleader for the independents," says Rasmussen.
Steadman Properties began as a small family business. Michael Steadman's father and his brother purchased houses that needed some work, improved them and sold them to happy homeowners. Since Michael has taken over the business it has grown exponentially. Today, Steadman Properties owns several commercial buildings in Thurston County and is in the process of developing another parcel. However, they continue to be champions of the little guy. "We pride ourselves on being small business advocates," explains Michael.
When he met Sam and Melissa Rasmussen they were working for other restaurants. "We were excited to be a part of helping them realize their dream of opening their own place," shares Michael. The property at 3010 Harrison is the home of several other small businesses, including a Baskin Robbins that is owned and run by an Olympia firefighter and his wife. "Steadman Properties is not a big corporation, but we have been very successful by being fair and giving small independent businesses a start," Michael adds. "Our tenants are local people, veterans and minorities."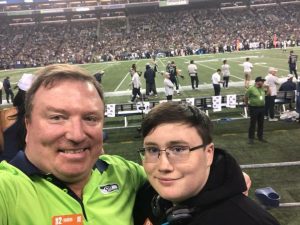 Along with the building on Harrison, Steadman Properties owns 6700 Martin Way, a business park with four buildings and is currently developing a two-story mixed-use building that will include 13,000 square feet for both businesses and condominiums. "The City of Lacey is growing by leaps and bounds," Michael says. "We want to be a part of the solution by offering housing with parking and great spaces for businesses to thrive and prosper." Their philosophy is that everyone has to make money, which includes his tenants. "We just want to give as many people as possible the opportunity to get in the game," he adds.
Tenants of Steadman Properties have the expertise and knowledge of Michael Steadman on their side. Michael has served on the Thurston County Chamber of Commerce and the City of Lacey Planning Commission. He is happy to share his knowledge of working through the permitting process with his clients. Working with a local company to lease space means you know your landlord and he know the area. "We provide a very personal and hands-on experience for our tenants," says Michael. "You aren't mailing your check to a corporation on the East Coast, your money stays here in Thurston County."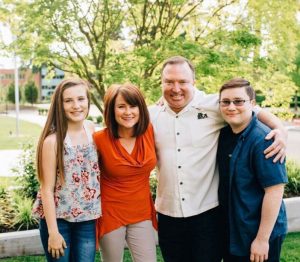 Michael is a business owner, a father and a husband. That may sound like a lot of hats, but he is also a public servant and serves on the Lacey City Council winning over 80 percent of the vote in his last election. Michael and his wife, Shannon, have two children that attend schools in the North Thurston Public Schools. "This is our home and we want to help make this a better community for everyone that is fortunate enough to live here," shares Michael.
Shannon is the Principal's Assistant at Aspire Middle School and together they work tirelessly to help others. The Steadmans support Thurston County Veteran Services, an organization that is close to Michael's heart as a veteran of the United States Marine Corps. Michael has worked with Homeless Backpacks for many years, providing them free building space until they happily outgrew it.
Michael is quick to point out that he is just one example of a business owner that gives back to the community. "I know so many people in this community who will work a 12-hour day and then turn around to volunteer three hours or more for a local charity," he shares. The Homeless Backpack program is a perfect example, started by the family members of Dirty Dave's Pizza Parlor. "Lacey is not just a place to live, it is our home and we want to help make it an even better place," Michael adds.
For more information on leasing and business opportunities, visit the Steadman Properties website.
Sponsored