Remembering warm, balmy summer days keeps us sane when winter's gray lingers. The Old Farmer's Almanac predicts that summer 2019 "will be warmer and drier than normal, with the hottest temperatures in mid- to late July and early and mid-August. September and October will be warmer and slightly drier than normal."
Whether your home is new or old, with few upgrades, or stubbornly refuses to cool off, start thinking about ways to make sunny weather pleasant for everyone. At Sunset Air, qualified installers can help you choose between adding seasonal air conditioning or a year-round heat pump and then arrange quick, seamless installation.
For four decades, Sunset Air has provided expert sales, service, and maintenance of homes, including heating, cooling, tanked/tankless hot water systems, electrical, fireplaces, windows, solar, and generator technologies. Residential Division Manager Matt Jones and his team know the right questions to ask and specific answers to provide when homeowners seek guidance.
One of their most commonly asked questions is about the difference between air conditioning and heat pumps. Both produce the same results in the summer, but heat pumps work 365 days a year. Don't get tangled up in terminology, let Jones clarify everything from hybrid heating to zone control services with ease and clarity.
HomeAdvisor.com explains—in layman's terms—that a heat pump "works both as an air conditioner and heater. When you set the thermostat to 'cool' or 'heat', it will adjust its cycle to create cold or hot air. A reversing valve built into the compressor can reverse refrigerant flow to allow the air to be cooled by refrigerant or let it remain hot in a reversed cycle."
On the other end of the spectrum, traditional air conditioners "function identically to the 'cool' setting of a heat pump. The only main difference is that air conditioners can only cool down the air temperature by removing humidity and heat, the cycle can't be reversed to create heat."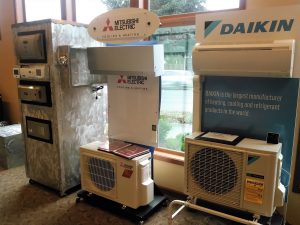 Which to choose, says Jones, depends on your home's existing heating system, fuel source, initial budget and operating cost requirements, and overall efficiency needs. For our mild climate, heat pumps tend to be the Northwest norm as they excel in the 40-55-degree temperature range and combine with our low utility cost, they make for a perfect partnership.
At Sunset Air, they help thousands of local families every year make decisions regarding heating and cooling systems. These decisions that not only affect their wallet and time, but comfort and health as well. Sunset Air's goal is to make buying simple and easy. They are aware that not everyone has been through the process of purchasing a new heat pump or air conditioner, so they help answer any and all questions and provide the tools to make an informed decision that everyone is comfortable with.
"People are more informed and comfort in our homes is important," says Jones, "with our proximity to JBLM our population is fluid and diverse with different expectations." Soldiers and families transferring from other parts of the country are used to warmer climates where air conditioning is the standard. Traditionally, this is counter to the mindset for our region, but Jones adds "This is changing. There is an emphasis on not just efficiency in homes, but improved comfort throughout the year."
The other factor that comes into play is the new construction housing market. The State of Washington mandates new construction homes be built with efficiency in mind, so this leads to improvement in insulation levels, efficiency of heating equipment, hot water systems, window performance, air sealing of homes, and ductwork. These factors lead to a more efficient home, but this also means homes stay warmer. This is great when you are heating homes, but cooling is another story.
New construction homes can feel too warm during the summer. Once the heat gets in the house, that hot air stays. This can mean uncomfortable days and nights for homes without cooling.
There's a simple way to decide which option is right for you. Customers can schedule their free estimate online or by calling 360-456-4956. This lets staff inspect your existing equipment and ductwork, discuss ideal heating and cooling requirements, and look around to become much more conscious of what the house needs. They'll also help provide tools to help you make a good investment, adds Jones, like information on promotions, manufacturer rebate programs, and incentives at the federal, state, and local level.
Houses are as unique as the families they protect and the weather they endure. If your home wilts in the summer sun, consider calling Sunset Air today. Don't wait until temperatures spike because then so will wait times for that new sanity-restoring heat pump or air conditioner.
Sponsored