When I walked into Timberline High School for the Pack the Gym event, I didn't know what to expect. What I witnessed was a moving display of community, teamwork and inclusivity. Pack the Gym was a fundraising event held for Unified Sports basketball. Coached by Renee Kilcup, the team consists of students with and without special needs. Together, the team has traveled to nationals, while building memorable relationships, getting involved in the community, and erasing stigma. In order to support both local Unified Sports basketball and soccer teams, Debra Kilcup, Renee's mother and owner of Ila's Foods, created Blazer Spirit Jelly, and donates the proceeds to the team.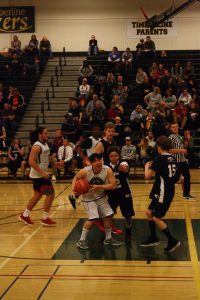 Renee began her career with Timberline High School by teaching social studies. When the athletic director of the high school asked her to coach Unified Sports soccer, she was surprised. "I told him I knew two things about soccer, what the ball looks like, and that you kick it," she says. Now, it's her fourth year of coaching both Unified Sports soccer and Unified Sports Basketball. The first year she was with Unified Sports basketball, the team won the state championship, which was the first time that the school had won a championship since the 1980s. "It's my favorite part of my job," says Renee.
Renee notes that most of the separation between students with special needs and students without comes not from a lack of desire to include children with different needs, but instead, from a lack of understanding. By getting students from all backgrounds, with differing levels of physical and intellectual disabilities together on the court, learning sportsmanship and having fun together, Unified Sports is working to bridge differences and create a social climate of community, inclusion and understanding.
On the court, the students with special needs are referred to as athletes, and the students without special needs are the partners. Each time The Timberline Unified Sports basketball team is on the court, there are both athletes and partners playing. The partners assist the athletes, and serve a supportive role on the court. Many of the partners are varsity and JV athletes, and play on other Timberline teams as well.
During Pack the Gym, Timberline Unified Sports basketball played two other teams from the Unified Sports league, River Ridge High School and Olympia High School. At halftime, coaches and players spoke about how the team has influenced them, and recognized the graduating seniors. "It's been really great working with all of you and I'm really going to miss all of you," said Will Bastien. Now a junior, Will has been playing with Unified Sports since his freshman year, and also played one year of soccer.
"Back in my day, there was that group of kids that were separated from the other group of kids," says Katie Bastien, Will's mother. "He's learned sportsmanship, and what friendship is about." Katie is a team mom, coordinating with other parents, showing support, and helping to create a community within the sport.
Ila's Foods Spreads Team Spirit with Blazer Spirit Jelly
Like many high school sports teams, raising enough funding for travel, uniforms, snacks and equipment is a challenge. Inspired by her daughter's work coaching, Debra decided to use her business, Ila's Foods, to support a good cause. She developed a line of jelly, Blazer Spirit Jelly, and donates the proceeds to Timberline High School's Unified Sports teams. This dual-colored jelly combines apple and lime flavors to create a yellow and green spread, which are the school's colors.
Blazer Spirit Jelly is one of three of Debra's fundraiser products. The first jam launched with proceeds going to charity was Tabi's Strawberry and Mango Tango Jam. Debra launched this product in order to support Tabi, Renee's best friend, in her fight against cancer. Ila's Foods also sells another popular fundraiser product, Burgess Butter. Debra's brother, Rick Burgess, was diagnosed with ALS, which led Debra to create a spread combining two of Rick's favorite flavors, chocolate and peanut butter, and to donate the profits from Burgess Butter to The ALS Association in memory of Rick.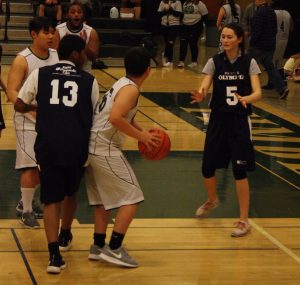 Ila's Foods has had a profound impact on the community of Thurston County, not only through creating delicious jams, jellies and spreads, but also by contributing to charitable causes throughout the area. "Unified Sports does it," she explains. "These kids have impacted the world in a way that cannot be rescinded. They are a beautiful example of the way humanity should be – bright lights in a currently somewhat negative, argumentative, unkind world. The joy and pride is evident and so contagious."
To try the delicious jelly and support Timberline Unified Sports, pick up a jar or two of Blazer Spirit Jelly anywhere that Ila's Foods is sold, or order online through Ila's Foods' website. While you're there, be sure to check out her other incredible flavors.
Sponsored