Alf and Lulie Herigstad have a love story unlike any other. The couple met after they both were on different seasons of a Norwegian reality show called Alt For Norge. The show takes Norwegian Americans to Norway to engage in cultural challenges for a chance to meet your living Norwegian relatives and $50,000.
After being on subsequent seasons, the cast members all chatted through social media. Alf being a long-haul truck driver would visit other cast members all over the country. While stopped in L.A., he sent a message to fashion designer Lulie on Facebook.
"I had watched her season like five times in preparation for the show," says Alf. "I thought if I ever meet her that will be interesting and I even told a couple people that." They went out to dinner at the beach and didn't stop talking for months while Alf traveled.
"We talked all day every day," says Lulie. It took Alf a month to get back to Lulie.
After that, the couple had a long-distance relationship where Lulie traveled up and down I-5 until she finally moved north to Washington. The couple now has the original Facebook conversation printed and pinned to their wall at home on their farm in Olympia.
Lulie's life in L.A began as an artist. She sculpted dolls and even sold to stars like Danny DeVito and Richard Simmons and galleries around the world. She was also an actress with a role in Planes, Trains, and Automobiles. "When I got into showbiz I had a goal to do an interesting role in a high-quality film," says Lulie. "It wasn't a lot, but I nailed that goal with that role." She also acted in theater in New York and had a one-night Broadway show.
She spent time as a professional skydiver with more than 150 jumps. "That was the most excitement you can imagine," she says. "It's an adrenaline rush for several days."
She designed sets for movies such as Godzilla and the opening scene in Men in Black. "Things that they would film going really fast and blowing up usually," says Lulie. "It was before CG. I was part of the model makers of the late '90s. It was great fun down there."
Her life included meeting big stars like Liza Minnelli and sitting in premieres right next to Whoopi Goldberg and Cheech and Chong. After acting, she went back to her artistic roots and starting designing clothing for the Burning Man and festival crowd. "Because those people are happy to wear weird stuff," says Lulie.
Her Esty store Lulievision uses locally sourced materials in her creations. "In LA, I was in the heart of the supply line and when I moved here I didn't have sources," she says. The Goodwill Outlet in Olympia is where she finds many of her fabrics. "That was a revelation, just use what you got. That is what we do at the farm too." She uses wool from the sheep her and Alf farm to make yarn. She is also an active member of the Olympia Weavers Guild.
As a young person, she was in 4-H in Washington. "I never imagined I would come back and be a farmer, but it sure felt good to do it," she says. "I kind of have lived like a cat, I had all these life phases."
Alf, who has lived on the farm since his first year, now shares the land with Lulie, with his siblings and father nextdoor. He has had many interesting occupations, including joining the Army on his eighteenth birthday, being an ostrich farmer, boxer, school bus driver and author.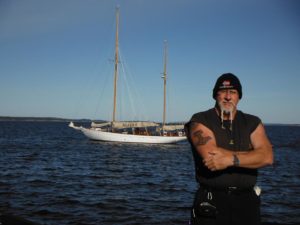 His journal from his time in Norway was compiled into his first e-book My Great Norway Adventure. The second book he wrote called Forging a Man was written using Alf's life experiences coupled with humor. "It's called Forging a Man because our life is the fire and we are the steel and we are constantly being hammered into something," says Alf. "The best thing for me is my progeny and the next several generations will have a chance to read it and really get a sense of who I am."
Alf was inspired to write the second book after creating a podcast called Being a Better Man. "There is a real need in society for men so I thought maybe I could help," says Alf. In the podcast, Alf explores topics and tells stories from his life and the lessons he has learned. The podcasts are thought-provoking and entertaining. Sometimes he interviews other people for different perspectives, but the message focuses on always improving.
His family is everything to Alf. He is a devoted father and grandfather and just recently a great-grandfather. "I am an oldefar," he says proudly, using the Norwegian word for great-grandfather. The ability to connect to where his ancestors came from was life changing for Alf. "In Norway, my highlight was when they took me to my family farm. That made it all worthwhile," Alf says with tears. "Everything about the whole experience is magical."
The couple hopes to travel back to Norway and say the country is a place filled with beauty beyond imagination. "If anyone in the community ever thought about going to Norway, make it happen, it is so worth it," says Lulie. "It's a really important thing these days if you have a destination go, make it happen."