If you're like me, when you hear the name Volkswagen you imagine a decked out, brightly colored, hippie bus driving down the Pacific Coast Highway. While the classic Volkswagen bus is well known and loved by many, Volkswagen has evolved their manufacturing to continually adapt to the times, creating sleeker, higher tech and environmentally friendly vehicles. Roy Miranda, Sales Manager at Volkswagen of Olympia, shares that Volkswagen is taking their designs electric. The flip side to this awesome advancement is that they have discontinued their TDIs in the United States. For those of us not versed in car lingo, this translates to turbocharged direct injection. Meaning a vehicle that runs on diesel, gets amazing miles per gallon and has a powerful get up and go.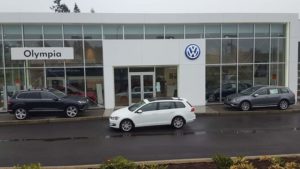 Volkswagen of Olympia currently has a handful of TDIs looking for owners that will be as reliable as they are. They often have a selection of Jettas, Passats, Golfs, Jetta Sportswagen and Golf Sportswagen diesels. Because of their discontinuation, all the models Volkswagen of Olympia has are preowned. This should not be a factor in deciding if one of these cars is right for you. Volkswagen of Olympia ensures all the vehicles they sell are top of the line. They work to certify as many as possible that fit the criteria for a Certified Volkswagen. Each of these vehicles go through a 112-point inspection. This guarantees the vehicle is in supreme condition with a clean CARFAX. When purchasing a Volkswagen certified pre-owned car, you will also receive a Volkswagen warranty.
Roy is an advocate for purchasing a Volkswagen TDI. "The diesels have always been renowned for their longevity and great gas mileage" he explains. "They are the ideal commuter car, averaging 36-miles-per-gallon in the city and 42 on the highway." Roy tells stories of customers who have driven to Sacramento California, a 693-mile trip, only needing to fill up their tank once and of another customer who traveled for work, putting 420,000 miles on their diesel that is still going strong. The price of diesel is cheaper than premium gas and sometimes even cheaper than regular unleaded gas. The miles per gallon, price of fuel, quality of the car and the fact that these are pre-owned vehicles, makes TDI's at Volkswagen of Olympia an affordable option for those conscious spenders.
Roy is aware of the misconceptions that are harbored toward diesel run vehicles. "There's a stigma on the car based on what people say," he explains. "They will say things like diesels make too much noise and blow black smoke. But they don't! These are clean diesels that are quiet. Unless you are standing right outside of the car's engine, you won't even be able to tell it is a diesel." Roy adds that Volkswagen has made modifications to their vehicles in order to pass the United States Environmental Protection Agency standards.
The Best Deal, Service and Quality



Volkswagen of Olympia provides their customers with convenience. Roy explains how they work with the local banks in the area to make buying a car as easy as possible. "Basically, if you were pre-approved at one of your banks, we can use that pre-approval and sign you up here. If you weren't pre-approved, we have the best financing options available for all credit situations." You can do everything from the financing, to the licensing of the vehicle at Volkswagen of Olympia.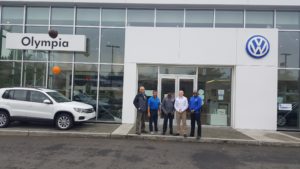 Volkswagen of Olympia strives to have the best prices around town. One customer drove all the way from Blaine, Washington to purchase a Passat Diesel premium he found online. "The price and quality of the vehicle made his drive worth it," Roy explains.
Along with their convenience and competitive prices, Volkswagen of Olympia places an importance on customer service. They are a family run, community-oriented business that is transparent in their dealership practices. If you are someone who knows little about cars you can be assured you will be in good hands. During our conversation, Roy welcomed all of my questions assuring me there are no silly questions when it comes to cars. Volkswagen of Olympia strives to make buying cars an accessible and enjoyable experience. Their excellence in customer service is shown in 435 google reviews with a 4.8 star rating.
To learn more about their current listing of TDIs and other vehicles, visit Volkswagen Of Olympia
Volkswagen of Olympia
2107 Cooper Point Road SW Olympia
855-817-6541
Monday-Saturday: 8:30 a.m.-7:00 p.m.
Sunday: 10:00 a.m.-6:00 p.m.
Sponsored