For military veterans, settling back into civilian life can be challenging. Today's vets have many government benefits available, but untangling the preliminary red tape is complicated. That's where groups like Thurston County Veterans Services (TCVS) come in. This dedicated team of volunteers—many of whom are veterans themselves—strive to create partnerships between local military families and the resources they've earned and need to thrive.
In Washington State, the V.A. reports there are 560,200 veterans receiving education, healthcare, disability, and pension benefits. Service benefits are hugely important, especially as veteran community demographics are changing. The Pew Research Center shows that over the next few years, our veteran population will be younger and include more women and people of color.
At TCVS, their mission is simple and three-fold. They work to educate, coordinate, and reduce barriers for veterans accessing benefits, explains founder Bob Jones. A relatively new organization, they're starting year three with a goal of fundraising and expansion.
"We don't split hairs between active duty, veterans, reserves, etcetera," says Jones. "We refer people to tried and true veteran advocates and supporters." He considers TCVS a "niche-oriented group of supporters" who act as a coordination element between families and the government.
One of their primary missions is supporting and defraying costs for soldiers in veterans court. Thurston County Veterans Court began in 2009 and takes place each Wednesday at 4:00 p.m. Judge Brett Buckley says its purpose is "supporting those who have defended us."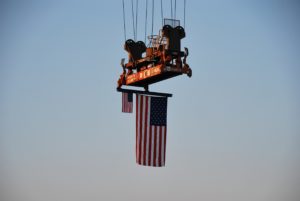 Jones explains that in one recent case, TCVS helped cover the cost of an ignition interlock device for a veteran going through a DUI trial. This mini-breathalyzer is installed in your car and locks the ignition if you've been drinking. By funding the rental costs, this veteran was able to continue working through the long court process.
"Our goal," says Jones, "is to help every vet we reach out to or who comes in contact with us. Every day we help a vet get in touch with a service provider." Thanks to fundraisers and volunteers, TCVS is hoping to expand into neighboring Lewis and Mason counties. They're also looking for more projects to take on and have been asking local school districts if there are ways they can help military families.
In June and August 2018, TCVS held their first two McTake Overs at the McDonald's on 5601 Capitol Boulevard in Tumwater. Their third such event takes place on Monday, November 12, from 5:00 p.m. to 7:00 p.m. Thanks to the generosity of store owners, 50 percent of gross revenue benefits TCVS and their mission.
In February 2019, they'll hold their first formal fundraiser at the Hub in Lacey. The event will be catered by Ricardo's Steak and Seafood and feature local dignitaries, guest speakers, and a silent auction.
Organizations like TCVS are important to small businesses like Welcome Home Property Management and Welcome Home Rentals. Owner Tiana Kleinhoff encourages the community to support military families "by using veteran-owned businesses locally and by attending, sponsoring and supporting military appreciation events that are held regularly in our area."
"Both of my parents were career military," explains Kleinhoff. "I joined the military while in high school, ended up with a medical discharge, married into the military, and managed on-post housing. It can be very scary to let go of the security of being in the military, knowing that you have a job and 100 percent medical coverage. Getting out is entering a huge unknown, not only because of these areas but also because the working environment is quite different in civilian life." Knowing that TCVS is around to guide vets through this uncertainty is important to Kleinhoff and the entire region.
To see other ways TCVS has helped, watch Shane's Story or read more about their background and goals. For more information, visit the Thurston County Veterans Services website and follow them on Facebook. There you'll find specifics on upcoming events like the November McD-Day McTake Over. French fries are usually a guilty pleasure. On November 12, they're practically a patriotic duty.
Interested in helping Thurston County veterans? Jones is always looking for volunteers, donors, advocates, and those with a passion for helping soldiers. Reach out to him at bobjonesmilitary@comcast.net or by calling 360-561-3612.
Sponsored