In Olympia, if bygone beer commercials are anything to go by, 'it's the water.' In nearby Yelm, however, air is key – at least according to one recent urban transplant. When Yelm Mayor JW Foster queried a new resident about why he and his wife had moved to the rural community from Seattle after a statewide search, he discovered one of the deciding factors: "It smells good here," says Foster. "That's what he told me. And you know what? It does."

Pleasant aromas aside, Yelm is the ninth fastest growing city in Washington State according to data released by the American Community Survey, a publication of the United States Census Bureau. A combination of access to I-5, proximity to natural wonders such at Mount Rainier and Olympic National Park, local parks and trails, an innovative approach to education, a strong arts presence, and a supportive business community draws people from around the country – and even the world.
Foster is one of them. When he and his wife Nicki first discovered Yelm in 1988, the town had no stoplights, just one blinking light at the main intersection. By the time they finally moved here in 1996, little had changed. "We liked the hub feeling that Yelm had," says Foster. "As a young family, we were also thinking about schools. We found that from elementary school on up through high school, we had a district where the kids are supported in many ways."
One key consideration was the district's approach to life after graduation, one with multiple pathways for students that included four-year college as just one option. Yelm's thriving Career and Technical Education (CTE) program has garnered multiple awards; its Future Farmers of America (FFA) chapter is the largest in the country and recently won a national championship. "Even in the 90s, Yelm got it," says Foster. "The education focus in the United States has been on four-year college, but Yelm has taken that parallel track and made sure there are CTE opportunities as well."
The community also has a strong emphasis on the arts, supporting a local theater troupe, Standing Room Only, which puts on regular performances at the Triad Theater. In collaboration with local business owner Marian Licxandru, the city held its second annual Jazz in the Park event last summer, drawing more than 700 people. Yelm Community Schools offer robust art and music programs at every grade level.
Recently those programs came full circle in the form of a Yelm High School alumni. Foster had been aware of a blank wall along the side of a retail building near the Yelm-Tenino trail. After initial efforts to create a mural project petered out, a former student, now in his thirties, emerged. "He used to tag the skate park walls as a youth," says Foster. "He's since honed his skill and become a professional graffiti artist." It turns out the Pacific Northwest is home to an unofficial collective of such artists who seek out and use blank walls as a creative outlet on a volunteer basis. This summer, 20 of them joined the former YHS student in decorating the wall, which they have since maintained.
Artistic endeavors are just one of many causes the local business community supports, including Yelm Dollars for Scholars, a highly successful scholarship program for YHS seniors. "I don't know how they do it," Foster admits. "They open their hearts and their wallets so often. For every event, you're going to see a dozen sponsors. If you talk to the organizers, they'll tell you about businesses who were so supportive."
The nearby Nisqually Tribe is another substantial contributor, donating hundreds of thousands of dollars to community organizations through their charitable fund every year. "They're more than good neighbors," says Foster. "They're partners in making this area successful."
Parks and trails also attract both residents and out-of-town visitors. After adding a community center to Yelm City Park in 2015, the city recently received a $250,000 grant to bring in enhanced playground equipment at the site and create a new spray park. Longmire Park draws sports tournaments from around the region, and Cochrane Park is a popular wedding venue – despite doubling as the city's wastewater treatment plant. "It's a great example of how you can take city infrastructure and make a public amenity out of it," says Foster.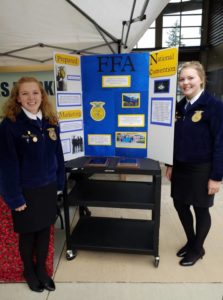 Across from the city park, the Yelm-Tenino trailhead brings in bicycle enthusiasts, many of whom later shop and eat at local businesses. "I don't know the history of how that trail was born, but I wish I could go back in time and shake the hands of those involved," says Foster. "There's literally not a day that goes by that you won't meet somebody from way out of town who came to Yelm to ride that trail."
With the city hall parking lot at one end of the trial, Foster has ample opportunity for such encounters, including a jazz musician from Tacoma who enjoys a weekly 40-mile ride starting from Yelm. "It's a beautiful trail system," says Foster. "He said there's nothing else like it in the region."
And it probably smells good.