With the exception of Kim Smith, the names in this article have been changed to protect the privacy of the individuals mentioned.
"I just feel so lucky to have found this place." That statement is often said in reference to South Sound Parent to Parent (SSP2P), an organization that has become a home, safe place, and incomparably valuable resource for parents of children with disabilities. But in this case, the statement wasn't said by a parent.
It was said by an employee.
Susan has been at SSP2P for decades. She is one of the ones who got her foot in the door by utilizing their resources. As she prepared to transition into a staff position, however, tragedy struck. Her daughter passed away, leaving Susan buried in grief. "Kim Smith, our director, called me and asked if I was still interested in the position," Susan says.
But she knew the terrible emotional turmoil she was facing wouldn't be a turn off for her would-be employer and co-workers.
Susan shares that the environment she works in at SSP2P couldn't be more supportive. Even as she still struggles with the emotions of losing her daughter, she knows she is supported. "We don't have to check our personal lives at the door," Susan says with a teary smile, "They're welcome in the building. We don't expect you to come to work and not share your life. If you have emotional baggage, we'll just pull up a chair for it."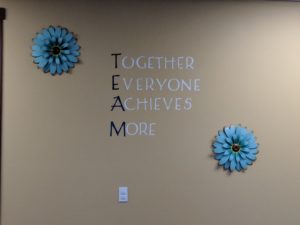 At SSP2P, they don't just support families – they support each other.
"Things in my life were falling apart at home and with my health, but I knew my job was secure," shares Theresa, still teary from Susan's story. Theresa has worked at SSP2P for five years, but this last year was the hardest. Within a few weeks, her mother was diagnosed with stage 3 cancer, her father passed away, and she herself had to undergo gallbladder surgery.
"When everything happened, I kept asking myself, 'What's the point?' But through it all, I knew my job was secure," Theresa says. "This place is so open. People actually check in with you. They genuinely care." Theresa goes on to describe how this is the first place where she's felt truly trusted. "I feel safe to say I'm full." She knows she can share about what is going on personally and not fear that it will negatively impact her job or her relationships with her co-workers.
Theresa and Susan both agree that this supportive environment enables them to better support the families they serve.
Jessica, another SSP2P employee, shares their sentiment when it comes to being open and honest about struggles. "I have my own mental health stuff that I battle," she says. "Before coming here, I didn't realize what a difference there would be when it comes to being in an environment where you can be so open. It's not the norm to feel as supported as I do here and I never want to take that for granted."
She has a story about working with a family that just barely missed the qualifications for their services. Her heart broke because she knew what a difference their intervention and support could make for that family. Instead of insisting that she stick to the book, Kim encouraged Jessica to go with her gut and help the family. The joy Jessica feels in being able to support and be supported is something she never thought she would find in a work place.
Marilyn came to SSP2P from a toxic work environment where no one trusted anyone else and she was constantly worried about losing her job. She'd been at SSP2P before finding herself in that toxic environment and was more than eager to move back to a safe place.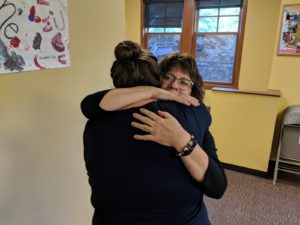 Having struggled with health issues since her teenage years, things got worse for Marilyn when she experienced a miscarriage. But being at SSP2P is exactly what she needed. "I've been in and out because I've been emotional," she shares. "Everyone here knew everything. One of the biggest things I appreciate is that I didn't want to talk about it right away. I felt vulnerable and exposed. Kim emailed out what was happening. She asked me what I wanted and I said I didn't want to have to talk about it. Because of who we are here, everyone is going to try and help. We're all bleeding hearts. But people have been so respectful about me not wanting to talk about it," Jessica shares, wiping her eyes.
Each of these women testify to the supportive environment of SSP2P and how that support enables them to be an incredible support system to the parents who walk through their doors. It truly is an incredible place.
To learn more, visit the South Sound Parent to Parent website.
Sponsored