Over the years, Bucoda has earned a reputation for a spooky good-time every October. Haunted houses, zombies, the Thriller Dance, and eerie local legends have lent to the nickname BOO-CODA. But this year, a whole new level of fright and fun is descending upon the town with the BOO-CODA SPOOK-TACULAR.
Ghoulish festivities span the entire month of October offering something for everyone. Thrill seekers may visit the Scary-Nights Haunted House while those looking for a quieter kind of spooky may attend the storytelling contest. If you are on the hunt for a unique experience, then attend the hearse procession, viewing, and participate in the casket races. For fun with the kids, enter the coloring, pumpkin decorating, and costume contests. And the best part? Most of these activities are free!
Month-Long Activities
Scary-Nights Haunted House kicks off September 28 at 7:00 p.m. to 11:00 p.m. and runs every weekend through Halloween. Be prepared for it to be loud and dark with surprises around every corner.
There will be a trick or treat every night in October at historic Joe's Place from 6:30 to 7:30 p.m. In fact, Joe's Place is hosting a number of SPOOK-TACULAR events. But according to manager Kristin Butterworth, this is the event she is most excited about. "With trick or treating, every day is going to be a blast. I love having the kids come in and seeing how they dress up."
The Pumpkin Pancake Breakfast hosted by the Bucoda Improvement Club is every Saturday morning in October from 9:00 a.m. to 11:00 p.m. Advance tickets are available at Bucoda Town Hall.
Eastside Big Tom in Olympia is home of the Official BOO-CODA SPOOK-TACULAR Milkshake and will be handing out $2 off coupons to the Haunted House with each purchase of a milkshake. The milkshake is made with Boo Berry cereal.
October 6 is a great day to attend the Spook-tacular for those who enjoy a good story. Start your day with the Pancake Breakfast. Clair Ferris of Funeral Alternatives will give a presentation on the unusual history of Abraham Lincoln's funeral at 10:00 a.m. followed by a presentation on religious and cultural funeral practices. The Spooky Storytelling and Tall Tales contest will be from 1:00 to 5:00 p.m. A Halloween Joke contest (for adults only) will be held at Joe's Place at 9:00 p.m.
October 13 brings hijinks with a touch of solemnity. The Hearse Procession and Viewing begins at 11:00 a.m. with the Casket Races at 12:30 p.m. The entertaining and educational Newly Dead Game starts at 1:00 p.m. The (tasteful) pin-up contest begins at 3:00 p.m. The Forest Grove Cemetery Tour – a living history experience – is 4:00 p.m. to 8:00 p.m.
October 20 kicks off with a presentation titled Family Preparedness for when Death Happens by Clair Ferris of Funeral Alternatives at 10:00 a.m. followed by a presentation called Leaving your Mark in History, about how to write your own obituary and tombstone. Kid-friendly activities including a coloring contest and pumpkin carving contest start at 11:00 a.m.
October 27 is all about a vendor fair at the festival grounds. Kids activities like face painting, balloon animals, and the Pet and Kid's Costume Contest hosted by Joe's Place will lead up to the Thrill the World Thriller Dance at 3:00 p.m. An adult costume contest begins at 10:00 p.m. at Joe's Place.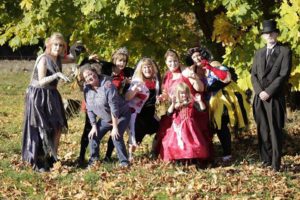 Thriller dancer and organizer Shelly Smith says that Bucoda has been hosting Thrill the World for four years now. "What better place than BOO-CODA?" says Shelly. "This year's Thriller will benefit local fire fighters and so I hope that there will be plenty of dancers and plenty of spectators who 'Thrill the Boot' with donations."
Anyone can become a Thriller Zombie Dancer by attending rehearsals, or learn at home and arrive early to sign up on October 27.
It's for a Good Cause
One goal of the Spook-tacular is to raise funds for worthy causes. The Thriller Dance benefits local fire fighters. The Cemetery Tour benefits the South Thurston County Historical Society. A portion of the Haunted House proceeds are donated to the Tenino Quarry Pool and the Bucoda Christmas program. Most of the funds raised during the BOO-CODA SPOOK-TACULAR will go toward much needed town improvement projects like making the Bucoda Community Center second floor ADA accessible.
BOO-CODA is so invested in the Halloween spirit that the city leadership used a grant and donation to purchase a hearse – a black 1995 Cadillac Krystal Hearse, to be exact. The hearse is for marketing BOO-CODA in parades and festivals throughout the region and as a photo opportunity at the Haunted House.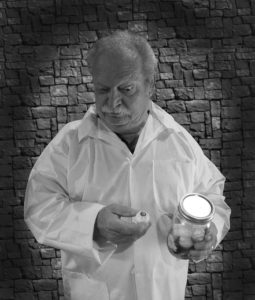 Bucoda mayor Alan Carr shared that several years ago the town council researched ideas to put Bucoda on the map and raise funds for community projects.
"Town council member Alan Vanell learned about the small city of Palouse, Washington, and their success hosting Haunted Palouse," explains Carr. "The town council reviewed Palouse's success and voted to pursue hosting a Haunted House and changed the name of Bucoda by proclamation to BOO-CODA for the month of October. We hope to become one of the best Halloween themed towns in the Pacific Northwest and are excited to add unique activities that you don't see at other festivals in the area. We currently see visitors from the Seattle area and hope adding activities each year will attract even more."
If you would like to be a sponsor or volunteer, visit Boo-coda's website.