"Omigod! Omigod you guys!" Elle Woods belts out in the stage adapted version of the Hollywood hit, Legally Blonde. The sorority girl's sentiments in the second song of the first act could perfectly describe my feelings about the newest musical theatre opening up in Olympia.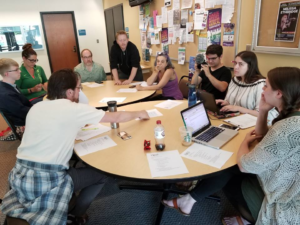 Broadway Olympia Productions, started by Olympia native and Capital Playhouse alum, Kyle Murphy, is bracing for its first show, Legally Blonde The Musical, with performances running August 16-19 and 18-19 at the Capitol Theater. This is the first musical theatre in town since Capital Playhouse closed its doors in 2013.
The award-winning musical is based on the 2001 Reese Witherspoon film that follows the transformation of a young woman as she tackles stereotypes and scandal in pursuit of her dreams, ultimately realizing her full potential.
"This is a story of true female empowerment," says director Kathryn Stahl. Stahl is returning to her Northwest roots after recently completing her MFA in acting from Michigan State University. As a trained actor, stage manager and educator, Stahl brings a unique, well rounded set of skills to her first directing gig at home since graduating.
Broadway Olympia Artistic Director, Lexi Barnett, knew of Stahl through previous theatre connections in Tacoma and felt Stahl would be the perfect fit to direct the inaugural show. "I knew she was a director with a great eye for staging and also very focused on making sure everything in the production is serving to tell the story in the most effective way possible," says Barnett. "I knew she would be able to handle the humor of the show and avoid producing some fluff piece of theater with no meat to it."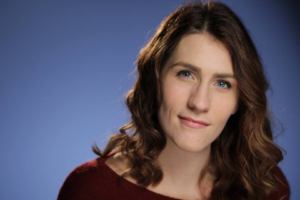 With an impressive resume and extensive number of productions under her belt, Stahl's vision for the show, "finding my way," is straightforward but deliberate.
"All characters are on a journey of self-discovery, whether they know it or not," Stahl says. "I thought it also fit well with this being Broadway Olympia's first show, as this new company is figuring out its place and what its role is in bringing musical theater to a community that is clearly passionate about the arts."
Stahl says she looks forward to the challenge of crafting a narrative that steers away from stereotypes, especially when it comes to the ensemble of Elle and the Delta Nu sorority girls. For those who haven't seen the film or show, there are blonde, privileged, superficial stereotypes abound, and a huge part of the main character's struggle lies within breaking free of the limitations placed on her via these factors. Stahl paid careful attention to this when casting during auditions, which just wrapped up first week of July.
"We didn't want every girl to be your stereotypical blonde sorority trope," she says. "I'm excited to bring story and depth to the entire cast and make sure every character has their arc."
Over 50 adults and teens came out to audition over the course of three days, with the final cast number sitting around 30. With her cast newly selected and scripts fresh off the press, Stahl says the heat is on as rehearsals begin July 16 with a one month turnaround before lights up exactly one month later.
A Welcomed Addition to an Arts-Hungry Community
The creative team at Broadway Olympia is more than humbled to be bringing musical theater to a community that already has an appetite for the arts. "I have great respect for what has been done in the past in Olympia and what is being done currently," Barnett says. "We want to find opportunities for collaboration and celebrating the wonderful local theater community whilst adding our work into the mix."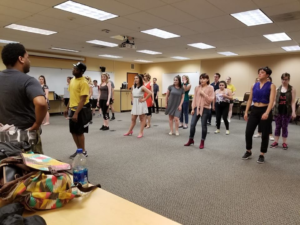 Barnett says she hopes Broadway Olympia becomes a mainstay in town and continues to add more programming as it grows. This season, patrons can look forward to Broadway hits like The Rocky Horror Show, The Wedding Singer, Young Frankenstein, and Cabaret. Barnett says at some point, the company would like to do a "second stage" series, where lesser known musicals are produced on a smaller scale suited for a black box setting.
"We saw such great talent at our first audition, and due to the puzzle pieces of casting, we couldn't cast some amazing people because they just didn't fit in the puzzle this time around," she says. "I think it's important to provide an outlet for artists to showcase their acting, singing and dancing talents in their own town."
It goes without saying, startup musical theaters depend on community support, and Barnett encourages supporters of local arts to get involved at Broadway Olympia, be it behind the scenes or center stage. For those keen on trying out for the next show, visit Broadway Olympia's audition page. Interested volunteers can email Kyle Murphy to get on the volunteer list.
The first two shows will be at the Capitol Theater, 206 Fifth Ave. SE, Olympia. Locations for others to be announced. Tickets are $20 ($17 for Olympia Film Society members for shows at the Capitol Theater) and can be purchased here. Don't miss the Broadway Olympia Season Preview Concert, taking place on July 19 from 6:00 p.m. – 6:30 p.m. at 222 Market.
For more information, call 253-961-4161 or visit the Broadway Olympia website or Facebook page for updates.
Sponsored