Scott Drapeau at the Iron Sight Barbell Club has been working hard busting down walls, moving the weight, building it out and now's your chance to see it for yourself! They'll be doing a raffle to win a FREE 6 Week Team Iron Sight Challenge! They will also be cooking up some food (healthy of course!) and we'll have some outdoor games!
We sat down with Scott to ask him what's different about his new gym.
Stacey from Thurston Talk: Tell us who you are!
Scott Drapeau: I'm Scott Drapeau, I'm the owner and operator of Iron Sight Barbell Club in Lacey, Washington.
TT: Where are you from?
SD: Originally I am from Southern California, in a town called Santa Clarita. I joined the military about 8 years ago, I was stationed in Hawaii then finally stationed up here and kinda stuck roots in the Pacific Northwest.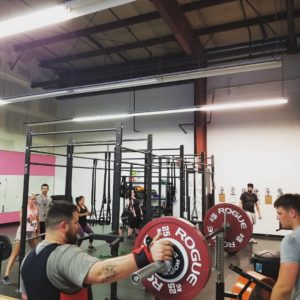 TT: What is your fitness philosophy?
SD: My fitness philosophy… I have 2 of them actually, the first one is "Medicine Through Movement" and then "Hit Your Target". With Medicine Through Movement. That piece is part of the reason that we have so many injuries at work or at school… it's because we don't move. We don't move properly and we don't move at all. Getting up and moving and doing strength training or some kind of exercise is so beneficial for your body and your mind. It's an incredible preventative medicine.
And the Hit Your Target is what strength training is all about. It's about setting goals and then making new goals because there's always more weight you could add to the bar.
TT: How did you get started in fitness?
SD: So I got started in fitness when I was in high-school. I was a cross-country runner, of all things… total 180 degrees from what I do now. And then when I joined the army it was a lot off calisthenics, then I got into barbell training about 5 or 6 years ago and it's been that way ever since.
TT: Explain barbell training…
SD: There are 2 main movements, there's the squat, there's the bench and there's the deadlift. When you have those 3 movement patterns you basically encompass most of the 3 fundamental movement patterns of the human body. So barbell training is doing those movements and also variations of those movements and using them as a core for building an exercise program. You use the squat, the bench and the deadlift as the core movements and then you build on top of them to assist yourself in that way.
TT: Who introduced you to fitness?
SD: The way I got introduced to barbell training is actually through my father, my kiddo was born and I gained a whole bunch of weight, even though I was in the army I was unable to run due to an injury so he introduced me to a very simple workout involving machines and a little bit of free weights and stuff like that and I saw results and I got more interested and then I started reading about strength training and something about the philosophy of strength training really kinda spoke to me and the sport itself spoke to me and I started picking up a barbell and haven't put it down since.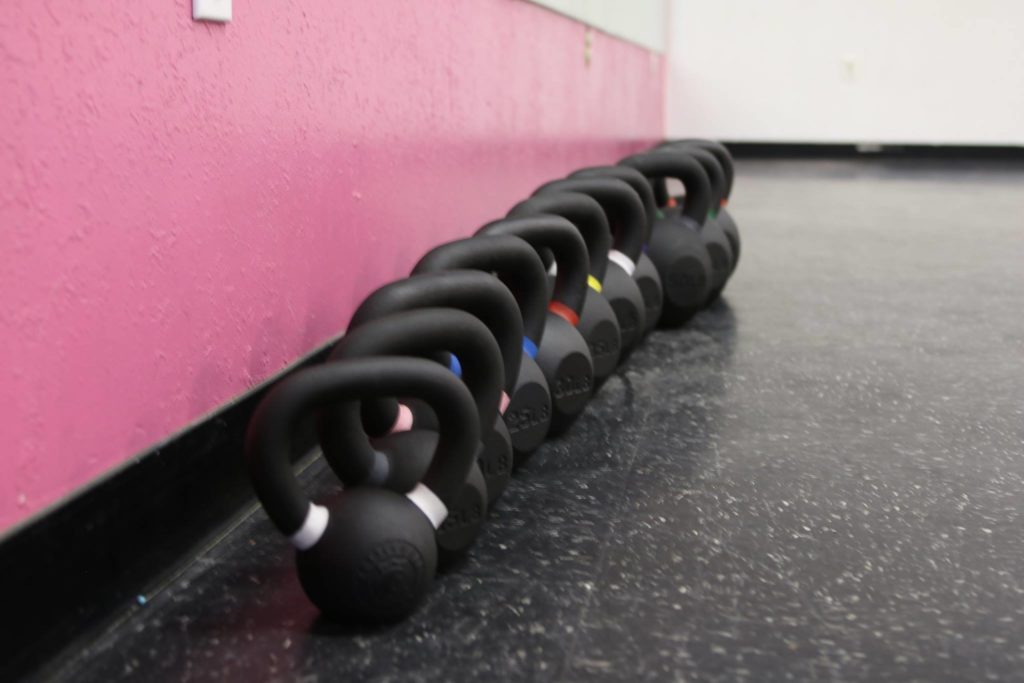 TT: What do you like the most about your gym and training others?
SD: What I like most about my gym is the fact that we are so non-judgmental when it comes to your particular fitness. I have people in here who have never touched a barbell in their life and I have people in here who have competed on many different stages and everyone is on their own fitness journey to getting to where they want to go. So no matter who you are you have a place to come where we have knowledgeable people who will help you. We have trainers that have the ability to teach you safe, proper movements and to really kinda change your life because with our 6-week challenges we have the fitness part of it as well and the diet part which is really a huge thing for most people. So we have the fitness which is the fun part and the diet is the part that most people struggle with, in all honesty. And I just like that I don't have to rely on 40 different machines to get things done and I don't have 20 ellipticals and 20 treadmills… We are here to train you to get stronger. That's what I really like about training at my gym and the way that we do things.
TT: How is your gym unique?
SD: How our gym is unique is that we really look at the philosophies behind the movements and treat movements as a cure, as a medicine you can take, whether its preemptive or whether its rehab, that's what I think really differs with us. As we grow, I want to bring on more wellness professionals, you know, chiropractors and physical therapists and nutritionists, to make this place into a wellness center. Because most wellness centers may have a tiny little gym attached to it, but that's not the focus. I want the focus to be the gym, but to be able to come here and do a one-stop-shop with everything else that you may need.
TT: Is the program you lead CrossFit? Is it similar to?
SD: NO. We are crossfire without the attitude, we do not do Olympic lifts. We do not do large group classes. All of our classes are designed for no more than 8 people at a time. Olympic lifts are very technical, and they're very difficult to master, and they're very difficult to teach. So when someone is training… squat, bench and deadlift are all movements that are basic human movement patterns. An Olympic lift like a snatch and a clean and jerk… it takes years to become proficient and we just don't think that they have a place for a beginner or even an intermediate person that is getting into weight training. It's something that definitely needs to be one-on-one coached and it needs to be handled probably more safely than it is now.
TT: Similar to CrossFit?
SD: What is similar is the community aspect. What really brings people together and makes it a place you want to go, is your community and part of that is dropping that kind of elite attitude that a lot of CrossFit places have. Where they think of themselves as better. I think of myself as just different. I find that if you are happy at your gym, then stay at your gym, but if you want to join a strong community, if you want to come here and you want to learn how to train with a barbell and you wanna learn how to flip tires and you wanna do things that you never thought you could, then this is the gym for you.
TT: Do you want to tell us a bit about the other professionals here at the gym and your qualifications?
SD: I am a certified United States of America Power Lifting Association Coach. I have been training people for a little over 2 years now and I've been lifting for about 5. My trainer Doug has been training people for over 20 years. He has a degree in exercise science he's got more certifications than I would even know what to do with, and he is just fantastic. He really understands the philosophy, the training philosophy that I had envisioned when I opened the gym and that's why, I mean, he could work anywhere he chose this gym to work at because he understands what it is we're trying to build.
TT: In addition to blending areas of expertise, what else can you tell us about how you create programs?
SD: So the programs that we've created are all progressive overload programs. What that means is you build a little bit at a time. You may add 5 pounds, you may add 5 pounds, little-by-little, week after week and you eventually get stronger and you gain strength and you gain muscle and that's how it works: progressive overload. These movements are for any fitness level. So you can come in here and be someone who already knows how to squat, bench and deadlift; we just put you under a heavier load or we change the rep scheme and that's how we kinda blend the powerlifting with the group training, it's working with the barbell and working with progressive overload and making sure that no matter what your strength level, what your fitness level, there is always something for you to be able to get better at.
TT: Do you have any standout clients in terms of transformation and/or lifestyle change?
SD: One of my clients, he has lost I think 30 pounds at this point during the 6-week challenge. The 6-week challenge was originally 25 pounds, we discussed it and he lost 30 pounds. Really all of my clients once they come in and they go through the challenge and they see what there is to offer… they all change. The weight is just a measurement, what changes is their mindset and what changes is their body and what changes is the way they feel about themselves and that to me… everybody that comes in here that puts in the work, they all see the change and they all stand out to me.
TT: What's your favorite basic exercise?
SD: My favorite basic exercise is the deadlift. There is nothing more satisfying than picking up as much weight as possible from the ground and then hearing it slam back down. That's another thing that differentiates us from other gyms, like we like noise. We like chalk and loud music and having a good time. We aren't going to say "Please be quiet, let's keep it down, you're disturbing the other guests." If you wanna lift heavy and you can lift 800-900 pounds then you can come in here and do it and crush it and that's really what we are all about. If you don't, then this might not be the gym for you.
TT: Best song for lifting to.
SD: Oh my gosh… you know I teeter between rap and rock. It really depends on the day. I actually really like Bohemian Rhapsody. You let it build up and when you come to the crescendo part… that's when you go for your big lift.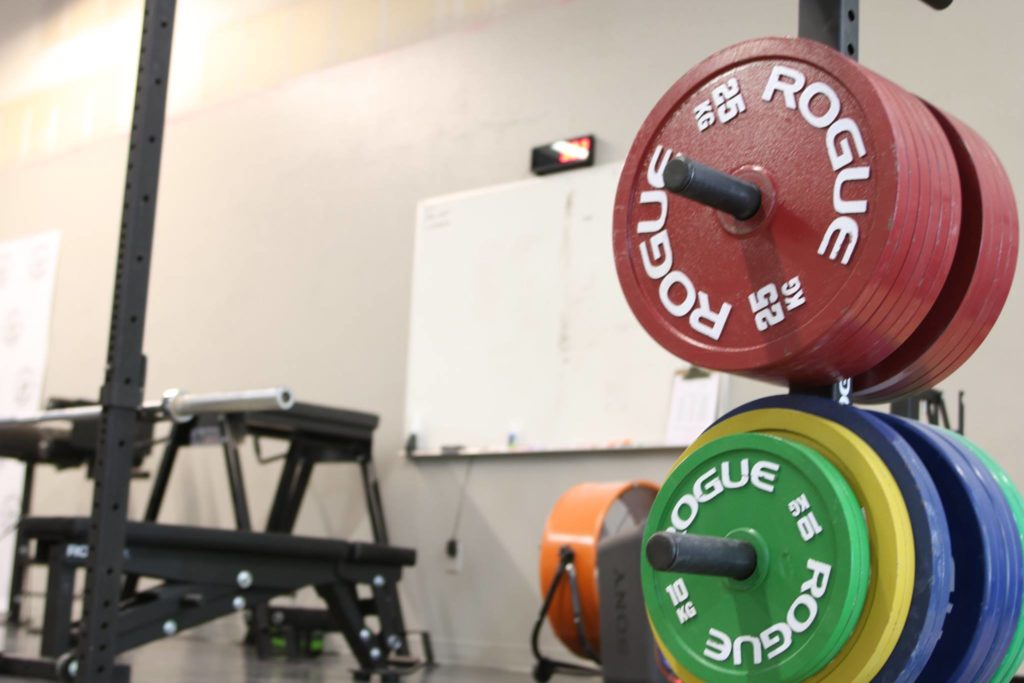 TT: We've seen a lot about the 6-week challenge in social media, you want to tell us a little about it and how people can get involved?
SD: The 6-week challenge is a lifestyle change. I want people that are dedicated, so it's not for everyone. It's for people that know that when you come in here and you sign up for it you are committing that 6 weeks to completely changing your lifestyle. It takes 28 times to make a habit. We have over a hundred opportunities for meals for you to change your eating habits, so you get the diet plan. You also have 18 times to come in here and work out and change that habit. You also have coaches that are there to answer any questions that you might have and if we don't know we will do the research and find out so there's that accountability part of that. You really… once you kind of understand and you change your philosophy, you're gonna want to stay a member. That's really what it comes down to. I don't think… maybe a few people have not gone on to join us, and it's not because they didn't want to, it's because of life circumstances. Whether they were moving for the military or something like that. All you have to do is go to www.joinironsightbarbellclub.com and make an appointment to come and see me and I will talk you through the program and I will talk you through what is involved and what we need from you and then we will get you into the pipeline and get you going to hit your target.
TT: Your gym is opening soon but you've been in business for a little while… how did you get your start?
SD: I actually started in my garage. I started with this gym… I bought a squat rack when I first started lifting because I had my little one. I had a newborn so I couldn't spend time going to the gym so I brought the gym into the house. So that's how that started. Then when I got back from Iraq I germinated this idea in my head about opening up a powerlifting/coaching business and I was like "Okay, I'm gonna start in my garage and I'm gonna scale up from there. That's what we're gonna do." And we kinda scaled up too fast for the garage because my lovely homeowner's association sent me nasty-grams and so it was basically time to move out and find a facility and this fell into my lap and financing fell into my lap and I got really lucky with all the timing. But, yeah I started out with just one power rack in a garage and a dream.
TT: Where are you located?
SD: We are located 1225 Ruddel Rd SE, Ste. E, Lacey 98503, you can find us right next to a bike shop and we also have a laser tag. You can find us between Lacey Blvd. and Pacific Ave. So, if you are heading… they are all one-way, so we are basically right before College St.
TT: Tell us about your grand opening!!
SD: The grand opening is going to be this Saturday, August 4 and its gonna be from 3pm – 6pm. I am going to be cooking. I'll be making healthy food for everyone… chicken and rice. We will be lifting and music and it should be a fun time for everybody and we'll be able to sign up members and all that fun stuff. Anybody can come, bring your kids. We're very family friendly here, I will have my daughter here. Kids are welcome to hang out as long as they're not disruptive. I don't have childcare but they are welcome in the gym. Anybody of any fitness persuasion can absolutely come and come and check us out and see what our philosophy is about and see what we've built here and see the people that are making it happen… all of my members so far.