Like a switch being flipped, the weather is getting warm, the snow is melting in the mountains, flowers are blooming, and we are all itching to get outdoors and back into nature. As heat and sun return to the region in full force, Thurston County residents are

rejoicing in the great outdoors, looking to bask in the brilliance of the natural beauty of the Pacific Northwest. The only problem is, everyone else seems to have the same idea. Who can blame them though? We are surrounded by unrivaled outdoor recreation experiences that are fun for the whole family.
Everyone needs to experience the trails and wild lands around Thurston County and beyond, but sometimes we need to find a slice of solitude and silence in nature to take out families and friends. Working with The Outdoor Society, experts in Pacific Northwest outdoor recreation, we have found these seven incredible walks, hikes and picnic destinations that stay mostly empty of fellow nature lovers throughout the summer months.
Tolmie State Park
While Tolmie State Park is a bit more popular than the places listed so far, it is still largely overlooked. Tolmie is pretty much the perfect destination for all sorts of nature lovers, offering over three miles of hiking trails, a great beach to collect rocks, shells and watch birds, and numerous picnic areas. The park is extremely kid friendly and also dog friendly, and is honestly one of the best park experiences you can have in Thurston County.
Grass Lake
Short, sweet and largely overlooked, Olympia's Grass Lake is truly a gem for those hoping to get outside on a nice, sunny day. Perfect for a picnic near the lake, or a short, one-mile hike around well-groomed trails, this family-friendly destination on the Westside is perfect for all ages of nature lovers who are looking for something beautiful and simple. With more than 100 bird species and 200 plant species to see, this place is awesome. Keep in mind that pets are not permitted.
Deschutes Falls Park
We all know Tumwater Falls, but there is another hidden waterfall in the county, perfect for your family during the next hot day. Known as Deschutes Falls, this 27-foot waterfall plummets into the Deschutes River flanked on either side by 70-foot walls for nearly a quarter of a mile. While still primitive, this newly opened park is ideal for those looking to cool off by taking a dip on one of series of pools or wandering in the shady forest.
Mima Falls
Continuing the waterfall destinations, Mima Falls in southern Thurston County is yet another great destination for those looking to be a bit more active. Perfect for walking or trail running, the Mima Falls trail is a great introduction to the growing beauty of the trails in Capitol Forest. At six and a half miles, well marked and easy to follow, this trail is both dog friendly and ideal for those with older kids. While the trailhead doesn't offer much shade, the area near the falls is perfect for a snack or a lunch before hiking back.
Pack Forest
East of Thurston County, on the way to Mount Rainier, the Pack Forest is a wonderland of trails, waterfalls and relaxing walks. The highlight of the region, besides the wildflowers in the late spring months, is the waterfalls found along the miles of trails. Your best bet is to trek the five-mile round trip trail to Little Mashel Falls, where you'll wander through stunning old growth before you hear the falls. There are dozens of hiking options here for families with older kids and this place is accessible year round!
The Duckabush River Trail
North east of Olympia, along the Hood Canal side of the Olympic Peninsula, the Duckabush River Trail in Olympic National Forest is another classic and overlooked trail. Hiking along this trail will get you deeper and deeper into true wilderness, eventually giving off incredible river views and a stunning panorama from the top of Big Hump. Big Hump, which is around six miles round trip, should be the destination for able-bodied hikers who don't mind elevation gain. While not ideal for young kids, this hike is perfect for those trying to get a good workout hike in with the family.
South Fork Skokomish
Few trails are as overlooked and as beautifully forested as the trail leading to the Upper South Fork of the Skokomish River. Only open seasonally, this stunning trail will have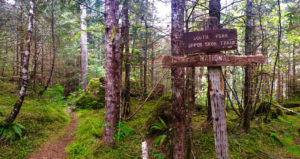 you hiking through old growth, crossing picturesque streams and eventually reaching the banks of the gorgeous river. At only around four miles round trip to the washout bridge and back, this trail is perfect for families who are hoping to venture into something a bit more wild, while still being close to home. For more day hiking ideas around the region and beyond, pick up The Outdoor Society's 52 Hikes Olympic Peninsula, which is sure to give you a perfect hike every week of the year.