These are elementary yet powerful desires: warmth, safety and independence. Wouldn't it be remarkable if every person in Thurston County could say, "That's what I have in my life." Many in our community have a house, but are unable to do critical repairs. The furnace is not functioning or the deck is rotting. Their income levels are inadequate to pay for substantial repairs. Fortunately Rebuilding Together Thurston County connects volunteers with homeowners in need.
There is a large population in our county who are not homeless, but their houses are unsafe, unheated or facing another maintenance issue. Rebuilding Together helps to solve these problems. "If we can fix their house, they can stay in their house," says Cathy Johnson, president of the board for the past two years, says.
Usually, the most affordable living option is to remain in their home. Sadly, when there are scant funds to repair the soft floor around the toilet or replace broken steps, the work is not done, posing various safety and health concerns. Seventy-five percent of the people who receive assistance are over 65-years-old. In addition to seniors, low-income veterans, disabled homeowners and families with children also receive assistance. Interested households must qualify for the program, which is based on the HUD (Housing and Urban Development) low-income guidelines.
Rebuilding Together is a 501(c)(3) non-profit organization that was founded in 2003 by the Olympia Remodelers Council, a subgroup of the Olympia Master Builders, and other volunteers. It is part of the national organization that has over two hundred affiliates across the country. Eight people serve on the volunteer board. Johnson acts as an executive director, though in an unpaid fashion. Her volunteering is on top of her own business Dandelion Gardens, where she does landscape design and creates garden containers. She's a Master Gardener and holds a business degree from Seattle University.
The organization's modest annual budget of $70,000 goes a long, long way in assistance. For every dollar donated, services worth $4 are rendered. With a huge continuing need and the successes of the past, the board is actively working to bring the organization to the next level. This would ultimately create a paid leadership position and bring services for more people.
Rebuilding Together organizes an annual Building Day that gathers handy volunteers and sponsors to do repairs and maintenance on a few selected homes. Nationally it happens the last Saturday in April. Olympia picked the first Saturday in May this year in order not to compete with other local events. Rebuilding Together organizes two big projects in the fall, usually with a significant donation from Lowe's or Sears. Last fall they were able to put a roof on a veteran's home.
Need continues throughout the year. The most common, critical repairs are flooring, often tied with plumbing repairs. One man asked for help with a floor issue. When the volunteer came over, he noticed that the home was seriously cold. He inquired about that and was told the furnace was broken. Not only did the floor get the needed replacement, but the astute volunteer realized the heating unit needed an inexpensive part. That was replaced, too. Paying for a diagnostic visit from a plumber or heating business can be a prohibitively expensive event.
Keeping People off the Streets
We are familiar with news about the need for affordable housing and homelessness concerns. We have heard of Habit for Humanity. Rebuilding Together is another piece of this puzzle. They prevent homelessness and keep people safe in a functioning home. Keeping people in their own home and allowing them to age in place benefits the whole community. It's safer and saner.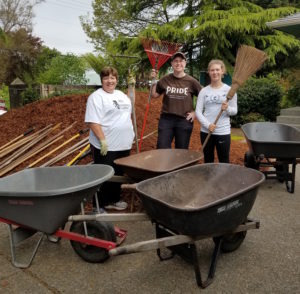 There is the story of an older person living on a half acre who was unable to get rid of the accumulated garbage. Facing a huge municipal fine, the homeowner was nearly paralyzed. Rebuilding Together coordinated efforts with another agency to get volunteers to clean up the property. They paid the dump fee and the homeowner was able to remain at the house. That was a preferable outcome.
You can call 360-539-7830 to get more information. You'll likely speak with Susan Newman, who will provide the initial interview. In addition to the HUD income requirements, applicants must be the homeowner and have plans to remain in the house for at least two more years. If you are ready to become a volunteer, Rebuilding Together would love to hear from you.  It's especially desirable if you have maintenance knowledge and experience, but all sorts of volunteers are necessary that require no special training.
"Hope is where the heart is," is the perfect motto for Rebuilding Together. Home is a dear place. This organization serves our community by preserving and revitalizing communities. They do it one home at a time.
Sponsored