Alexander Graham Bell once famously exclaimed, "As one door closes, another one opens." And that is quite literally the case for the iconic downtown Olympia YMCA.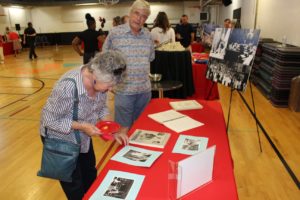 After 108 years, the Downtown YMCA, located on 510 Franklin Street, is officially shutting its doors and opening a brand new facility at 505 Plum Street SE this Friday, June 1.
The Plum Street branch (previously occupied by 5th Avenue Fitness) is the first new YMCA building since the Briggs location opened in 1997.
The farewell ceremony for the downtown location took place on May 23, and Kyle Cronk, president and CEO, said it was a bittersweet occasion. "There's been a lot of history with a 126-year-old organization," he said. "The Farewell Ceremony was a good way to provide closure for people. Change is tough, but organizations need to make different decisions in order to move forward."
The decision to move rather than renovate was not taken lightly. A committee of faculty and volunteers have spent the last 10-15 years debating the issue, conducting market research and third party studies of the situation, ultimately coming to the conclusion that the current building was not salvageable.
Executive Director Jake Grater oversees all YMCA branch operations including Briggs, Downtown Olympia, the latest Plum Street location, as well as the upcoming campaign to bring a YMCA to Shelton. "It has more than outlived its utilitarian life and has reached a point where a decision had to be made in regards of what to do with it," Grater says. "We've explored a million options over the years – renovating it, rebuilding it, moving it, etc. We came to the conclusion that we needed to do something quickly in terms of the building itself and after that discussion we decided we wouldn't be able to continue operating there."
Even though the downtown building is twice the size of the Plum Street location, most of it was unusable or inaccessible. When the doors of the new Plum Street YMCA open, there will be approximately 16,000 square feet of usable member space.
The most notable upgrades to the new facility are all about ease and accessibility, including 53 free parking spaces and an ADA accessible building, allowing more members to be served than ever before.
While the new location won't have all the same amenities as the old one, around $1 million worth of renovations were poured into 505 Plum Street in order to create a first class workout facility.
Brand new features include traditional exercise facilities, a top of the line cycling studio and yoga space, a small group training area, as well as the most up-to-date cardio and strength training equipment. There will also be a new dedicated PlayCare area, where kids can be involved in STEM (science, technology, engineering and math) activities while parents are working out. PlayCare and kids' activities are included in any Family Membership with the hope of creating an environment where kids want to come to the Y.
While membership prices will stay the same, a notable change is that membership now includes all YMCA branches nationally. With Nationwide Membership, any YMCA members who wish to use swimming pools may do so at the nearby Briggs Community Branch.
Putting Our Best Foot Forward
With tons of investment being brought into downtown Olympia towards housing and revitalization, Grater believes the future is bright and that this move is making a step in the right direction in terms of being able to bring the absolute best facilities and service to the downtown community.
"The Plum Street project is our commitment to the downtown market," Grater says. "We want to stay relevant to our members and the downtown area. It's putting our best foot forward."
Cronk echoes Grater's sentiments in constantly considering how the YMCA can continue to have a presence in downtown Olympia and help foster its growth.
"This is a story of revitalization," Cronk says. "Because if we don't continue to invest in our facilities, people will choose to go elsewhere. This is the Y's commitment to downtown Olympia and it's a big win for us and for the community."
The official Ribbon Cutting Ceremony will take place on Friday, June 1 at 9:00 a.m., followed by the first day of business, including tours of the facility, demo classes, and extra staff on hand to answer any questions.
Saturday, June 2 from 9:00 a.m. to 1:00 p.m. is the Community Celebration where our whole community is encouraged to come by the Plum Street Branch, sign up and take advantage of the newest Y location. There will be fun for the whole family and catered food donated by Jimmy Johns; Mixx 96.1 will be in attendance, a full day of class demos will be offered, and there will be raffles all day long!
Cronk says there's never been a better time to be a part of the Y than right now. Community programs are busier and fuller than ever, and members who join the Y know they're a part of an organization that's committed to giving back to the community. "We can't wait to get this building open and start serving the community," Grater says.
For more information on the Plum Street project, visit the project overview on the South Sound YMCA website.
Join in on the conversation and never miss an update by liking the Y's Facebook page.
Share your Downtown Y memories here.
Sponsored