As May brings the summer heat, few things sound quite as refreshing as a cold, caffeinated beverage on a hot day. And this just may be the summer for coffee lovers on the go as Batdorf & Bronson (B&B) introduces its latest product – a bottled organic cold brew.
"We are releasing this new cold brew coffee in our Olympia and Atlanta hubs this summer with an organic Ethiopian blend in a bottle," says Joshua Russert. He is the northwest outreach and customer support coordinator for B&B and has worked for the company for four years. "It is a great refreshing coffee that many of our customers will recognize, as we have always loved Ethiopian coffees and they always rank high amongst customer favorites."
The new ready to drink cold coffee is due to be available in stores by early June and will cost about $4. The beverage will be brought to local wholesale partners, such as Ralphs, Bayview, and Thriftway, that same month.
The coffee is an organic blend with a high proportion Ethiopian. The experts at B&B chose the Ethiopian blend for the specialty cold brew, not only because it's already a customer favorite, but because it is a balanced coffee that shines when enjoyed cold.
"We love the way that African coffees mellow and change as they cool after hot brewing," Russert continues, "and also how they represent when brewed in this ambient fashion. The organic element was chosen as we really like to support certification when it's the right choice, and it feels like our customers like knowing that too."
The cold brew making process is not something the B&B coffee roasters take lightly. Freshly roasted coffee is sent to B&B's partners in Seattle, DOT Enterprises, a company that specifically brews large batches of cold brew for coffee retailers, producing hundreds of gallons at once. The coffee is ground onsite and then mixed with the specified amount of water.
Russert explains that cold brew is more aptly called an "ambient" brew, in that the filtered water is added to freshly ground coffee and allowed to sit for 18-24 hours. It is then decanted via a unique system at the DOT Enterprises location and filtered multiple times via large scale filters to remove particulate matter.
"We end up with a super clean concentrate, which we then dilute till we get to the taste we like," says Russert. "In general, coffees brewed this way come out with a rounder mouthfeel with a more pronounced body as compared to the acidity. This coffee particularly shines due to the nature of Ethiopian coffees."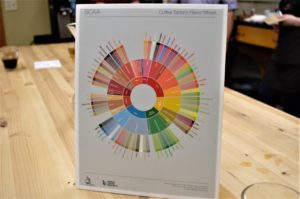 Russert says the challenge with selling a premade beverage is not just in the labor intensive brewing process, but in the effect it has on the customer/coffeehouse experience.
"What makes us is the people that come into our cafes, drink good coffee, have relationships with the baristas, etc.," he says. "So how do we move that over into a product that seems a little bit more removed? With this product, we're aiming to put the unique experience of drinking our coffee into a bottle."
The launch of this product in June is not the only exciting news for B&B, as they prepare to release a new, ready to drink milk-based beverage line called Chilly Goat sometime next spring.
Batdorf & Bronson has been connecting customers to exceptional coffee for over 30 years, and the company is buzzing about what's to come in the next 30.
"We have learned a lot about how to do coffee the right way, and our community in Olympia has always supported our passion," Russert says. "We hope they enjoy this coffee made for them, just as they enjoy hot coffee in our stores every day. It really is a way that we can continue to share with people the joy that comes with great coffee – brewed in a cup or a bottle."
Joshua Russert can be reached at Joshua.Russert@batdorf.com or by calling 360-338-8093.
The Batdorf & Bronson coffeehouse is located at 516 Capitol Way in downtown Olympia. Dancing Goats is the café at 111 Market Street NE. Visit the Batdorf & Bronson Tasting Room at 200 Market Street NE.
Sponsored