The Olympia Symphony Orchestra ended its 65th season on not just a high note, but a big one. The theme for their season was "Thinking Big" and the April 22 finale featured Beethoven's bold and rousing Ninth Symphony, performed by the orchestra accompanied by the Timberline High School Symphonic Choir and the Olympia Choral Society. "The stage was packed with musicians," says Executive Director Jennifer Hermann. "The Washington Center was sold out, and unfortunately, people got turned away at the door. At the conclusion of the famous Ode to Joy the audience leapt to its feet. Afterward, in the lobby, nobody wanted to leave. We all wanted that magnificent communal celebration of humanity to linger."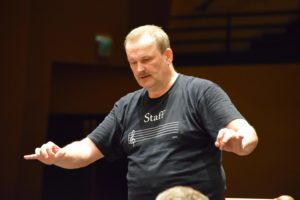 This season marked the Symphony's 65th anniversary, although technically the first performance occurred 71 years ago in 1947. Hermann says Music Director Huw Edwards came up with the theme based on the music he chose to commemorate the milestone. "He programmed these monumental orchestral masterpieces to celebrate this landmark year for us," she says.
Throughout its history, the Symphony has focused on making classical music accessible and collaborating with other artists and organizations to enrich, educate and entertain the community. "Some people experience ticket price as a barrier," says Hermann. "We provide discounts for students and the military and do as much as we can to make classical music accessible."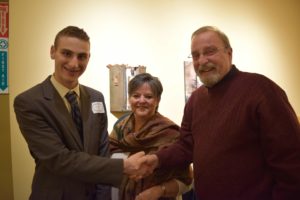 More recently, a new program called Music for All provides free tickets to entire households of students who are enrolled in free and reduced lunch programs in Thurston, Mason and Lewis Counties. "We have an online code that we share with people who call us," Hermann explains. "All they have to do is contact us and request it." A sponsor, Columbia Bank, underwrites the program.
The Symphony also works with schools and other local organizations to promote and enhance arts education. When internationally acclaimed artists perform in Olympia, they serve as guest artists at master classes. In a program, llast year, musicians in Student Orchestras of Greater Olympia (SOGO) sat side by side with Olympia Symphony musicians who functioned as mentors during rehearsals; in another, the Symphony provided classes in music history and music theory for Senior Services of South Sound. "We've also invited the Olympia Youth Chorus to be guest artists with us to experience singing with a professional orchestra," says Hermann. "We want to educate different aspects of the community and bring people into the collaborative process."
While the anniversary is an opportunity to look back, she wants its momentum to propel the Symphony forward as well. "We want this organization to be around for another 65 years and beyond," she says. "We have just announced our programming for Season 66: Highways & Byways. Whereas our last season celebrated landmarks, our next season features 'well-traveled roads and lesser-known paths.' Collections of shorter works will capture the imaginations of seasoned listeners and new audiences alike."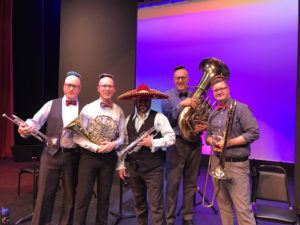 To that end, Hermann is initiating conversations with local educators to identify their needs and implement more outreach programs. The Symphony is also exploring the potential of performing outside their immediate area. Currently, all concerts happen at the Washington Center for the Performing Arts, with the exception of a chamber music series at Panorama and an outdoor concert at the Capitol.. "We'd like to do even more," says Hermann. "We want to go into rural areas where there are not as many artistic opportunities."  
The season finale included not only Beethoven's Ninth, but Mozart's Overture to Don Giovanni, the first piece of music the Symphony ever played back in 1947. In addition, it included a stunning OSO-commissioned piece called Festschrift, written by River Ridge High School Orchestra Director Austin Schlichting, whose grandfather was a former conductor of the Symphony. "We called this concert 'Full Circle,'" says Hermann. "We're honoring the past, looking to the future and ending our season with a big proclamation of joy and gratitude."
And, that experience continues year round. "The best way our audiences can support us it by keeping the conversation going. Bring a friend the next time you come to a concert. Keep the enthusiasm and the effect the music had on you alive after you leave the concert hall. It makes our job a lot easier when the community is already aware of us and the impact we're having on people's lives."
Support is critical for the non-profit organization, which generates just 30% of its revenue through ticket sales. "We're a professional orchestra," says Hermann. "We pay our musicians." The other 70% is raised through a combination of donations, grants and sponsorship programs like the Musician Sponsorship Program, which links donors with specific members of the Symphony.
For anyone who has yet to attend a Symphony performance, the annual Summer Concert on Sunday, July 29, is a great place to get a feel for their work. The concert takes place on the lawn of the Capitol and is free. "We'll provide a recap of the season and a prelude to the next," says Hermann. "I encourage people to come. It's a chance to get up close and personal with the orchestra."
Jennifer Hermann participated in an interview on Thurston Community Media's Mission Non-Profit series with host Andrea Capere. TC Media and Hermann share more about the mission and services of Olympia Symphony Orchestra in these videos. 
Enjoy the full 19-minute interview here with Jennifer Hermann.
View a short video about the OSO here.