The 2017-2018 season for the Student Orchestras of Greater Olympia (SOGO) is coming to a close, and with it, comes many goodbyes. First, and foremost, Maestro John Welsh retires this month, and the May 20 Spring Concert, which concludes the season, will be his last official concert with SOGO.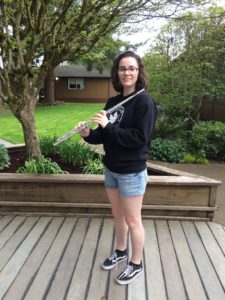 After a 51 year career, 18 of those years with SOGO, John Welsh will retire from his position as musical director and conductor of the Conservatory Orchestra. This final concert includes a walk down memory lane that celebrates Welsh's career with some of his favorite selections from over the years.
The seniors of the class of 2018 will be saying goodbye as well.  They are graduating and moving on to bigger and better things, so for many of them, this concert will their last with SOGO as well.
I spoke with two of those graduating seniors and asked them about their experiences with SOGO and their memories of working with Welsh. I also asked them if they had any advice to share for the young musicians that will follow them.
Kate Hales, a senior from Timberline High School will perform a flute solo alongside Ben Albertson on harp. Playing with SOGO the past six years has meant a lot of commitment and dedication on her part to make rehearsals every Sunday. She tells me her friends knew that if they wanted to make plans with her, they needed to pick a day other than Sunday.
Hales will be attending Western Washington University next year. And though she doesn't currently plan to major in music, she knows that playing the flute will still be a big part of her life and the musical foundation she laid in SOGO will contribute to that.
For Hales, working with Welsh meant learning more than she ever would have expected about music.  "It's nice to work with him because he is very experienced in so many types of music," Hales shares. She tells me that he passed a lot of wisdom down to his students through the music. And she credits Welsh for teaching her much of what she has learned about playing in an orchestral setting.
Hales encourages other students to keep with their commitment to SOGO and personally notes she will miss the people most of all. "I made a lot of friends from all over the area," she says.
One of those friends Kate made over the years is Megan Wakefield.
Wakefield is a senior at Olympia High School, as well as a running start student at South Puget Sound Community College. She plays trumpet with the SOGO conservatory and brass choir, and serves as a student board member for SOGO. Like Hales, Wakefield started playing with SOGO six years ago.
Wakefield speaks about the friends she made in SOGO too. She also speaks about the opportunities she has with the SOGO orchestra, like being able to play more advanced pieces than she would have been introduced to in school orchestras.
Looking towards the future, Wakefield will focus on completing her associate's degree. She will be participating in the Disney College Program next year, and has set her sights on a Seattle Opera internship with the development team. Then she plans to return to college the year after, applying for admission into an opera program.
She echoes what Hales has to say about Welsh, noting his immense knowledge of different types of music. She says Welsh was instrumental in making sure students had exposure and opportunity to play varied and difficult pieces, and he ensured than they became experienced with standard orchestra repertoire. "He opened us to lesser known pieces by major composers," she adds.
Wakefield offers some words of wisdom to the student musicians that she leaves behind. She wants them to keep their passion for music, and to keep going, even if others don't quite understand their commitment to honing their musical skills. She wants them to remember that music can be a great outlet for emotions and creativity. "The opportunity to play orchestral music, especially in Debut and Academy Orchestras are some of the most amazing experiences that you will ever have and being a part of SOGO is an opportunity that you should cherish," she says.
Along with endings and goodbyes, comes a look to the future. Juniors take the place of graduating seniors and while students move up from Debut and Academy Orchestra into the Conservatory Orchestra, they will find themselves under the baton of Cameron May, the new music director and conductor of the Conservatory Orchestra beginning with the 2018-19 season.
The spring concert begins at 4:00 p.m. and will feature Mozart's Concerto for Flute and Harp and selections from Puccini's opera, "Tosca." Vocal opera pieces will be performed by northwest artists Karen Early Evens (soprano), Jon K. Farmer (tenor), and Kwangsuk Ku (baritone). The Brass Choir, Academy Orchestra and Debut Orchestra will also play.
Tickets for the Sunday, May 20 concert can be purchased online or in person at The Washington Center box office. Tickets range from $10 – $16 and student, senior, child, and group discounts are available.
Young musicians interested in participating in SOGO can schedule an audition for the 2018-2019 SOGO season by visiting the Student Orchestras of Greater Olympia website.
Sponsored