Ben Moore's has been serving traditional American food in downtown Olympia since the 1940's. However, if you've looked up Ben Moore's recently, you may have been confused by the results. A quick internet search might lead you to believe the restaurant is permanently closed. But if you walk by the downtown storefront, you will find a functioning restaurant
with African art on the walls.
What's going on?
In July 2017 the restaurant was sold to Matthew McGee and Mercy Wanjiru Kariuki-McGee. The couple's journey to acquiring Ben Moore's began about five years ago when they started an Afro-Pop band, Mazigazi Band. "We were looking for a place to play music for a long time," shares Mercy, "and a lot of clubs in downtown Olympia rejected us. They didn't think that my Afro-beat was fit for their club."  About a year later, they found a venue that would welcome them: Ben Moore's. From 2013 to 2017, they were regular musical guests at the restaurant.
Matthew and Mercy were happy with their situation, but in July 2017 Ben Moore's owner Minh Smith decided she was going to sell the restaurant. However, in a twist of fate, the sale fell through and the owner offered to sell it to Matthew and Mercy instead. At first, Matthew and Mercy did not think buying the restaurant would be a possibility for them, but Minh was adamant that something could be worked out. Within a week, Ben Moore's belonged to the couple.
When asked why they decided to drop everything and buy Ben Moore's, Mercy said, "Partly, we wanted to continue playing music here and also keep all the good things that were happening here, but also to give Olympia a place to be because [the prospective buyers] were actually going to turn it into a big heavy metal place, and everybody else like us wasn't going to have a place to play."
Being totally new to the restaurant business, Matthew and Mercy have been challenged by the amount of work to be done. Fortunately, the couple has received a lot of help from family and friends. "The whole process has been a learning curve for us," shares Mercy. "Mostly, what does Olympia want? What are people looking for?"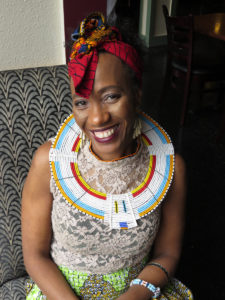 One thing the couple has found is that people are looking for something a bit different to eat. "People say there's enough of Vietnamese, Indian, Americano, so they are looking for something new," she shares. "People want an adventure." As the first people in the South Sound to open a restaurant serving East African food, Matthew and Mercy definitely have something new to offer.
Mercy does most of the cooking, preparing dishes she grew up with in Kenya. She has a lot of experience preparing food, explaining that in Kenya, "cooking is part of growing up." She has also taught cooking classes at The Evergreen State College, Green Hill School (a juvenile detention facility in Centralia), and most recently Bayview Thriftway, where she taught people how to pair wine with traditional African dishes.
The restaurant offers a lot of vegan/vegetarian choices as well as some meat dish choices. One dish that is special to her is sukuma wiki  (literally "push the week"), which consists of shredded kale, fresh vegetables and herbs slow cooked in African wine and savory spices and served with Ugali ( a polenta style dish) . She says that she ate it almost every day in Africa. Another special item is Githeri, a mixed beans dish seasoned with herbs (traditionally Githeri is cooked in African clay pot, and cooked over the fire for a few hours. It is a staple food in central Kenya where Mercy grew up). Other popular items on the menu include chapati (African fry bread), Afrikan dengus (curried mung and moth beans, fresh vegetables and herbs seasoned with ginger spice blend and sprinkled with cheddar), and kuku sauté (chicken sautéed with mixed vegetables in a tangy ginger and wine marinade).
To extend the food adventure, the restaurant adopted a traditional Cameroonian dish – Ndole – and named Papa Joe in the menu, a traditional dish cooked with cassava leaves but substituted with spinach here.  The goal is to expand beyond East Africa and features dishes from all over Africa with time.
When asked about where she finds her ingredients, Mercy explained, "I do it the African way – I look for the freshest and best ingredients around to meet our high standards. I source my food locally and daily because I want the best."
According to the Mercy, another thing people want is "a sense of community." Mercy says, "We don't try to say 'you're too punk, you're too hip-hop'…we want everybody to feel welcome." Given Matthew and Mercy's experience of finding Ben Moore's as a home for their band, this issue is very close to their hearts. Unsurprisingly, the venue is a veritable hub of cultural diversity, constantly hosting live music and dances.
There are new things added like the specialty new African-inspired cocktails that incorporate African spices from the kitchen and free Wifi for customers while dining.  And there are still some changes in store for Ben Moore's, including, services for Uber Eats and a lunch café area where people can enjoy African-sourced coffees and teas. Perhaps the most controversial change is the couple's plan to rename the restaurant Shirro's, a shortened version of Mercy's middle name, Wanjiru. "While we wanted to keep the name 'Ben Moore's,' as is it just didn't work. People don't know we're here, and it's very misleading because of the food we offer. So, for people to find us and know what we're doing, we have to change the name," explains Mercy.
Still, the couple understands that the name Ben Moore's has historical significance and have made an effort to preserve some of that history by displaying photos and news articles from the 1940's. Ultimately, even though Ben Moore's has undergone significant changes, its tradition of community and acceptance will live on through Shirro's.
Check out Shirro's on Facebook or visit the restaurant in person. It's located at 112 4th Ave W, Olympia, WA 98501 or you can call 360-357-7527.